Accidental Couple: A review
Once again, I'm thrilled to have Dahee Fanel guest-posting her thoughts on a drama — in this case, KBS's recently ended Wednesday-Thursday drama Accidental Couple, aka Just Looking aka That Fool. It's always a pleasure, Dahee! –javabeans

SONG OF THE DAY
Judy Garland – "Over the Rainbow." [ Download ]
Audio clip: Adobe Flash Player (version 9 or above) is required to play this audio clip. Download the latest version here. You also need to have JavaScript enabled in your browser.

The Accidental Couple Review
I remember the first time I ever noticed him.
It was the year 2005. I was watching the lovely, quiet little film "That Charming Girl", starring Kim Ji Soo. Suddenly, he appeared, from out of nowhere. He only showed up for a few minutes, but there was something about his face that I liked right away. He wasn't good-looking, really – his features could, at best, be called "ordinary". And yet he managed to leave an impression on me. I couldn't quite pinpoint what it was, but it was there.
Fastforward several months. My dad pulled me aside one day and told me excitedly about an actor who had recently exploded on the scene, with the kind of talent that had made his spine tingle to watch. He sat me down, and we watched the film "You Are My Sunshine" together. And I suddenly fell in love, in one fell swoop.
That actor, as you've probably guessed by now, was Hwang Jung Min. An unknown who, late in the game, had made a name for himself with his incredible acting, through three completely different roles in one year. From the mystery man in "That Charming Girl" to the vicious, despicable gangster in "A Bittersweet Life", to the sweet, pure-hearted farmer in "You Are My Sunshine". He showcased enormous range, and the kind of talent that most actors can only dream of. To top it all off, he was deeply humble, continuing to take the bus alone even after he hit stardom, and making the now-legendary "dining table" speech when he won Best Actor at the Blue Dragon Film Awards.
2009. His star still shining, Hwang Jung Min announces that, for the first time in his fourteen years as an actor, he would be taking part in a drama. Now, mind you, he's been in numerous plays and musicals, not to mention films, but for some reason, he never made the transition to television. Until now.
Naturally, I was excited. What Hwang Jung Min fan wouldn't be? The only problem, in my eyes, were the people behind the scenes. The writers weren't exactly renowned for genius scripts (say it with me: "Prince's First Love" was C-R-A-P), and PD Gi Min Soo, while having participated in the wonderful 2006 drama "Goodbye Solo", had been disappointing in other projects. In the weeks leading up to the premiere, I was literally on tenterhooks, hoping and praying that his first drama project would be a good one, but not having much hope for it.
And, predictably, the first few episodes were okay, but nothing spectacular. The directing was barely passable, the script riddled with cliches, most of the acting pedestrian at best. The only highlight, as expected, was Hwang Jung Min.
When you are as much of a master at what you do as Hwang Jung Min is, you have the ability to make a bad drama better just by your mere presence. Which is exactly what he did – somehow, with his magic touch, he gave heart to what would've been nothing but a robotic machine without him. Most actors would've taken a character like Gu Dong-baek and turned him into a literal "fool", someone who was naive and a bit too good-hearted to be likeable. Not Hwang Jung Min. In his hands, Dong-baek was a character with his own set of insecurities and his own sense of wisdom.
So seven episodes passed, of faintly diverting, mostly just passable fluff, where Hwang Jung Min was the main – and, I'd argue, only – highlight. A one man show, if you will. And then something happened. Episode eight came around, and it was like watching a balloon suddenly fill with air. Entering its second act, the drama finally seemed to find the key to success.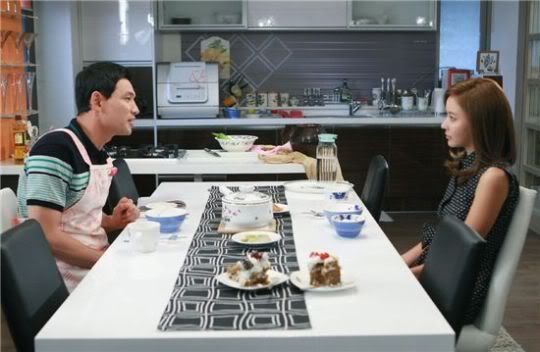 Reflecting back on it, there are three main reasons, for me, that the drama suddenly picked up in entertainment value:
1) The script stopped throwing angst after angst at the screen, and allowed the characters some room to have fun and laugh a little. This drama is at its best when its actors – who, as a group, have truly wonderful chemistry – are interacting and having a blast with each other. And with the marriage of Dong-baek and Ji-soo, they were finally able to do just that. You don't need big dramatic shenanigans to be entertaining, and "The Accidental Couple" proved that time and time again, episode after episode.
2) Ji-soo's change in personality. Yes, I had my complaints about this at first, too – I felt that she became so cheerful and jokey a little too quickly in the space of one episode, and that it was kind of a betrayal of the character we had come to know in the previous seven episodes. Still, there were problems with that old personality of hers, too, in that she was kind of a wet rag, unable to react to Hwang Jung Min's passion and liveliness properly. If you have a main character who's always dampening the mood, then how can the viewers, too, have any fun watching? Perhaps if she'd been essayed by a better actress it would have been fine, but Kim Ah Joong does not yet have the kind of skills to pull that off. The choice to have her brighten up so quickly was probably a reaction to the complaints of some netizens about her character, but it sure ended up being a good choice in the end. Thanks to that, I was able to grow fond of Ji-soo and to root for her.
3) The beginning of Sang-chul's more pivotal role in the drama's plot. I don't think Baek Sung Hyun is an amazing actor or anything, but his character brought a much-needed breath of fresh air into the drama. True, Sang-chul was often nothing more than a romantic plot device, but his entrance changed up the dynamics so that we could see some truly fun scenes of the whole "family" – Dong-baek, Ji-soo, Sang-chul and Min-ji – playing together and just enjoying each other's company. Plus, this paved the way for other relationships to be formed, namely the one between Dong-baek and Sang-chul, which provided some true highlights throughout the show. Their scenes in the last episode, especially, provided some of the show's most heartfelt moments for me. And no, it's not just because I love bromances. Well…okay, it's not entirely because of that. Shut urrrrp.
As the episodes progressed, everything just seemed to get better, somehow. It gradually became less and less of a one man show, and more of a team effort. Even the directing and script improved, with episode thirteen, especially, being a highlight in smart choices, with everyone involved letting the characters react to unfolding events in a low-key, undramatic way, and help things become much more laid-back and realistic.
Well, maybe "realistic" is the wrong word. This drama was never really realistic, opting for more of a fairy tale feel to it. But a few of the characters felt real, and it was nice to see a decided lack of a truly heinous villain (in this world, there are no truly "evil" people, and everyone has some goodness hiding deep inside). The chemistry between the characters felt real. I swear, I could watch Dong-baek, Ji-soo, Sang-chul and Min-ji hanging out together for the rest of my life, and be happy.
That's this drama's charm, after all. Its optimism, warmth, and hopeful atmosphere. The belief that dreams can indeed come true, that what looks at first like an endless chasm can, when dove into, turn out to be a refreshing ocean. It doesn't take itself too seriously, it doesn't have illusions of grandeur, and it never pretends at glitz or glamour ("City Hall", take note). It's just about ordinary people who happen to be famous who happen to end up discovering love and family. I always felt happy watching "Accidental Couple". Its joy was infectious. It turned my bad days into good ones, and improved upon the good days.
Honestly, looking at everything objectively, this drama shouldn't have turned out half as diverting as it did. Without Hwang Jung Min, it would have been nothing. Even if the directing and writing improved slightly, it was never what you could call really great work. Even if a few of the actors showed some improvement (especially Baek Sung Hyun, who made me cry twice in the final episode), most of it was pretty average, with only Hwang Jung Min as the real standout. (Kim Ah Joong was okay, but she had some pretty awkward moments, especially after her character brightened up. And really, when you're working with Hwang Jung Min, you can't help but look rather blah in comparison.) The music, too, while better than a lot of drama music out there (such as the overbearing pop tunes that polluted "Boys Before Flowers"), was really just so-so. And yet it managed to jump over all those hurdles, and become quite a fun ride. It's kind of a miracle.
Like the fool of its (shortened) (Korean) title, "The Accidental Couple" is not particularly brainy, and offers nothing really surprising or out of the ordinary. Even the message it left behind, that of learning to reach out for happiness instead of "just looking" at it from afar, is one that many dramas have boasted in the past. But by the time I finished watching the final episode and wiped away my tears, I knew that all of that didn't matter. When you have a heart as big and warm and beautiful as "Accidental Couple" does, you don't need anything else. You just have to accept, smile, and be happy.
Rating: 7 stars (out of 10)

RELATED POSTS
Tags: Accidental Couple, Baek Sung-hyun, Hwang Jung-min, Kim Ah-joong