Drinking interview with Kang Ji-hwan (Part 1)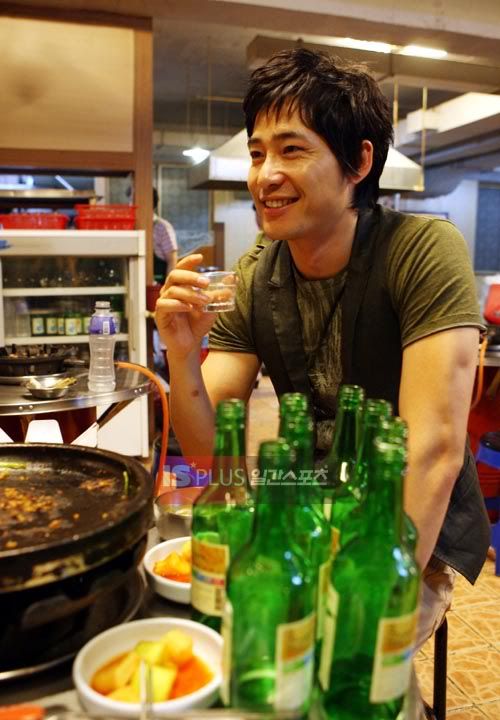 I told ya I'd have some goodies coming up, didn't I?
IS Plus is one of those lighter entertainment news/gossip sources, but one thing I like is their series of "drinking interviews," which are pretty much exactly like they sound: The reporter goes out to eat and drink with a star for a long interview.
This interview came out last week (May 29), and I'm splitting it up into two parts since it's so long. Reading it, I have to again note how refreshing it is to see a big star like Kang Ji-hwan being so baldly honest. He doesn't shy away from being truthful, when most other stars have been trained in the "polite answer." For instance, many are taught to give vague platitudes like, "I was fortunate that things worked out well for me" or "The ratings don't matter, it's the work I enjoy," or "I can't take credit for that."
While I believe some actors truly don't care, I'd bet a fortune most do, so it's enjoyable to see Kang Ji-hwan frankly admitting he cares what people think about his work, wanting box-office (or ratings) success, and being okay with giving himself credit when a job is well done.

"After four years, I've left behind 'Geum-soon's husband'"
The power of Level 7 Civil Servant is impressive. It doesn't fold under impressive competition, and this weekend it looks to break the 4 million mark for total viewers. It left Old Partner far behind and has pulled in the top score this year. In the center of this A-list storm is Kang Ji-hwan (32, born Jo Tae-kyu). In the film industry, there are more and more people recognizing him and his rise.

Overflowing with confidence, and sometimes told that he seems arrogant, this man has a striking appeal. Because of his abundant curiosity, he's earned a nickname for being curious. I spent six hours sharing eight bottles of soju and studying Kang Ji-hwan. Right now this man seems clear-headed, but a lot of alcohol flows through his veins.

"The distributors say that Korean government agents are scary"

When talking about Kang Ji-hwan, one drama not to be left out is the 2005 series Be Strong, Geum-soon. It was so popular, the broadcast station couldn't leave the drama alone with ratings above 40% and extended the broadcast three times. Naturally, Kang Ji-hwan became famous.

However, things weren't always so good. He took on a bit part as Han Ji-hye's boyfriend in his debut in the 2003 drama Summer Scent, and because of a contract problem with the broadcast station, he had to quit You'll Find Out (2004). He also had the novel experience of appearing as a sticker photo in More Beautiful Than a Flower as Go Doo-shim's dead son.

He did grumble with his manager, saying, "Others take the elevator, so why are do we have to walk upstairs?" but his positive energy began to show itself gradually. With the success of Capital Scandal and Hong Gil Dong in Japan, he's risen another step to being a Hallyu star.

His two films Invited and Rough Cut met with better-than-expected results. He says, "I said I would give acting a try until I turned thirty, and if I didn't make it by then I would quit, but like a lie my turning point came to find me at twenty-eight."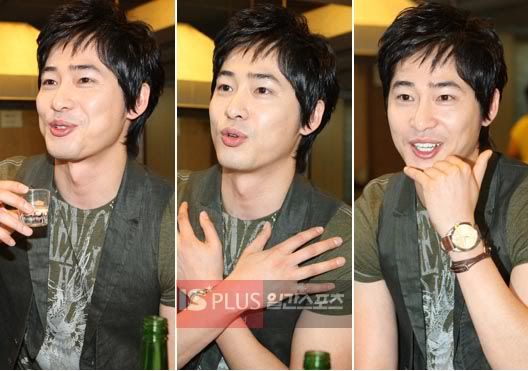 If you retired at 30, what would you have done?

Kang Ji-hwan: I would have continued studying design, or run a business. I'm the eldest of two children and I should get married, and I wouldn't want to be financially incompetent.

Was Level 7 Civil Servant's initial goal for 7 million?

We said that in keeping with the "7" in the title, but our real number was 3 million. We didn't want to hurt our investors. I'm so relieved that we were able to earn back the money for those who invested believing in me and Kim Haneul.

What do you feel about beating films like X-Men, Thirst, and Star Trek?

The nice thing to say would be that we were fortunate, but it felt good. [Laughs] I was curious whenever a competing film would come out, so I went to watch all of them every Thursday matinee. When I saw X-Men, I called Haneul to tell her, "It's okay, I think we'll win," and Thirst is aiming for a different target audience. I was extremely pleased to hear that U.S. distributors had been asking, "What kind of movie is Level 7 Civil Servant?"

Audiences burst into laughter at the scenes where you say, "Look here, bleep" and "that bastard director."

That was unexpected. I feel both sorry and thankful to Ryu Seung-ryong sunbae. In the pojangmacha scene, I was too centered on establishing my emotions that I couldn't look after my sunbae. The scene where I collapse after saying, "I used to be innocent" was an ad-lib, but he accepted it all. If it had been me, I probably would have scolded me a lot. He quit drinking alcohol and drank soda instead, but he's a sunbae who works with you all the way.

You go back a long way with Kim Haneul. When you were starting out, you shot a CF for an international phone together.

I was her school friend in that. Following the drama 90 Days' Time to Love, this is our third project together. Of course, Kim Haneul didn't even remember that I was the guy in her CF. These days, she teases me saying, "You've sure grown up."

If you're that close, wouldn't you develop romantic feelings?

That's not an easy thing. Haneul went down to Gangwondo today with the movie staff. I'm very fortunate with female co-stars like Sung Yuri, Han Ji-min, Han Ye-seul and others, but I don't know how I should act to start dating them. [Laughs]

Do you drink alcohol?

If I get along well with a person, I can stay up all night. A few days ago, I met with a film company CEO, and that night I drank until I blacked out. I'd do shots and if the people next to me put down their glasses I'd get upset, and I like moving to second and third rounds. Two years ago, I was sharing a table with Seol Kyung-gu sunbae and he suggested having a drink, and the next day I was in a cold sweat because I couldn't remember a thing.

Is your introspective personality because of image control?

When I was just starting out, I was overly cautious and timid, but after drinking freely with the staff once, the next day the set felt really comfortable. I thought, "This is right," and made an effort not to avoid drinking gatherings after that. I found I could increase my drinking tolerance.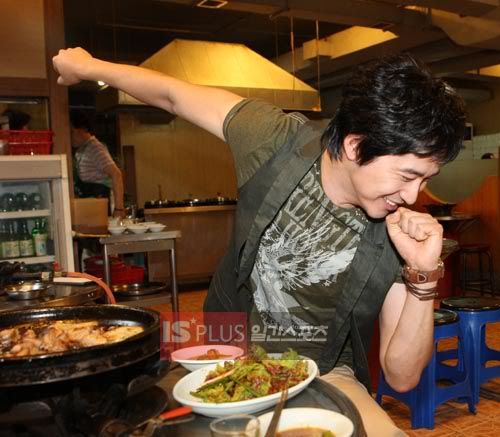 "I'm a hottie in Dobong-gu"
One of his drinking habits is to leave his empty bottles scattered around. This day, too, he grabbed the hand of the ajumma who'd come by to collect the empty bottles. Kang Ji-hwan says, "The workbooks of bad students are blacker" and explains, "I have to see the empty bottles like trophies in order to enjoy my liquor more. It feels like something's left behind."


When you were in school, what kind of student were you?

I was class leader every year between second and sixth grade, and I was even president of the whole school. From middle school, I started to on a slightly shaky path, and by the time I was in high school, I'd progressed to hanging out in soju rooms. [Laughs] I often went to a bar for students in the early evenings.


He said that if he could have a time machine, he'd like to go back to middle school and make lots of memories. He'd spent so much time alone that it felt like a disappointing gap in his life. On the other hand, in grade school he made his rounds to all the classrooms organizing a performance of "The Little Fire Engine." At the time, he took the role of Kim Tae-young, but made his friends audition.


Looking through the internet, I saw you even had the nickname of Dobong-gu's Hottie.

On the day that I shot a CF with Haneul, MBC's Section TV program came to do a segment. Maybe the PD waiting for Haeul was bored, but he asked to interview me. He asked, "Do you think of yourself as a hottie," and I answered, "In Dobong-gu I am," and that bit aired with its own caption.

How did you come to take the role in the art film "Invited"?

After I was cut from You'll Find Out, I stopped getting work. I wanted to act, but I couldn't get cast and it drove me crazy. At the time it was going from a blank slate to a lead role so I dove in. The production budget was 130 million won [about $100,000], and I didn't know it would go on to get such good reviews later on. It was a movie that helped a lot when shooting a daily drama.

I heard that it was your idea to do the train station promotion this time, taking it all the way to the Jeju Island appearance.

For some reason, I don't like how other people work. I like doing my own unique methods, and I met with ordinary people holding the "Level 7 Jackpot" signs at the station. At first I was afraid and embarrassed, but I then I became immune to it. [Laughs] Next time, I want to try doing it on the way to a screening event in Ulleungdo or Wando.

Your personality stands out.

It's because I got my start later than others. Back for the musical Rocky Horror Picture Show, I even once got a henna tattoo like the main character in From Dusk till Dawn. To get permission from the director, I deliberately matched the timing for when he passed by, then I took off my shirt and put on a real show. If I hadn't had confidence in my dancing and singing, I probably wouldn't have gone that far. [Laughs]
Your activities in Japan feel different.

Outside of fanmeetings, I also seek out gatherings for fifty or so people. I take cell phone pictures for fans one by one, and I spend all day hanging out and having fun. We don't try for that mysterious vibe. If they like me, what can't I do for them?

It seems like you're the type who loves yourself.

More than loving myself, I think I have a strong sense of pride. When I was going to acting classes, every month they would have us do monologues, improv, self-introductions and such and score us from 1 through 150 and post it on the wall. I learned then that if you didn't prepare you'd be shaking on test day, but if you had even one card up your sleeve, you could stand tall.

What type of character do you want to take on in the future?

I definitely want to try a villainous psychopath role. An actor is drawn to characters whose emotions go through a lot. I'm trying to discover a type of character that "only Kang Ji-hwan can do" but I haven't been able to figure that out yet.

Have you ever had a drama register nearly zero in the ratings?

90 Days' Time to Love, Capital Scandal, and Fireworks all were in single-digits. I was fully immersed in my characters, but people disregarded it, so I felt really upset and frustrated like crazy. I felt guilty for not being a star and wanted to beg forgiveness of the producers and my co-stars.

Have you ever been uncast for something or had a role taken away for nepotistic reasons?

I've come close a couple times, but never uncast. If a PD was deliberating over a problem like that, I requested an open audition, to go up against him. Every time I look at a script, the image starts playing in my head. I have confidence that I have the skill to beat anybody when it comes to character analysis or ad-libbing.

Who have you made the most promises to?

I was most annoyed by people who said, "Ji-hwan, hurry and become famous so you can help me." If they really value me, shouldn't they hold out their hand when things are tough? There are a lot of people who eat sirloin steak when things are good. The people who are with me to the end are those who eat ramen with me when things are tough.

Part 2 of this interview coming shortly…..
Via IS Plus
RELATED POSTS
Tags: interviews, Kang Ji-hwan