Into the White Night marks Go Soo's screen comeback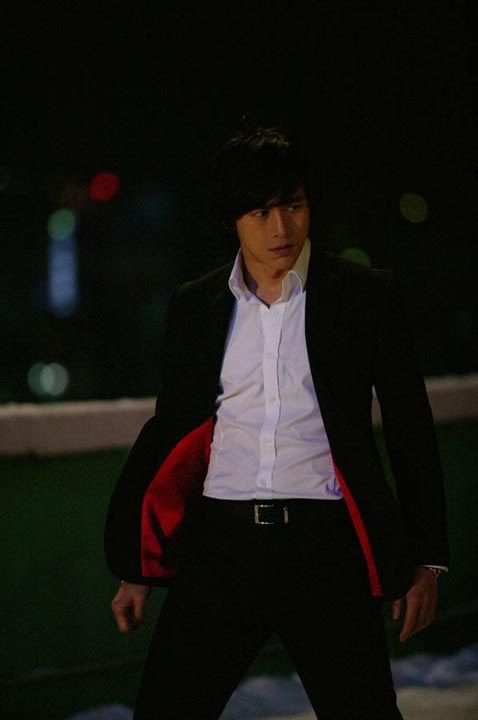 I first heard of Into the White Night (literally Baekyahaeng: Walk Into the White Darkness or 백야행 — 하얀 어둠속을 걷다) last year, when lead actress Sohn Ye-jin was cast, and filed it away as something to look forward to.
I like Sohn, but it was the plot that caught my attention: It's based on a story that's been remade a few times in Japan in film and television form (titled Byakuyako; the original novel was written by Higashino Keigo). The shared theme is that two young people kill a person in self-defense, cover it up, and decide to separate until the statute of limitations expires on their crime.
The first stills are out featuring Go Soo in the lead role, which is a welcome return for the actor; this is his film comeback following release from army duty a year ago.
In the story, Go Soo's character had been orphaned as a youth when his father was killed, and lives an isolated life in jobs like café bartender and manager of a back-alley host bar. He also hides a "complicated" and "brutal" past yet harbors a "pure soul." The character shows off a different, tougher side from the actor's previous romantic and sincere drama roles.
Aside from Go Soo and Sohn Ye-jin, the film also stars Han Seok-kyu of Tell Me Something and A Bloody Aria, which makes this an A-list project to anticipate.
Go Soo's acting comeback was officially in theater, in the stage play Return of President Eom, but this will be his screen return. His last screen role was in 2005's drama Marrying a Millionaire, and, as I really liked him in the thriller series Green Rose, I'm looking forward to seeing more of him. (And more Go Soo is always a good thing, if ya know what I mean.)
Go Soo said of this film, "It feels like I was waiting my life for this role. I'll do my best with it." Currently, the film is about 90 percent completed with filming, and plans to release in the latter half of the year.
Via No Cut News
RELATED POSTS
Tags: comebacks, Go Soo, remakes, Sohn Ye-jin