Kim Jo Gwang-soo's second queer film Friends

Lee Je-hoon, Seo Ji-hoo
Director Kim Jo Gwang-soo added an entry to the small-but-growing category of Korean queer cinema with his short film Boy Meets Boy, starring rising pretty-boy actor Kim Hye-sung. He is following that with his second film, Friends? [친구사이?], which isn't quite feature-length but clocks in as a mid-length film at 50 minutes.
Friends?, like Boy Meets Boy, is based on the director's own experiences; while Boy depicted two high schoolers meeting in a first-love experience, Friends? is a little more mature and the characters a bit older. It also ups the skinship quotient. (Boy's allure was in its lingering looks and silences, while these still shots from Friends? depict the two young actors kissing, and there is reportedly also a bed scene.)
For being such a short film, Boy Meets Boy garnered a fair amount of attention, partly because it was a sweet narrative with nice directing, and partly, I believe, in symbolic support as a queer film. (Personally, I think it was a cute film — yes, singing Cupid notwithstanding — although I found myself wishing it were longer. As it was, it felt like a beautifully shot, atmospheric music video.)
Boy's success means that Friends? was able to command more of a budget and shooting schedule than its predecessor (which was shot over a weekend). It recently wrapped filming and now enters post-production.
Director Kim Jo Gwang-soo said that the bed scene contains a very important spoiler, so he kept the set closed to much of the staff while filming. The two actors, Lee Je-hoon and Seo Ji-hoo, also expressed their opinions on shooting the scene in an interview with Movieweek:
Lee Je-hoon: "After it was over, I felt a lot lighter. [Laughs] We shot a lot of takes, and each time I would pour my energy into it, so it was a little difficult to recover to shoot the next scene. To be honest, I had been very anxious about it, but the director and Ji-hoo helped a lot, so it wasn't as difficult as I expected."

Seo Ji-hoo: "I was so anxious that I couldn't sleep the night before. The night before the shoot, I talked a lot with Je-hoon. That helped a lot in trying to get the right emotions."

Movieweek: Because it's a queer film, did you hesitate over deciding to appear in it?

Lee Je-hoon: "When the director offered me the part, I watched Boy Meets Boy. After seeing that film, I developed faith in the director. If I hadn't had that faith, I wouldn't have chosen this film. I went into it trusting the director fully."

Kim Jo Gwang-soo (lightly hitting Lee Je-hoon's shoulder): "Be honest!"

Seo Ji-hoo: "I also watched Boy Meets Boy and thought, 'If it's a bright queer movie like this, I want to do it.' However, since it was my first time acting, I did worry a lot. But it helped a lot to talk things over with the director and Je-hoon. Now I have the confidence that I can do it as well as anyone! [Laughs]"

Kim Jo Gwang-soo (while ruffling Seo Ji-hoo's hair): "Really? I'm really thankful to these two actors. I also received a lot of help from my actors. This was Ji-hoo's first acting job and Je-hoon doesn't have a lot of acting experience, but they worked so hard and did such a good job, that the film was shot well. [Laughs]"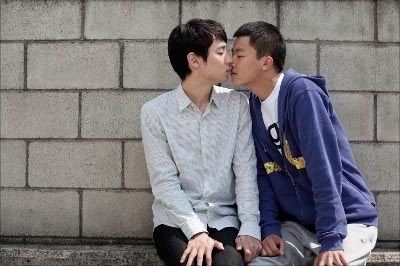 Via Movieweek
RELATED POSTS
Tags: Kim Jo Gwang-soo, Lee Je-hoon, Seo Ji-woo