Kim Kang-woo isn't so clean-cut anymore
This article/interview with Kim Kang-woo talking about the end of Story of a Man isn't nearly as good as this in-depth one from a while back ("Birth of a Devil"), but now that the drama's over, I'm looking to ease the withdrawal with some more interviews with its actors. A couple more to follow soon!
"They say Kim Kang-woo really is a bad guy"
"Chae Do-woo… is truly dreadful. To achieve his goal, he can even kill. What's worse, when he's pushed into a difficult situation, he tells his wife, 'Go to your ex-boyfriend and ask for help,' without any problems. He's a person who can't be understood through the thoughts of normal people."

Kim Kang-woo left the character Chae Do-woo with the drama's last broadcast on June 9. Although the ratings were low, Story of A Man / The Slingshot had achievements that were no less than of those dramas with hit 30% ratings. One of those has to be the discovery of Kim Kang-woo's villain.
Story of a Man was Kim Kang-woo's first attempt at a villain character. The clean-cut image he'd carried until then was completely shattered with this one role.

"The drama's ripple effect really is quite big. Until Story of a Man, my image was clean and honest, but in one moment I became a bad guy. People tease me and call me 'bad guy' now. [Laughs]"

One of those people includes Kim Kang-woo's girlfriend. It's not such a bad thing that people close to him who know him well start to doubt him as a bad guy. That's how realistically he acted Chae Do-woo.

Particularly in the last episode, when Chae Do-woo gave Kim Shin (Park Yong-ha) a secret smile to indicate he was acting his dissociative multiple personality disorder, he made audiences shudder.
However, that scene gave Kim Kang-woo the most difficulty. He had to convincingly portray a mentally ill patient, then make the audience understand that this was all a lie, which was quite a task for Kim Kang-woo. Kim explained, "To express a childlike guise, an animalistic one, and then a genius all in one moment was honestly really difficult."

On top of that, the script for that scene had been delivered the day before, and it became quite a tough homework assignment to prepare for filming. He broke into a cold sweat trying to figure out in a limited time what it meant to be suffering multiple personality disorder, how to act that out, and which details to utilize.

But the worries of this process were able to be shaken off once the results came in. As soon as the drama finished airing, the viewer message boards were overflowing with talk of Chae Do-woo. Through this character, Kim Kang-woo was able to be born again as a more varied actor, broadening his acting spectrum. While discussing his feelings on his acting, he also expressed a bit of disappointment over the ratings.

"From a commercial standpoint, Story of a Man wasn't a big success, but our team atmosphere matched that of a 30% show. After the drama ended, we all headed down to Busan for an overnight trip. This drama will stay in my memories for a long time."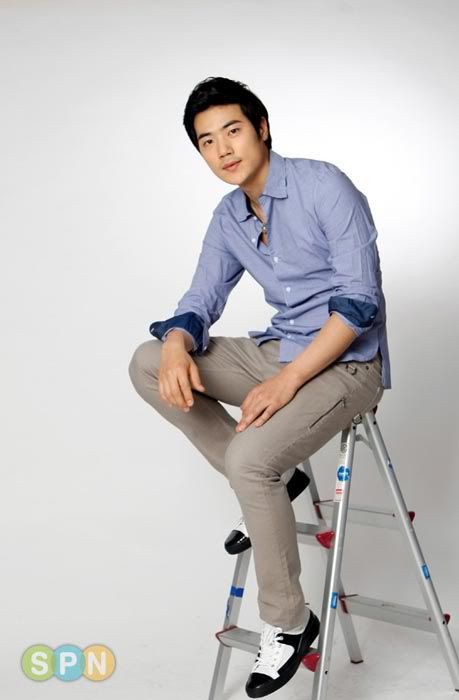 Of course, Kim Kang-woo is not entirely without disappointment, either. He said, "Through the drama's end, I couldn't understand Chae Do-woo 100%. I wonder if I could have understood him even more had there been more time, and if so, perhaps I could have expressed him as a more destructive character, which I feel disappointed about."

Asked if he could be able to take on another role with such a horrible inner character in his acting career, Kim Kang-woo said he was thankful to be able to have done Story of a Man.

He said that after portraying such a dark, heavy character this time, he'd like his next role to be the complete opposite, a bright, light character. Just as one must take in a variety of nutrients to keep the body from falling ill, he feels the need for balance in his acting life as well.

However, if a Story of a Man 2 were made, according to fans' wishes, could we look forward to Kim Kang-woo as Chae Do-woo once again?

"A Story of a Man 2? Hm. Even if one is made, I don't think it would have as much impact as the original. But if they were to make it and asked me to come back, why not? It seems like it would be fun… [Laughs]"
Via E Daily
RELATED POSTS
Tags: interviews, Kim Kang-woo, Story of a Man