Kissing couple Song Seung-heon and Han Ye-seul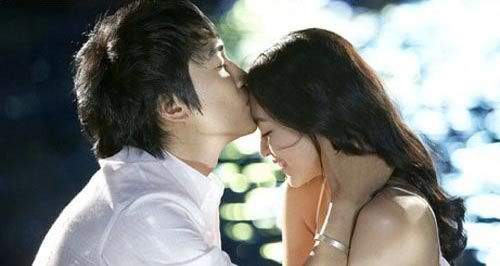 Soon after the pairing of top stars Won Bin and Shin Mina as a kissing couple for coffee brand Maxim, another high-profile pairing is being used to push a product: Song Seung-heon (East of Eden) and Han Ye-seul (Tazza) are showing off some affection in their new ad for LG's Whisen air conditioner.
The article practically reads like ad copy (seriously, do these reporters just regurgitate press releases or what?), but the gist is that the commercial was recently filmed at the Yangpeyong English Village (which, you may recall, is the setting for some of the Shinhwa High School scenes from Boys Before Flowers). It features the two actors embracing affectionately and ends with a kiss (albeit only one on the forehead).
Ah, well, they're a good-looking couple. And as we know, good-looking people tend to sell product well. The actors are featured in two CFs for the brand, which began airing this month.
Just a couple more pics from the CF:
Via Mk.co.kr
RELATED POSTS
Tags: CFs, Han Ye-seul, Song Seung-heon