Press conference day for Friend, Our Legend
MBC's much-awaited drama adaptation of the 2001 movie Friend, titled Friend, Our Legend [친구, 우리들의 전설], is set to premiere in a couple weeks, and the cast and crew held their drama production press conference on June 17 in Seoul.
The cast has some rather large shoes to fill, and none more so than Hyun Bin (The World They Live In), who takes the role originally played by Jang Dong-gun in the film that broke box office records at the time. Kim Min-joon (Tazza), Seo Do-young (Unstoppable Wedding), and Lee Shi-un fill out the quartet of friends.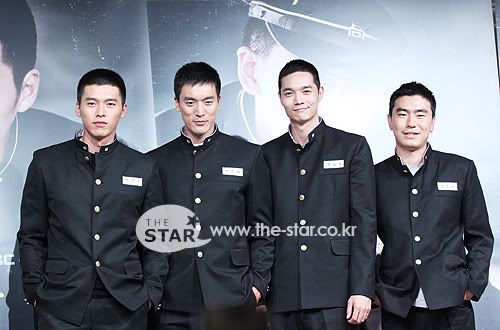 Hyun Bin, Kim Min-joon, Seo Do-young, Lee Shi-un
As the lead, Hyun Bin returns to television a year following his last project, the television-themed The World They Live In. After shooting to popularity following 2005's My Name Is Kim Sam-soon, Hyun Bin hasn't had the best luck with his drama roles; both Snow Queen and World pulled in pretty low (around 5%-7%) ratings.
The actor described his feeling of taking over for Jang Dong-gun in his character, saying, "At first, I felt a certain amount of pressure, but as filming went on, I was able to enjoy myself without fear. I'm not afraid of being compared with Jang Dong-gun sunbae from the film."
He added, "I also had to decide which aspects of Jang Dong-gun sunbae's acting from the film to carry over and which parts I would make new on my own. The things I tried my best to do were the expressions of my eyes and emotions." Hyun Bin also said that Jang hadn't given him any particular pointers, merely telling him, "Entrust everything to the director." Not long ago, Jang had visited, "and he watched without saying much, which was a huge support."
As the story is set in Busan, known for its thick Saturi accent, Hyun Bin made use of voice recordings of his dialogue, which director Kwak Kyung-taek taped himself.
The drama airs on Saturdays and Sundays beginning June 27.

Lead actor Hyun Bin:

Co-star Kim Min-joon

Rounding out the foursome are Seo Do-young and Lee Shi-un:

Wang Ji-hye (How to Meet a Perfect Neighbor) takes the female lead. She is joined by actresses Bae Geu-rin (Lawyers of Korea, Sharp #3), who sports the shortest haircut of the three, and Jung Yumi (no, not the one from Que Sera Sera but another young actress from Great King Sejong):
RELATED POSTS
Tags: Bae Geu-rin, Friend, Hyun Bin, Kim Min-joon, Lee Shi-un, press conferences, Seo Do-young, Wang Ji-hye