Story of a Man: Episode 16
Ooh, more goodness abounds!
I'm actually sad this drama's ending next week. It's been a long time since I've enjoyed a series on so many levels — for the acting, writing, directing, music, suspense, and perhaps most importantly, for the pure fun factor.
(I know there are lots of criteria for judging a drama or movie, but for me, a series has three major breakdowns: acting, directing, writing. Most dramas do one of those things competently, and many dramas pull off two. But it's not often you get all three. And then you have the true oddity with something like Boys Before Flowers — I readily admit its appeal but have to concede that it accomplished none of the three criteria well. At least not consistently.)
SONG OF THE DAY
Ibadi – "Love Letter" [ Download ]
Audio clip: Adobe Flash Player (version 9 or above) is required to play this audio clip. Download the latest version here. You also need to have JavaScript enabled in your browser.
EPISODE 16 RECAP
Seeing Do-woo leaving Muse Café with Eun-soo in tow, Shin chases in his car. Unfortunately, he's stymied by a red light, and Do-woo is able to lose his pursuers.
Do-woo pulls into a construction zone and stops the car, the only sound in the car his heavy breathing from an uncharacteristic loss of temper. He tells Eun-soo furiously, "If he had been there at the café instead of you, I don't know what I would have done."
Eun-soo's phone rings, and they tense, sensing it's Shin. Given Do-woo's volatile mood, Eun-soo words her answers carefully, telling Shin that of course she's okay because she's with her brother — perhaps he was worried because he thought she'd gone out with somebody else?
On the other end of the line, Shin paces, worried. He knew how crazed Do-woo was and he kept pushing his buttons, "So if something happens to you, it's my fault." Eun-soo wraps up the phone call quickly, saying she's fine. As Shin hangs up, he grasps at a clue: he heard a bulldozer in the background.
Once again, Do-woo slips into abandoned-little-boy mode, hurt at what he sees as betrayal.
Do-woo: "That's why you have to be by my side. If I turn around, I have to see you. What the hell are you doing? Do I have to say these things? If I don't tell you, don't you know? Why don't you know? You're my sister. … You need me too, don't you? You're deceived by these bugs who make things hard on you too. Look! There's nobody who understands us in this dirty world. It's just you and me. You know that, too."
Eun-soo: "No, you were wrong."
Do-woo: "What?"
Eun-soo: "This world isn't that dirty. People aren't bugs. You're the one who's different. You're living somewhere else. So come here to this place. To us."
Do-woo picks up on her use of the word "us" — suggesting Eun-soo has people in her life other than him — and maybe it's bad timing or merely symbolic that this is the moment when Shin drives onto the site.
Immediately, Do-woo thinks she called Shin and asked for help against her own brother. He clenches his fist. Eun-soo begs him not to engage: "Don't hurt people anymore."
Do-woo turns cold and gets into his car alone, and drives off without her. Eun-soo falls to the ground, drained of energy; Shin rushes to her side to make sure she isn't hurt.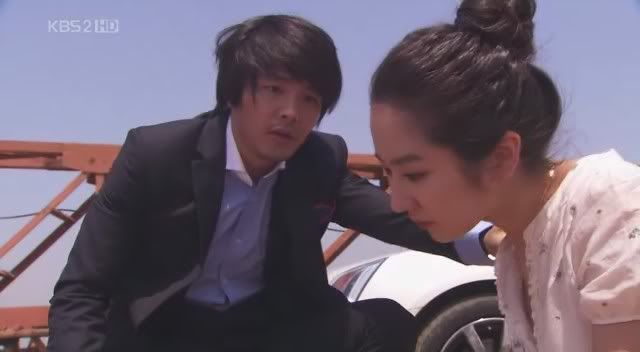 Eun-soo tells Shin, "I told you I was fine. My brother won't hurt me."
Shin looks up at Do-woo's car, which is slowly making its way over the rough ground to the exit. Spurred by anger, he jumps back in his car and backs up speedily, blocking Do-woo's exit path.
Both men get out of their cars, furious, circling each other warily. That leads to shoving back and forth, and then they launch themselves at each other's throats.
Shin: "I'm taking care of your sister and your father. If you want to see them, call me first. Everyone you mess with are my people, so listen good."
Do-woo: "Your people?"
Shin: "Yeah, my people."
Do-woo: "Do you know what those people are like? Stupid, vulgar cowards who make me sick. You don't know that, do you, since you're one of them."
Shin: "You're not even a person, and you're teaching me about people?"
Do-woo: "I'll show you what a person is, so pay attention. I'll show you properly."
Shin: "Stop with the bullshit and listen to me. Don't you dare hurt your sister, Kyung-ah, or any of my people. If you do, I'll stake my life to kill you first."
What I love about this whole taut sequence is how much these guys hate each other. Their hatred is such that they both literally shake from it.
Eun-soo pleads with them to stop, interrupting their back-and-forth, and both men break apart. Trying to regain his composure, Do-woo walks off first and drives away.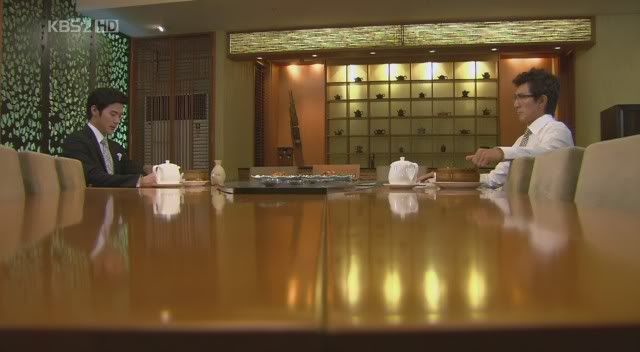 He gets back to work swiftly, calling a meeting with Bum-hwan to discuss the venture group investment. I'd like to think Bum-hwan wouldn't give in to Do-woo's wiles easily, but I have to admit I've been feeling uneasy about him since the previous episode.
Bum-hwan says he's heard of Do-woo "from a kid I really care about," then brings up Shin's name. Do-woo acts purely professional, but we know it's an act, particularly when he pretends he doesn't remember Shin at first. Do-woo wants Bum-hwan to withdraw his investment from the venture group, and alludes to a different kind of business arrangement.
The instant Shin hears about Bum-hwan's meeting with Do-woo, he's alarmed. He tries to get through on the phone, but Bum-hwan's nervous assistant has been informed not to interrupt his meeting. Therefore, Shin drives to the venture group, fearing Do-woo will try something with the union president.
After calling his guys and telling them to inform him the minute they can get through to the president, Shin has done as much as he can do over the phone. He can't fight his growing panic and has to pull over to the side of the road. He breathes heavily, unnerved that something is very wrong.
His instincts are correct, because he arrives at the venture looking for the president and hears he went out for an important meeting, although no more details are offered. The president and a few of the group leaders have been ushered to a meeting with Mayor Oh, who pretends he's acting out of benevolent concern. Do they know that their investor is a famous mobster? How could they join in with such a man? What if the mobster turns on them? When the president says that Teacher Shin told them to hold out for the land's full value, Mayor Oh replies that Shin is a professional con artist.
Framed in this way, it definitely sounds worrisome, and the venture leaders ask the mayor to help. Mayor Oh has "generously" pleaded their case with Do-woo to reconsider buying the land, and he has agreed to the initial lowball offer (14 billion won total). However, the offer is only good if they make it right away; Do-woo won't keep it on the table long. The leaders want to their members about the decision to sell, but Mayor Oh pulls out the rule book that says that the president has the authority to make this decision.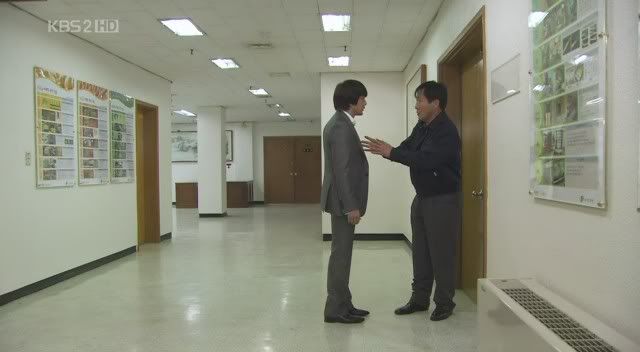 When the men return after their lunch meeting, the president avoids meeting Shin's gaze. When the members are called in for a meeting to discuss the situation, Shin is blocked from entry.
Joong-ho confirms that Bum-hwan has withdrawn his investment. In return, Do-woo gave him a deal as the subcontracting broker for the Myundoshi construction project. Shin can't even be angry at Bum-hwan, because he recognizes that Do-woo dangled the right carrot, and it's a pretty sweet deal.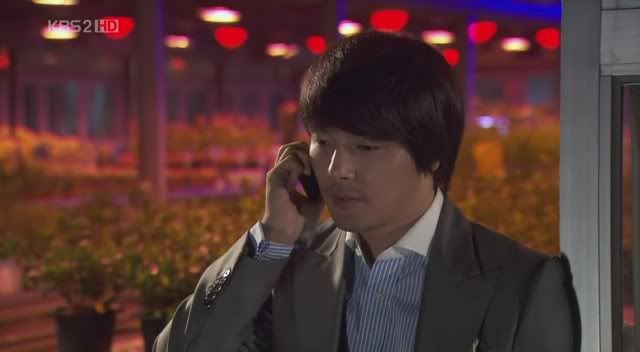 Kyung-tae gets off the phone with Shin (after telling him that the decision to sell requires a two-thirds vote). Kyung-tae's odd, jerky way of speech adds a bit of pathos to this exchange, doesn't it?
Kyung-tae: "I think Kim Shin has been tossed aside."
Mun-ho: "From who?"
Kyung-tae: "People."
When Eun-soo joins Shin outside the venture, he's annoyed to hear that she took the bus to see him. He'd told her not to travel alone, but Eun-soo says, "I came to help." She guesses, "You're going to do something, aren't you? I want to help."
Might as well put her to work. Eun-soo writes out a clause in the association's rule book which outlines the procedure for voting on a decision. Shin stands in the hallway as the members exit their meeting and appeals to them, saying that selling at this price is tantamount to disbanding their group altogether. He points to the rules that state that they need a majority vote with signatures. Thus they can still back out of the deal with Do-woo legally.
The president throws Shin's signs down angrily, bringing up Shin's checkered past as reason for them not to trust him. Shin asks them to trust him anyway — he will get them the higher price, and they will be able to use the profits to build their apartments, the school, and the public health center.
The members turn away, leaving him calling after them futilely that he can do it.
Do-woo is back to listening to jazz, which indicates he's feeling much better now that he's regained the upper hand. When Kyung-ah lays her purse down, it hits the remote control that opens Do-woo's hidden panel, revealing his creepy black-and-white collage. Do-woo rises and grabs the button to close the panel.
Kyung-ah's startled to see the images, but takes a calm approach as she asks, "Is that something I shouldn't have seen?" Do-woo ignores her and tells her to go home.
Kyung-ah fishes for information while acting sympathetic, saying he must have had it rough yesterday. Wondering where he went after leaving the meeting early, she guesses he went to see Eun-soo: "When things get tough for you, are you going to go to her?"
Annoyed, he asks, "Is that important?" Kyung-ah answers that she wants to help her tired husband, but all he does is come home in the morning to change clothes. How does he think she would feel? She's not angry; she just came to confirm how he sees her.
Do-woo changes the subject, handing her a credit card and telling her to use it freely. He knows she's rich on her own, but sees this as a husbandly gesture, while I see it as paying her off literally with a not-so-subtle hint to leave him alone.
Shin is exasperated to find Eun-soo sticking around when he'd prefer she left. I think it's adorable how she doesn't want to leave Shin alone — she said she'd help, and she is determined to do it — and drags her feet. Because she's not the belligerent type, she doesn't argue outright, but she deliberately hangs back when he tries to drive her home.
He understands why she's trying to help, but he still feels uncomfortable given her relation to Do-woo.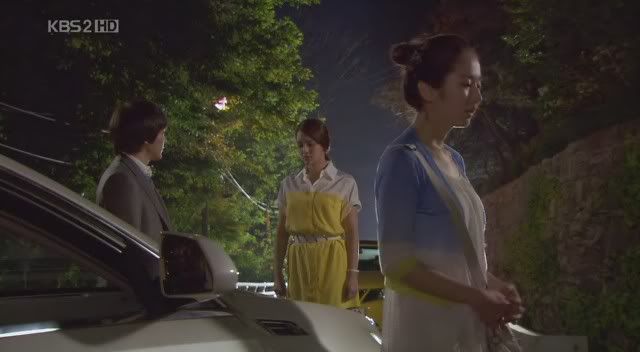 When they pull up at the Chae mansion, it's a surprise to find a car waiting by the gate. Kyung-ah has been waiting to talk to Eun-soo, but she also calls Shin over to talk since he's here.
Kyung-ah is after confirmation following Myung-sun's revelation, and wonders if Eun-soo knows who ruined Shin's brother. She's surprised when Eun-soo admits that she does, realizing she's the last to discover the truth. She does concede that she never gave Shin the chance to tell her.
Although Shin contends that she didn't need to know since it didn't affect her, Kyung-ah says, "If I'd known, I wouldn't have been able to treat you like that. Hurting you like that, and driving it in further afterward — I couldn't do that. I'm not that awful a woman." Shin: "I know."
Kyung-ah supposes that saying these things may be pointless now. Shin asks, "Are you okay? Is something the matter?" Kyung-ah has to laugh, "Kim Shin, are you worrying about me?" She admits, "If I hadn't run into you, I was going to pretend not to know. But since I did see you, there's nothing we can do about it. … I'm sorry. Forgive me."
However, being sorry doesn't mean she's changing her course: "I can't turn back time. I can only keep going on my path." After all, she explains, she's become a queen now.
The mayor's murder case meets with an obstacle: The police chief can't close the case completely, but he can dismiss most of the investigators and take charge of the investigation, which is essentially like closing the case. Detective Kim knows this and takes the order stoically, but is unmoved in her determination to continue. Her commitment to the case irritates the police chief, who would love nothing more than for her to return to her department in Seoul, but he can't dismiss her.
He can, however, release K immediately due to lack of sufficient evidence.
Detective Kim tells Jae-myung he's free to leave, too, as she can't force him to keep assisting. He ignores that and sticks with her, asking about her next plans. No evidence was found on buses or taxis, so she's going to investigate the other possible ways K left the crime scene — he may have hitchhiked, or walked.
Jae-myung offers an indirect compliment by saying that it would have been nice if she had investigated his father's case, and talks to her in banmal. With their age difference (and her higher "rank" as the cop), she thinks this is odd, but he answers that they're friends now, and friends use banmal.
Yes, I also get a vibe between Jae-myung and the detective, particularly given how Jae-myung finds himself looking at her more and more. (In contrast, aside from her glances at his butt, she remains largely ignorant of his attention, or at least unmoved by it.) Who knows if anything will come of this, but it is definitely an interesting dynamic they've got going…
Do-woo goes all-out in wooing the venture group members, organizing a festive event with food and entertainment to follow a presentation about the future of Myungdoshi. An MC explains how the new developments will bring prosperity to the city.
The president takes an irritated tone with Shin, who stands outside the presentation. He doesn't trust Shin's explanation that he wants to build them the apartment, school, health center, and wonders why a guy like him would help them. Shin answers honestly, "From the start, I had no thought of helping. I don't think a guy like me can help anyone."
Shin: "There's a guy I have to fight and beat. I chased him here, that's all. But oddly, the path he takes is lined with all these weak, dumb people who suffer at his hands."
President: "Are you calling us dumb?"
Shin: "Of course. Very. You've never trampled people so you don't know you're being trampled, and you don't know you're being misused."
The MC announces that a bus is waiting to take them to the entertainment. The attendees start to rise just as Shin interrupts.
Shin: "It's a lie. You must not be fooled. All for a mere twenty million won? Thirty? You've worked here your whole lives. You're going to sell your venture for a job? Don't make me laugh. Do you know who sent those people? Do you know what that guy is planning on turning Myungdoshi into? He plans to make this into his kingdom, and he needs servants for that. Can't you see?"
As Shin talks, the MC tries to interrupt, and people start to trickle out slowly.
It's kind of heartbreaking as Shin continues making his case despite the emptying room:
Shin: "I know you've suffered these past seven years on this agricultural venture. I know you have to keep suffering, but it's your land. You were all owners! But you're going to throw that away to become servants? Is being fed by somebody for the rest of your lives the only important thing? Is that your dream?"
Even when the room is empty, Shin insists he will build them their apartments, school, and health center.
Do-woo: "Do you know what the difference is between bugs and animals? Animals can still guess what to do next, whether to fight or flee. But bugs can't do that. They can't know where to run next."
When Kyung-ah comes by to speak to her father-in-law, this time Myung-sun won't look her in the eye, treating her with cool formality.
Chae asks if she's found out more about Do-woo, as he warned her to do. Kyung-ah replies that she's here to hear the truth from him. She learned all about business from Do-woo, and that investment in the long term requires thorough analysis of the enterprise. Therefore, she's here to find out how much value Do-woo holds as a long-term investment.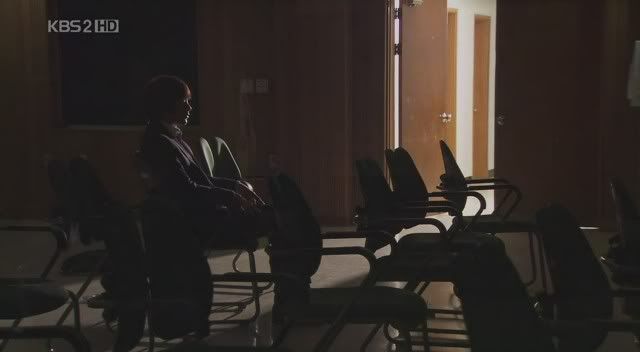 This scene is reminiscent of Shin's reaction after losing at the Chae Dong stockholders' meeting; like then, he sits in the empty room long after everyone else is gone.
Mun-ho, Kyung-tae, and Eun-soo anticipate his reaction and head out to meet him, but when the door opens, it's someone else. To his surprise, the venture group members have returned, treating him with friendliness and once again calling him the honorific "Teacher." In fact, they joke that he's more accurately their "Gangster Teacher."
The president tells Shin, "We've heard what they've had to say, so now let's hear what Teacher has to say."
Shin is flabbergasted — he thought they'd gone to the party to make the sale official and sign documents. The people chuckle; they merely went to enjoy the free food. The president adds, "You misunderstood one thing. We're not that dumb."
Although he doesn't quite understand, Shin realizes that he made some erroneous assumptions and replies, "I'm sorry." The president says, "We never had any plans to let go of that land from the start." They were going to kill time and pretend to listen to their offer while waiting for their produce to sprout
They repeat his own words back to him — they're a thousand strong, and seven years in the making. Furthermore, this isn't the first time someone's tried to take advantage of him. They admit that they hadn't fully trusted Shin, thinking he was out for personal gain, and apologize for that. But they want to know if Shin really believes he can get them their 50 billion won. Shin does.
Outside the room, the rest of Team Shin (minus Jae-myung) overhear the exchange and are stunned at this turn. Eun-soo smiles: "They must be the eggs he was looking for."
Do-woo's mole has no idea what prompted the change of heart, but he knows that the venture group has reversed its decision. Worried, he reports back to Do-woo that Shin is back on friendly terms with the people.
And just like that, Do-woo's mood takes another nosedive. He spends all night seated at his desk, brooding.
There's a bit of an interlude that night as Shin chats with Jae-myung; he's realized he doesn't actually know that much about him and asks some basic questions, like the type of law he practiced. (Jae-myung, in typical playboy fashion, asks, "Are you a girl? What would you do with information about me?")
As for his law career, Jae-myung answers simply that he's "a lawyer who wins." He took on homicide, rape, drug trafficking, and kidnapping cases. However, "Since I'm a winning lawyer, I set those people free. If I set them free, the next day they would kill again, or traffic drugs."
Shin muses, "Lately I wonder if my dead brother is interfering in my business. He was always the nagging type, because he couldn't stand to see me goofing around. Maybe he dragged me this far."
Jae-myung scoffs, "Then am I here because my father brought me here? No thanks."
After a night deep in thought, Do-woo calls Eun-soo in the morning, but doesn't say anything; all Eun-soo hears is the background jazz music. (Does it mean anything that the song is "My Funny Valentine"?) Do-woo picks up the receiver as though to talk… but decides not to. He places the receiver on the desk, keeping Eun-soo on the line, and walks out of the room.
So, so bizarre.
Eun-soo thinks so too, and calls Shin. She can't explain why, but she has a horrible feeling that she can't shake:
Eun-soo: "I know this sounds ridiculous, but there's something strange about my brother. You're not busy, are you? If you ask why I'm saying this, I can't give you an answer, but I'm so uneasy I can't take it. Kim Shin, there's nothing wrong, is there?"
No, there's nothing the matter with Shin, but the same can't be said for his crew. Mun-ho heads out to meet an old-time buddy — they used to work cons together, but Mun-ho insists that he's clean now.
They greet each other gladly, but Mun-ho can tell that something's the matter with his friend, who's fidgety and nervous. He asks what the matter is, and his friend beats around the bush, saying how life is difficult and he's been forced to do some unpleasant things.
Mun-ho starts feeling uneasy, and looks up to see several men walk in. They apprehend Mun-ho and arrest him for running a scam — his friend snitched on him and was part of the trap.
Kyung-tae has been left alone at café all day, and closes up alone just as a trio of detectives walks in. They arrest Kyung-tae for circulation of false information and defamation, and drag him off.
Ohhh, shit.

COMMENTS
Fight scene!
This one wasn't nearly as intense as the bone-bruising one in a previous episode, but still just as full of angst. They grapple with each other with such force that it's a wonder they can ever see each other while remaining calm.
You know how I said in the comments of the last episode that I particularly enjoy how evenly matched Shin and Do-woo are? Case in point: If Episode 15 was all about Shin getting one up on Do-woo, Episode 16 was Do-woo's chance to send the scales tipping back in the other direction. Not too much, of course, but enough to get Shin back on the defensive.
Speaking of which: whose heart just about broke along with Shin's this episode? It's one thing to fail, but to be abandoned by your people… ouch. (Even though he gained them back in the end, the feeling of defeat was genuine.) It was bad enough when he was appealing to them in the hallway citing the association rules, but when he was pleading with the exiting crowd at the meeting hall…. That was pretty crushing, particularly as he continues pleading to an empty room.
I've given a lot of love to Kim Kang-woo for his excellent, eerie portrayal of Do-woo, since it's the standout performance of this drama. I think Park Yong-ha's role is less noticeable, at least initially, because he's playing the more traditional character. But as with the comments on the last post that (rightly) recognized that Han Yeo-woon's understated portrayal of Eun-soo deserves credit for turning her into such a rounded, warm character, Park Yong-ha surely deserves a little extra credit, too, for doing the same with Shin.
I just really, really like the character of Shin. For a "good guy" character, he's got nuances that keep him from being a Mary Sue, which is always the death trap for "good" lead characters. He's not so perfect that we tire of his mastery, nor is he so flawed that he becomes grating. It's a tricky thing to constantly cross back and forth between failure and defeat, smugness and fear. He's one of the most resilient characters I've seen in a while, but that's not an easy thing to pull off — too defeated, and you come off a loser. Too persistent, and you come off like an annoying yapping Chihuahua who never learns his lesson. Shin has the ability to make each defeat feel like a true setback, but still returns with renewed resolve.
Lastly, I'm just posting these caps to point out what a concise statement this image makes — Do-woo, gripping the steering wheel in anger, wearing his wedding ring, with Eun-soo in the background.
Layers, layers, layers! That's the mark of witty directing, isn't it?

RELATED POSTS
Tags: Kim Kang-woo, Park Ki-woong, Park Shi-yeon, Park Yong-ha, Philip Lee, Story of a Man