Story of a Man: Episode 19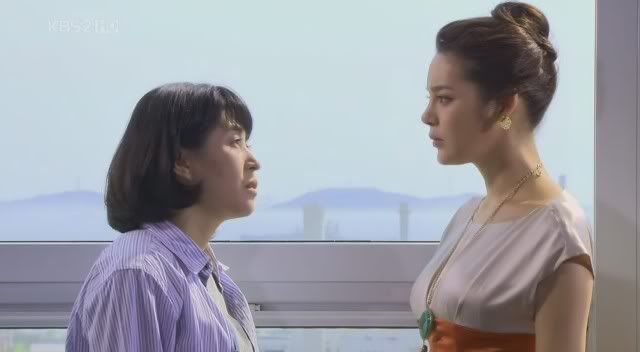 It was hard picking a good screencap today because all of them are such huge spoilers to the plot. (Seriously? OMG WUT THE HELL, EPISODE 19?? Are you trying to give me a heart attack? I'd been spoiled as to one huge thing (well, several), but not one in particular, so this episode still managed to pull out a big surprise. Some really strong acting, too.)
Even though I used this image kinda by default, I rather like it now, even though it pits one of the ladies I like with one for whom I barely have any patience. One guess who's who. Still, two strong and admirable ladies in a drama versus one unsympathetic and annoying one is a pretty decent ratio.
SONG OF THE DAY
Wheesung – "나락" (Hell) [ Download ]
Audio clip: Adobe Flash Player (version 9 or above) is required to play this audio clip. Download the latest version here. You also need to have JavaScript enabled in your browser.

EPISODE 19 RECAP
Just as K lifts the gun to Shin's head, Eun-soo enters the warehouse area and calls out hesitantly for Shin. Both men freeze. Shin takes advantage of the pause to grapple with K to disarm him, and yells at Eun-soo to run away.
Shin runs for cover, while K recovers and takes up his gun again, slowly approaching Shin's hiding spot. From his crouched-down spot, Shin motions for Eun-soo to stay silent. He rises slowly, looking for K, but freezes when he realizes he's in K's sights, who is aiming his gun at the back of his head.
Eun-soo sees K appear behind Shin. Realizing Shin is in danger, she makes a split-second decision: She runs out into the open toward him, and Shin runs toward her to stop her.
And just as Jae-myung and Detective Kim arrive outside, a gunshot sounds.
It takes a moment for Shin and K to realize what has happened: Shin stands holding Eun-soo, who slowly collapses from the bullet in her back, which she'd taken instead of him. Shin cradles her in disbelief, and when Detective Kim arrives on the scene, he's sobbing and shouting for a doctor.
Jae-myung hears the shot and sees K fleeing the scene, and immediately chases. K keeps hidden in the large warehouse, and Jae-myung angrily challenges K to come out and face him.
Jae-myung doesn't know who was shot, and his reaction here is fury mixed with uncertainty as he demands to know whether it was Shin.
Detective Kim shoves Jae-myung to safety, out of the open, and tells him it was Eun-soo who got shot. Jae-myung is racked with guilt because this was done with the gun he bought.
The detective takes out her own gun as she says, "Yeah, that's what guns are like. That's why they're bad."
For his part, K knows he has fucked up royally. (Frankly, I think this is probably the worst K could feel, not that it's any consolation, because he not only failed his mission but destroyed the one thing his beloved Do-woo actually cares about.) He runs off, and Jae-myung watches him go in frustration.
Other police officers arrive to provide backup, which provides just enough distraction for Jae-myung to snatch Detective Kim's gun and run after K, taking cover behind an old van.
K shoots the van repeatedly, methodically (almost like he's wasting his shots).
When Jae-myung raises his gun and cautiously moves to get a shot, K stands there in the open, his gun lowered. This is Jae-myung's last chance to kill K, and time is ticking. The other cops race toward the scene with their guns out and take cover behind pillars; Jae-myung calls out, "Don't come closer. This guy's mine!"
Jae-myung bites out, "You're out of bullets, aren't you? You killed my father, didn't you?" K nods. Jae-myung asks, "Did you kill Mayor Yang, too?"
Again, K nods and says with a smirk, "I killed him." Jae-myung demands, "Why?!" to which K replies, "Just because."
Det. Kim tries to stop Jae-myung from committing murder, and warns Jae-myung to put the gun down, or they'll shoot him first. It's a mighty struggle with himself as he fights the urge to shoot, then finally drops his weapon.
Then K raises his, putting it to his own temple. Bang!
It's almost satisfying to see Do-woo receiving word of Eun-soo's situation. At first he lowers the phone slowly, emotionlessly. Soon, he has difficulty breathing, and he stumbles dumbly out of the room, clutching at his chest, making his way to the hospital.
Shin's already there, anxiously waiting while the doctors try to revive Eun-soo. Unfortunately, they're running low on her blood type (O negative, which can only receive O negative blood).
Do-woo storms blindly into the hospital, demanding to know where his sister is, pushing random people out of his way. His anger reignited at the sight of him, Shin launches himself at Do-woo's throat, and the two men grapple furiously for a short scuffle.
They're stopped when a doctor calls out for Eun-soo's guarantor; they're running low on her blood. Do-woo gasps, "I'm her brother. We have the same blood."
Shin has to be forcibly restrained from stopping Do-woo, shouting in anguish that Eun-soo can't take his (evil, tainted) blood, that it will kill her. Perhaps he means this in a symbolic sense, but the irony is that the opposite is true in a physical sense. He stops when Detective Kim tells him forcibly that if she needs surgery, and if she doesn't have enough blood, she may die.
Eun-soo is rushed into surgery, although the doctor tells a devastated Shin that even if surgery is successful, things don't look good.
Shin tells Det. Kim, "She took the shot instead of me."
Kyung-ah arrives at the hospital, and I find it a little (cruelly) ironic that Shin is desperate to see Eun-soo and receive word of her condition, but Kyung-ah is the one who is allowed more access because she's Eun-soo's guarantor as her sister-in-law.
Meanwhile, Chairman Chae is home alone, drinking himself into a crazy, babbling stupor. He laughs and blurts out, "Who am I? I'm Chae Dong-soo." He shouts in his empty house, "Is anybody there?"
Do-woo gives blood and wants to stay behind while his sister is in surgery, but Detective Kim takes him in for police questioning. He proves to be an uncooperative suspect, giving dull "yes" or "no" responses and denying that he purposely drew Shin out to be murdered. He's only concerned with his sister, ignoring the officers' questions to ask whether they've received any news from the hospital.
Without any (legal) way to get back to Eun-soo, Do-woo has to sneak out. This he accomplishes by going on a bathroom break accompanied by one male cop, faking collapse, then beating the police officer up.
Do-woo runs out, hijacks a car, then ditches it a distance away. He buys a nondescript disguise for himself, trading the business suit for a cap and dark jacket.
With both the chairman and Do-woo out of commission, Kyung-ah is the one left handling business matters. She arrives at another MOK meeting with the power- and money-hungry old men, who see this as a grand opportunity. Looking over the Myungdoshi plans, they announce quite a few changes — like getting rid of a golf course for more lucrative apartments.
Kyung-ah protests; their plan may easily turn into a slum in 10 to 20 years. They wave off the concern, saying they can redevelop at that point. It seems like a cavalier, short-sighted approach, and Kyung-ah looks like she's about to argue — but they interrupt. They remind her that they've busily worked on behalf of Myungdoshi and invested in it, so now it's time for them to reap their rewards.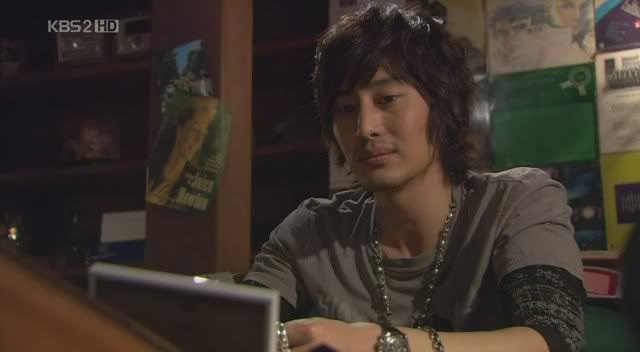 Jae-myung picks up Kyung-tae upon his release from jail, and has to break the news to him gently. Kyung-tae's expression goes from happy to shocked, and Jae-myung delivers him to the hospital to meet Shin. He then returns to the café, where he looks through his father's belongings, including the old photos of him with his father.
I suppose this is the moment where Jae-myung has to face giving up his revenge on an emotional level, because he's already given up his last chance to have it on a physical level. With K dead by his own hand, Jae-myung's victory is pretty compromised, and now he has to reconcile himself with that. He picks up his father's old watch and wears it.
I love Kyung-tae's way of saying things, because there are often gems of wisdom in his odd, jerky statements. At first he thinks she's just sleeping, but then realizes, "She's not sleeping, she's in a coma." Shin is lost in his own emotions, and he doesn't react to Kyung-tae's attempts to talk. He's so out of sorts that he hadn't even reacted when Myung-sun said tentatively that she wanted to visit the chairman to check on him.
Kyung-tae says, "2924 usually speaks very well, and speaks a lot. But you aren't speaking." Thinking to be helpful, he adds, "You don't say anything like 'I'm hurting, I'm sad.' If you want to speak, I can lend you my headset." Kyung-tae offers his headphones, which makes Shin smile, although it twists into a grimace just moments later.
Shin: "I keep thinking of that scene, a hundred, thousand times."
Kyung-tae: "That scene?"
Shin: "When she collapsed. How she was standing when I heard the gunshot. How before she arrived, I would have been shot. Wondering why I ran and fought. I shouldn't have done that — no. If I hadn't gone there at all — no. From the very beginning, when she came to see me in prison, if I had turned around and not met her, if I had lived not knowing her, Eun-soo would have been fine. I think of that a hundred, thousand times. It was strange from the start, that just looking at her made me think she'd get hurt, so I felt uneasy. I thought she shouldn't be with a guy like me, so I kept her from coming close and tried to push her away. But when I turned around, she'd be following behind, smiling, feeling sorry. I caused Eun-soo to be hurt."
Kyung-tae: "You are wrong. 2924, you made her cry but you did not injure her. So when Eun-soo wakes, I hope you can not make her cry or push her away, but smile together with her."
Shin: "Yes, I'll do that."
But Shin talks without conviction.
Kyung-ah is presented with a search warrant for the office and her home, and I like that the detective is tough on Kyung-ah in this scene. She's no-nonsense and unsympathetic.
Kyung-ah remains alert and a bit defensive as Detective Kim says that Do-woo ordered a man to kill someone, and that man ended up shooting his sister. He (K) killed himself in front of the cops after making a full confession. Kyung-ah bristles and replies, "Then it's just speculation."
Detective Kim counters that if Do-woo remains on the run, she'll conclude that he's guilty of instigating murder. Furthermore, Kyung-ah sure is handling this news well.
Kyung-ah retorts, should she let the company falter while she cries? Should she chase after them and insist her husband is innocent? It's only after they leave that Kyung-ah allows herself to react a little to the shock.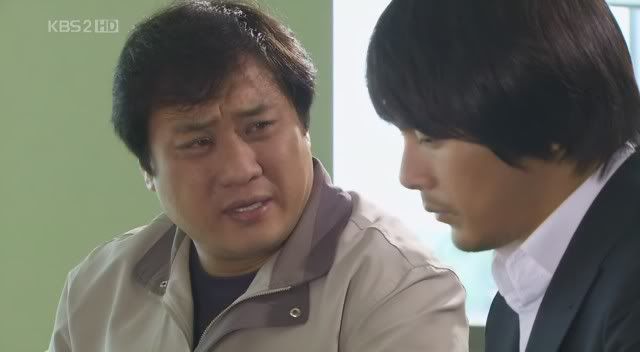 A Myungdoshi resident and farming group member arrives to talk to Shin. He tries to be very gentle with his wording, knowing that Shin is too preoccupied right now to think of business matters, but the farming group is up against a difficult situation and could really use his help. They have to move out soon, but haven't found a new place to relocate to — land prices have shot up and nobody's selling. He'd really appreciate if Shin could drop by the farm soon to figure out a solution.
Do-woo uses a decoy to divert the attention of a police officer watching Eun-soo's room, and slips inside to speak to her. Kyung-tae is the only person outside the room and fidgets nervously at Do-woo's approach, then scuttles off for help. The nurse tries to speak up, but seeing Do-woo's intense look, she runs out in fear, also looking for help.
Do-woo speaks as though expecting her to respond, as though he doesn't believe she's actually unconscious:
Do-woo: "Oppa's here, Eun-soo. I came by to see how you were. You're okay, right? It's so cramped in here. You must feel uncomfortable. You don't like it here either, do you? Answer me, Eun-soo."
Kyung-tae finds Shin and gasps out frantically that Do-woo is here, but by the time they make it to her room, he's gone.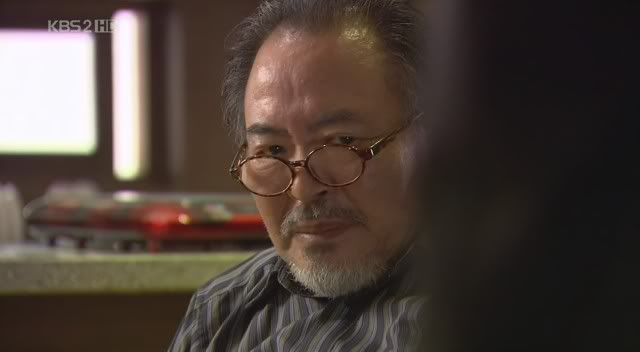 Do-woo next heads to his father's house to confront him. Afraid of his son, Chae tries to get rid of him, saying, "I have nothing to discuss with you."
Do-woo tells him, "I'm not angry. There's nothing to be afraid of." But Chae backs away nervously anyway.
Do-woo: "Why did you do it?"
Chae: "You're a murderer. What can I say to the man who shot his sister?"
Do-woo: "Do you know how hard I worked to protect Eun-soo from you? I stayed in this putrid house to watch over her."
Chae: "You shot Eun-soo! If she dies, you will have killed her."
Do-woo's tone becomes almost indignant, like a wounded, uncomprehending little boy:
Do-woo: "But you told me to do it. It was like when Mother died. You told me that there was medicine underneath Mom's bed. You told me it was medicine to make her comfortable."
Do-woo starts to break down and Chae looks uneasy, although he sticks to his belief that he's innocent of wrongdoing and scoffs, "You're crazy." Do-woo asks, in a tone that grows increasingly pained and confused:
Do-woo: "You have a lot of crazy men around you, too. You should have just fooled around with them, and not messed with me or Eun-soo. We could have lived fine separately, the two of us. We could have stayed out of your sights. Why did you do that?!"
Now Do-woo's angry.
He approaches his father menacingly, but this is when Myung-sun arrives, calling out for the chairman and breaking the spell. Chae urges her to call the police, and now Do-woo reverts back to his icy, slow calm.
Do-woo looks around the house and thinks back to happier moments here with Eun-soo. He leans over the table to stare at his father, then retreats into himself. He leaves silently.
Kyung-ah is now the person controlling more than 50% of the company's stocks, so she can make decisions without gaining anyone's permission, announcing herself in charge until Do-woo's matters are settled. But Bum-hwan makes an unannounced appearance and intrudes on her meeting.
Bum-hwan had an agreement for supplying materials (for construction) with Do-woo, and signed a memorandum of understanding. Kyung-ah doesn't know about the deal, and says that she cannot honor the memo, which is not legally binding. She encourages him to bid on the contract properly and offers to give him particular consideration, which both understand as a blow-off gesture.
Neither is happy about the other's strong stance, but Bum-hwan lets it go for the moment. (I'm not sure whether Do-woo meant to honor the deal — he had made the deal to get Bum-hwan to give up the farming investment — in which case Kyung-ah just made a needless enemy. Then again, Do-woo knows these memos aren't legally binding, so……)
Kyung-ah finds some time alone in Do-woo's circular office, and calls his phone to leave a message:
Kyung-ah: "Do-woo, I don't think you'll use this phone but I have nowhere to talk to you. Running away isn't like you. Are you doing something on your own again? If you need somebody, call me, because I'm your wife. A wife is a person who stays on your side no matter what the world says. I want to do that. Do you know this? When I saw you, my heart beat faster. I think I loved you. So I knew it would be scary and sorrowful, but I stayed with you. Did you know that I was there with you? I know you're a frightening and bad person, but I must have loved you anyway. So calculating everything, I came out with a profit. Didn't I?"
Do-woo may be heartbroken over his sister's accident, but he's still in full possession of his scheming brain, and calls reporters from a pay phone. They haven't heard about any of this — that Do-woo is wanted by police, that his sister was shot — so he leaks the information to them.
Shin, meanwhile, has pretty much been living outside Eun-soo's door along with Kyung-tae. He sighs that Eun-soo's condition isn't changing: "She isn't regaining consciousness. Maybe she doesn't want to."
The nurse sees that Shin and Kyung-tae continue to wait, and feels sympathy for them. Although they aren't relatives, she lets them inside to see her.
Kyung-tae is first to speak, and asks her to wake up. "I'm really worried about you. If I worry a lot, my head really hurts. So please wake up. I will be waiting." Having assured her that he'll watch over Shin, Kyung-tae leaves to give Shin privacy.
Shin: "Do you hear me? I heard somewhere that even if a person is in a coma, they can hear their surroundings. Is that right? If you wake up, I have something to tell you. If you allow it, I want to start again with you. And also…"
Shin breaks off and tears well up in his eyes. He continues, voice breaking:
Shin: "Look here, Eun-soo. If you go like this, you'll be doing a truly awful thing to me. If you leave me behind like this, what am I supposed to do? So save me."
Do-woo returns to the hospital, this time disguised as a paramedic. He passes by the reporters he has notified, but doesn't acknowledge that he's the one who called them there, promising a press conference. While they clamor for information, Do-woo grabs Eun-soo's doctor and takes him hostage, asking for her condition.
It's not looking good. Even though she came out of surgery, she has suffered severe internal damage. Do-woo wants the straight answer: "Can you save her, or not?"
The doctor doesn't want to answer yes or no, and explains that they're doing everything, but her possibility of recovery is extremely low. Do-woo concludes, "So you're saying you can't."
Meanwhile, the reporters are raising such a ruckus that the police can't shut them up. Shin steps up and shushes them, and recognizes one as the reporter who sparked the false report involving his brother. (This time, Shin smirks in amusement: "You're just the same. Has your salary gone up?" The reporter is unnerved and eyes him warily.)
Shin leads them away to a separate waiting room for their promised briefing, but they grumble when he starts by scolding them for being so disruptive. As they complain, suddenly an image strikes Shin belatedly — he recalls a shady figure dressed as a paramedic passing by, and realizes Do-woo is in the building.
How freaking creepy is it to see Kyung-tae peering into Eun-soo's window, and Do-woo slowly coming into focus behind him?
Do-woo asks for Kyung-tae's help, but it's not really a request, it's a threat — he holds him at knifepoint and orders him and the nurse to move the patient. By the time Shin races back to Eun-soo's room, it's completely empty. Eun-soo's gone.
Kyung-tae (poor Kyung-tae!) tries to stop Do-woo along the way, bursting out nervously: "You can't do this! This is too dangerous for Eun-soo. You must go back!"
Do-woo's clenched-jaw response is angry and a little desperate: "I want to go quietly, but I'm in a bit of a rush."
The nurse has been jumpy and nervous as well, and takes the opportunity to run off. Do-woo follows, and it looks like Do-woo's about to stab her, but Kyung-tae steps in front and stops him. He agrees to go quietly, as Do-woo wishes.
Only… by the time Shin races outside to try to spot Do-woo, Kyung-tae lies in the parking lot with the nurse holding his bleeding stomach. He's been stabbed by Do-woo.
Shin looks around frantically while Do-woo makes his getaway in an ambulance with the kidnapped doctor and Eun-soo in the back.

COMMENTS
Nooooooo! GODDAMN IT ALL TO HELL YOU CANNOT KEEP KILLING OFF MY LOVELY CHARACTERS! Yes they are mine and yes I know that neither Kyung-tae nor Eun-soo is actually dead (yet?) but DUDE you have got to stop this. Why couldn't you kill off Kyung-ah instead, or maybe the chairman? Fine, fine, if we're going for characters whose deaths I would actually care about, how about Joong-ho or Bum-hwan? Mun-ho? How bout all five of them to save our Eun-soo and Kyung-tae? Oh, so sad. *Wails* Sigh.
(And there you go, the stages of grief, in condensed paragraph form.)
Also, the last scene does a fantastic job providing a startling moment as the ambulance slowly pulls away to reveal Kyung-tae lying on the ground. I'd known Eun-soo was shot (and I greatly fear that Do-woo will be taking her for some sort of twisted "mercy killing"), but Kyung-tae's stabbing came as a surprise.
Meanwhile, I continue to be impressed by Eun-soo and Detective Kim. Less so by Kyung-ah. I love that the first two women developed into rather unlikely heroes, although neither is touted as a major character, nor are they traditional pretty-girl or sexy-woman types. I suppose Kyung-ah is supposed to be strong as well, and maybe she is strong in the sense of not buckling under extreme pressure, but I still find her character/role in the story a misfire. Is it a casting issue, or bad character development? Or perhaps we're supposed to feel mild contempt for her, since she has aligned herself completely with Do-woo in the name of wifely love?
(I almost wonder if writer Song had perhaps intended to make her a more central character, but found Eun-soo a much more convincing center. Another possibility is that Eun-soo was always built in as the focal point of all this conflict — the eye of the storm — but was meant to sneak up on us viewers.)
In any case, Eun-soo literally exchanges her life for Shin's, which is hugely significant. Eun-soo being caught in the crossfire is important regardless of her intent, because she's a character whose life/death has tremendous influence over our main characters. But her agency in this development — her decision to throw herself in front of Shin — carries even more weight. I had known this was coming, but I had thought it might occur by accident, particularly after seeing how she arrives at the warehouse as Shin is being tracked by K. It's a lot more meaningful to see that her sacrifice was willing and intentional. Knowing who K is to her brother, Eun-soo must know that Do-woo is behind this fight, and she makes her decision to side with Shin. And she does it in the most extreme way possible, but giving up her own safety to secure his. (*tear*)
In a lesser drama, such a gesture might be played as a romantic sacrifice (she loves Shin, therefore saves him), but I appreciate that in this drama it's never just about that. She does care for Shin, but her action has to be seen in context of the picture as a whole; we have seen that Eun-soo does love her brother, but has to draw a line when he crosses into evil. Therefore her decision is about her belief in what's right, not just what she wants.
On the other hand, I thought it was noteworthy how Kyung-ah says in her phone call that she knows Do-woo's a bad person but can't help loving him; she wraps her explanation in financial terms, saying she still came out "with a profit." How like her to speak of love in terms of money, isn't it?
Ah, whatever. Kyung-ah can go suck it.

RELATED POSTS
Tags: Kim Kang-woo, Park Ki-woong, Park Shi-yeon, Park Yong-ha, Philip Lee, Story of a Man