A new Miss Korea is crowned
The new Miss Korea has been crowned, and she is Kim Ju-ri, a 21-year-old studying at the Bolshoi Ballet school in Russia.
The Miss Korea Pageant took place on the evening of July 8 at Seoul's Sejong Center for the Performing Arts, and was hosted by former Miss Korea finalist and now actress-mother-wife Sohn Tae-young. Kim Ju-ri takes over from last year's winner, Na Ri (whom you may recall suffered criticism for not being "pretty enough" for the win). Preceding her was Lee Ji-sun, who won in 2007, and before her was Honey Lee in 2006.
The finalists are divided into three distinctions: Miss Korea jin is the sole winner (Kim Ju-ri, in the center), while she is flanked in the above photo by the two Miss Korea sun finalists. The four outer finalists won the Miss Korea mi distinction.
The full list of awards:
Miss Korea (jin): Kim Ju-ri
Miss Korea (sun): Cha Ye-rin, Seo Eun-mi
Miss Korea (mi): Park Ye-joo, Lee Seul-gi, Yoo Su-jung, Choi Ji-hee
Talent Award: Yoo Su-jung
Friendship Award: Yang Kook-hwa
Manners Award: Jo Su-jin
Photogenic Award: Wang Ji-hye
Korean Abroad Award: Kwon Ri-sae
Popularity Award: Park Ye-joo

Miss Korea winner
After being named the winner, Kim Ju-ri said, "Although I've become Miss Korea, my dream is to be a ballerina. As a Korean ballerina, I would like to show the world the pride and beauty of Korea's women."

Miss Korea sun
Cha Ye-rin (22) is a university student studying English literature and hails from Jeonbuk.

Seo Eun-mi (21), studies Korean art at university and is from Daegu.

Miss Korea mi
Park Ye-joo (22) is from Seoul and also won the popularity award. She is studying fashion design at Parsons Design School.

Yoo Su-jung (21) also won the talent competition and is a university student studying English from Daejeon.

Gangwon's Lee Seul-gi (20) is in the modeling department (there's a modeling department?) at university.

Choi Ji-hee (22) is also studying modeling and comes from Kyunggi province.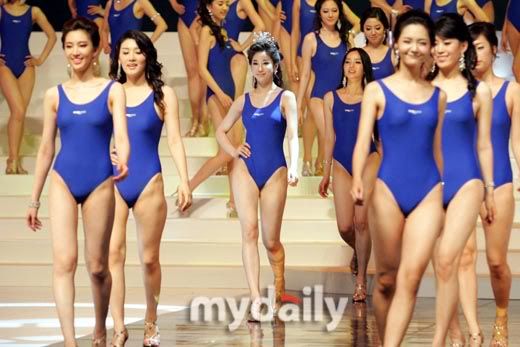 Via Hankook Ilbo, Now News, Newsen, Hankook Ilbo
RELATED POSTS
Tags: Miss Korea