City Hall: Episode 4
(written by Samsooki, editing, layout, design and tireless efforts by 0timelost, cleown, and mead33)
City Hall: Episode 4 – Who Will Be Inju City's Miss Baendaengi 2009?
Episode 4 begins with the Baendaengi contestants working on a Habitat for Humanity type of project for an old woman – another one of Mi Rae's ideas. Smelling a good photo opportunity, Mayor Go Boo Shil comes to visit. An anxious Mi Rae tries to hide from the Mayor so as not to get into trouble. But of course, she is discovered… hiding behind the floor mat covering wrapped around Jo Gook's extremely long legs. No harm no foul, however, just confirmation that one of the Baendaengis is not like the others.
That afternoon, Boo Jung Han, the incumbent National Assembly member throws a dinner for all the Baendaengis. After dinner, Mi Rae drops by the project home to bring leftovers to the old lady and to finish up the wallpapering, but finds Jung Do and fellow handyman Yang there instead. Together, the three of them finish the job late into the evening, laughing and chatting away. As Jung Do takes trash outside, he sees Jo Gook's car stopped outside of the house. Jo Gook is inside the car, watching, with a very pensive and somewhat sullen look on his face.
Jo Gook looks like a hungry child watching other people eat. After being spotted by Jung Do, Jo Gook drives away. What is the story here? What was Jo Gook doing there?
Early the following morning, it is final preparation time for the Miss Baendaengi finals, and Mi Rae is nowhere to be found. Jo Gook is not surprised to find that Mi Rae has violated the contest rules by not returning to the hotel after the dinner. Mi Rae then runs in, explaining that she had to finish all of the work that the other Baendaengis did not finish. It is an adequate explanation…
Not to Jo Gook, however, who coldly disqualifies Mi Rae from the competition. Mi Rae is stunned, hurt and humiliated, with a heart-breaking-ly cute smile frozen on her face. Jung Do is also stunned – he SAW Jo Gook watching them work the night before. Why is Jo Gook acting this way?
Jo Gook then gives Mi Rae some advice on how the game of life is played. Mi Rae broke the rules, and the rules are there to be kept. (This is a lesson on life that I think that Jo Gook is giving sincerely, although from all manner of appearances, this is an extremely harsh outcome.)
In any case, Jung Do has had enough of Jo Gook waltzing in and out of the contest, and promptly announces that he should also be fired since he was there too helping with the wallpapering. Jo Gook is incredulous, but now he has to run the pageant by himself.
As Mi Rae leaves the hotel, Jung Do is waiting for Mi Rae outside the hotel. Jung Do tries to console Mi Rae, and gives her a little insight into Jo Gook's history. It seems that Jo Gook was the best at everything at the academy – studying, sports, and even in tango dancing. It appears that Jung Do and Jo Gook have had a long past together.
Jung Do even mentions to Mi Rae that if Jo Gook tried hard enough to remember, he would remember a certain special night that he and Jung Do spent together. Special night? Mi Rae perks up at the mention of a special night that Jung Do and Jo Gook had spent together, and her imagination goes wild… cue the Spanish music!
Meanwhile, as Mi Rae is day-dreaming of hugging-crying men in robes, back at the Mayor's office, a call comes through from the National Ministry of Gender Equality! The Mayor receives another shock when he hears that the Minister's deepest regret is not being able to participate in a beauty contest. She is proud that Shin Mi Rae is competing in the contest! The Minister's encouragement of Shin Mi Rae is pointed and the meaning is obvious.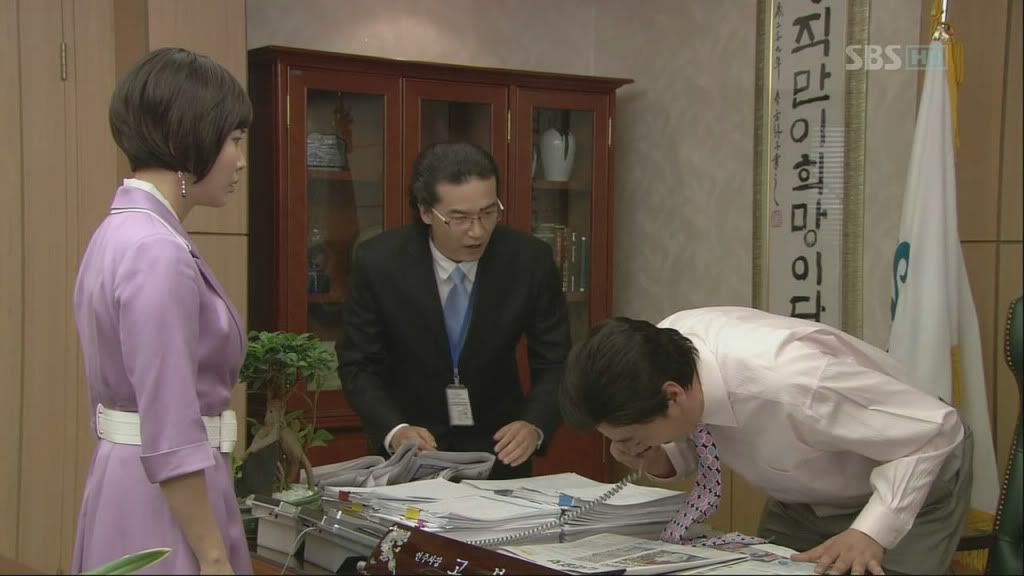 At the hotel, the Baendaengis are preparing for their evening gown walkthroughs, and Mi Rae is of course not there. The Mayor is outraged at Jo Gook's dismissal of Mi Rae and demands that she is to be brought back at once!
Outside, Jo Gook calls his friend to thank him for getting the Minister of Gender Equality to make the phone call. Hey… what? Jo Gook planned to bring Mi Rae back in after all! Then why did he humiliate her and dismiss her in the first place? Why go through all that effort if he was going to bring her back in anyway? (Note: we had pages and pages of debate over why Jo Gook dismisses Mi Rae, while all along planning to bring her back by getting the National Minister of Gender Equality to call the Mayor. Literally, each of us had different notions as to why Jo Gook did what he did. In the end, none of our interpretations made the episode recap, mostly because I felt that all of our viewpoints were valid and therefore we had no consensus. What do you guys think? Why did Jo Gook dismiss Mi Rae in the first place?)
Now, he just has to get Mi Rae to come back…
Well, that's one way.
Finally, it is time for a mini-showdown between Shin Mi Rae and Jo Gook. And this scene is brilliant. Jo Gook tells Mi Rae that she can get back into the contest, but doesn't apologize for his harsh dismissal. This sets Mi Rae off, turning her into Kim Sam Soon, yelling at Jo Gook, whom is taken down a million pegs, and is speechless. Somewhere, Binnie is smiling.
But then Mi Rae abruptly stops yelling as she has said what needed to be said to wipe the smugness from Jo Gook's face. She's a kind-hearted person, after all! Classic scene.
Mi Rae runs back to the hotel / convention center. Shin Mi Rae is back in the contest! It is now time for the pageant, and the crowds are out in force.
It is time for the talent competition, and with the other Baendaengis' mediocre, Mi Rae is in the mood for tango to wow the audience.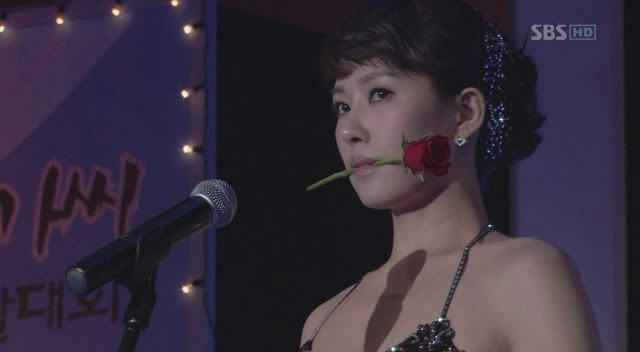 Who else do we know that dances the tango?
(Shin Mi Rae looks soooooo good here… standing in front of a Jo Gook, holding a rose out to him.)
Which leads to this:
Now comes the final decision… and Mi Rae makes it into the final two. And who will take it? Which Baendaengi will reign as the First Miss Baendaengi of Inju City?
Yes, Shin Mi Rae is Inju City's Miss Baendaengi!!! Being the ungracious loser, the runner-up accuses Mi Rae of spending the night with several pageant officials. Mi Rae is at a loss. She acknowledges that this is true, but it was only to help put together the contest and make it a success. But, if her actions were to give the contest a bad name, she willingly gives up the title. But as she sticks out her hand to give up the trophy, Mi Rae collapses from exhaustion!
And Jo Gook comes to the rescue! Hilarious and triumphant! And for once, I am happy to the see the "carry the sick girl on back" routine, even though medically speaking, it probably is a terrible idea to carry a sick person like that. Jo Gook's weak back seems to be holding up well – the potential severity of the collapse has turned Jo Gook into a superhero! (But did Mi Rae really faint or did she feign her fainting spell to get out of a difficult situation? Clever girl if she did!)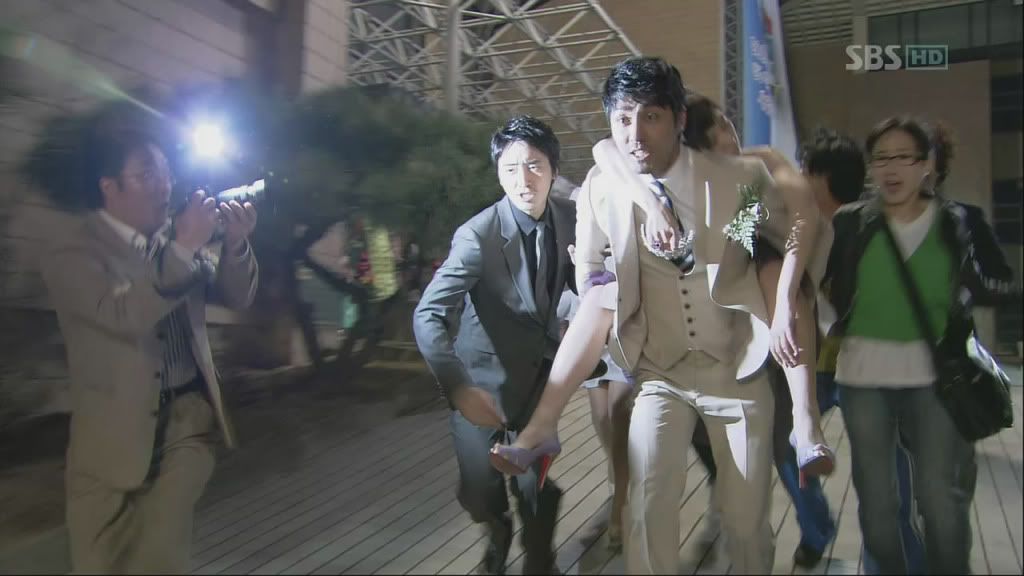 Mi Rae is now a minor celebrity, and she now makes her way through various meets and greets as Inju City's 2009 Miss Baendaengi. The Mayor tags along with Mi Rae, basking in her glow.
Meanwhile, Jung Do's working late into the night, trying to wrap up the contest, and he knows that he is going to have to tell Mi Rae that the contest was rigged, and that she will get no prize money at all.
Blissfully unaware of the problems to come, Mi Rae parties with her friends with cake, beer and the absolutely delicious looking Korean-style fried chicken. Her friends start asking her about the rumors of her and Deputy Mayor Jo Gook. Boo Mi joins the fun, noting that Mi Rae was drunk that night, and guess whose back was hurting in the morning? Boo Mi guesses that Mi Rae got Jo Gook drunk, then jumped his bones.
Mi Rae: Who was the one who jumped whom? I kept telling him that I didn't want to, but he kept telling me to come to his room. Telling me to come after I had washed up. And as for how he hurt his back, I was taking a short nap and he lifted me up…

Mi Rae's friends (Pandemonium as they all scream and talk all at once): Then what happened?
Not content to just tell the boring truth, Mi Rae begins weaving a tale to satisfy her audience.
Mi Rae: Then I said, "Omo, what art thou doing, sir? Oh, please don't be like this…" His breathing started to get heavy, but then I said to him in a tragically heroic fashion, "This is as far as I can go with you, I have to go."
Mi Rae looks around, and realizes she cannot stop there. She continues her harlequin recitation.
Mi Rae: When I said that, he grabbed me by my shoulders and spun me around, and said to me, "Do you really have that little clue, as to why I asked that you come to my room? …don't say a word… if your words end up causing pain to my soul and to your soul, I'd rather not listen… There is only one thing I want to hear from your pretty lips…"

Boo Mi (interrupting): What was it?

Mi Rae (annoyed): Let me tell the story!!

Mi Rae: We stared into each other's eyes for a long, long time. Thereafter, he said in a soft voice to me…

Jo Gook (in real life): You are drinking again?
Mi Rae could not be less excited to see Jo Gook, suggesting that he sits at another table, or a different bar, but Jo Gook plops right down and is ready to eat, drink, and talk. Mi Rae's friends launch right into the questions. Any second now, and the romance story will be shown to be a mere imagination. Mi Rae has no choice left.
She must commit assault & battery against a respected Deputy Mayor by slapping him in the back of the head. Hard. Look at that hair flying and the head swinging back and forth; this is even more brutal in slow motion! For those who wished for Mi Rae to get back at Jo Gook for the King Kong comment, well, this is your revenge. *chortle*
But that's not all. Mi Rae leaps to her feet and shouts, "WHERE DO YOU THINK YOU'RE TOUCHING?" grabbing Jo Gook's hands and motions that he was stroking her thighs.
Jo Gook is understandably, shocked.
With that Mi Rae storms out. And as she hoped, Jo Gook chases after her for explanation. Mi Rae's attempt to hide behind a sign fails.
Mi Rae: You know… (about the hitting on the head), well, you see, there were rumors about us, dating and all. (Jo Gook looks shocked) Well, of course, I was the one who started those rumors.

Jo Gook: What?!!

Mi Rae: Well, anyway, things got all twisted and then you showed up, and the only method I had to stop you from talking was that. It was either that or (starts making kissy faces) you know… in dramas, in order to stop people from talking. But what I did was better, right?
Mi Rae notices her friends peeking, and so she starts being rough again, grabbing Jo Gook by the lapels and threatening him.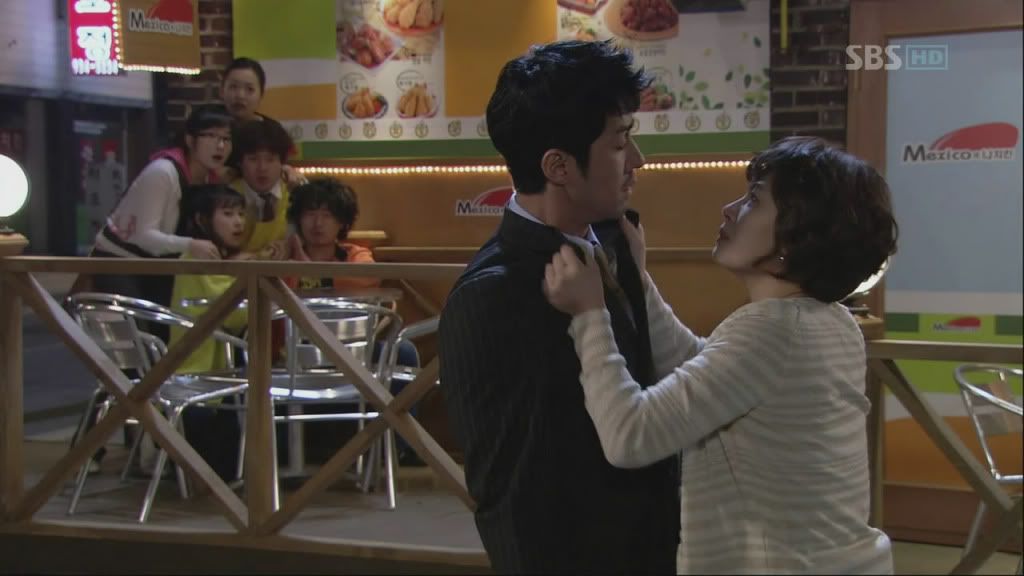 But Jo Gook is not to be outfoxed by Mi Rae again. He grabs her before she gets away, and now Shin Mi Rae is pleading with her eyes not to make her look like a fool in front of her friends. And Jo Gook, with all the power, laughs and notes that Mi Rae said there was one method that dramas use to stop people from talking, right? And then…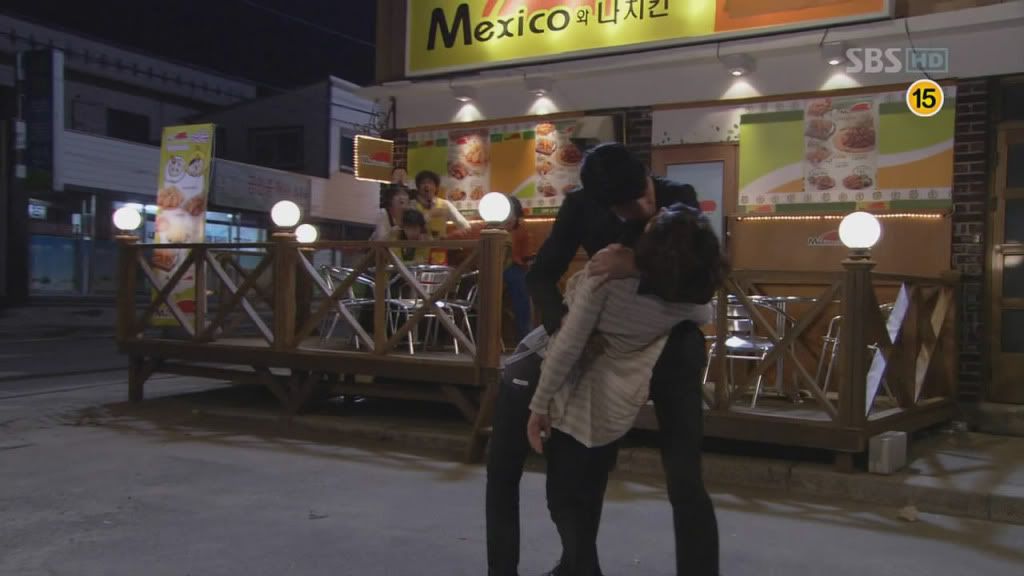 COMMENTS
*CHEER* Finally! This is more like it. The Kim Sun Ah that we all know and love, back to her old bag of tricks, being so cute and beautiful in one moment, a tragic heroine with unbelievable heart and integrity in the next moment, and finally a comic genius in the final moment, making me smile so much that my cheeks hurt. What a fun episode. Fun, cheery, delightful to watch.
And what's more, the tenor of series has definitely changed. City Hall started to turn substantial as characters are beginning to be fleshed out. We are still missing an over-arching story line, but at least now we have our main characters and the chemistry between the two is just wonderful to watch. It was like the City Hall writers decided to get serious. A light bulb went off, and they figured out how to go from the chaotic introductory episodes to an episode befitting a romantic comedy drama with Kim Sun Ah and Cha Seung Won.
On the other hand, where do we go from here? The lack of a concrete over-arching story line is glaring now that the Miss Baendaengi Contest is over. The one negative for the drama series so far is that the chaotic whirlwind of the first four episodes has run its course and in its wake, it is difficult to find something to hold onto, amid the fun-filled debris strewn about. I feel like the main story for City Hall has YET to show itself, which means that Episodes 1-4 are not the sum total of the Introduction. And in a 20 episode series, a good 20-25% of the show has passed and we still don't really know what the series is about yet. If there is criticism to be given, it is that.
THE ONE TO WATCH FOR IN THIS EPISODE: Isn't it obvious? Kim Sun Ah!
I was beginning to wonder when we would see the real Kim Sun Ah with her brilliant comic timing, her soul-rending stares, and her perky, never-say-die attitude. Well, it took a few episodes, but Shin Mi Rae officially rocks. Just love her to pieces.
On To Episode 5!
RELATED POSTS
Tags: Cha Seung-won, City Hall, Kim Sun-ah