City Hall: Episode 5
(written by Samsooki, editing, layout, design and patience by 0timelost, cleown, and mead33)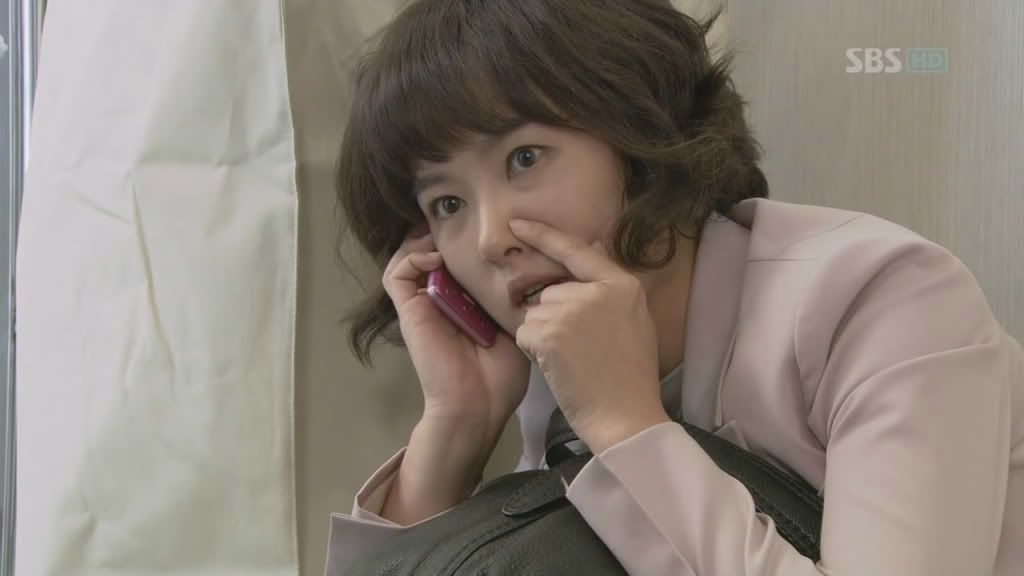 City Hall: Episode 5 – The Buildup Before The Storm
As you may recall from the end of Episode 4, Mi Rae was telling her friends a whopper of a romantic story about what "really" happened between her and Jo Gook at the hotel, but then Jo Gook innocently showed up and Mi Rae had no choice but to slap Jo Gook to get him out of the restaurant, to save her embarrassment from revealing her "artistic license." Outside the restaurant, Mi Rae pleads Jo Gook not to reveal that it was all made up, but when Mi Rae's friends follow her outside, Mi Rae has to continue her charade.
It is all too much for Jo Gook. He is a man of action, after all. Jo Gook grabs Mi Rae and does what she claimed he did! Drama life imitating drama fiction! It's time for revenge! In Jo Gook's drama-worthy style, with Spanish trumpets and guitars playing a lively tune, Jo Gook "ravishes" Mi Rae, right in the middle of a street, right on the spot!
After Mi Rae's harlequin romance story-telling, her friends are keyed up, and this spectacle has them going berserk. Even Boo Mi is jumping up and down, and seems unable to pull away from the rubber necking. It is bedlam on the quiet nighttime street!
But is this a real kiss?  Are they really locking lips? Are they sharing secrets of what they recently ate with each other?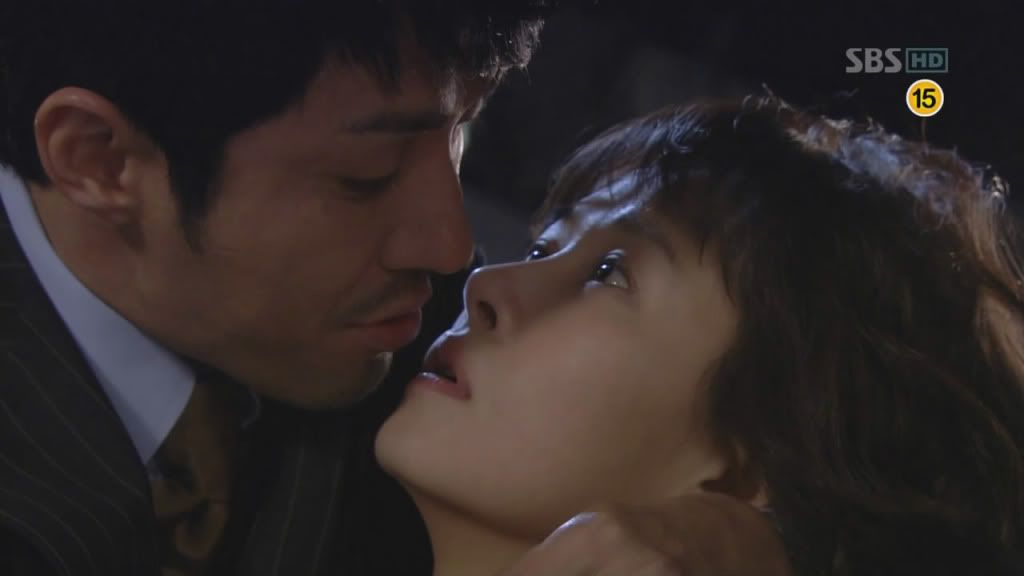 Ohhh, so it is a fake kiss, after all! Getting revenge, Jo Gook-style, is making everyone else believe in your fairy-tale but you. In the cruelest cut of all, Mi Rae remains unkissed! Jo Gook chides Mi Rae for opening her mouth, but Mi Rae's ears are probably not working at the moment. It is likely she only hears the pumping of blood in her wildly-beating heart.
Jo Gook nonchalantly walks away, and Mi Rae is catatonic. She needs a cold shower, oblivious to the jealous cries, the cheers of encouragement, and the accusations thrown by her friends after that scandalous spectacle.
With the Miss Baendaengi pageant over, Mi Rae is back at City Hall. Things are back to normal, including the attitude of her nasty co-workers. Her colleagues immediately try to squash any potential for her to think that she is better than what she was. But their gluttony prevents them from being too unhappy about her being back—after all nobody does coffee (or free refills) like Mi Rae.
Mi Rae is sent to the library to return books, and she finds Jo Gook also there. Asking him not to turn around, Mi Rae apologizes for humiliating him, punching him, grabbing him by the collar, etc. She offers lifetime free refills of coffee if he will accept her apology.
This is why you should never apologize to someone's back.
With barely contained glee and just bursting at the seams with his freely-acquired knowledge, Soo In rushes back to tease Jo Gook, before being chased away by an embarrassed Jo Gook.
Well, the time has come for Mi Rae to get her prize money. Mi Rae goes to see Jung Do to get an update on when she will receive the Baendaengi prize money. Jung Do gives it to her straight. She isn't going to get any. Jung Do passes Mi Rae documents that have her stamp of approval acknowledging that she has already received the money and has immediately donated it right after receiving it.
Mi Rae cannot believe what she is hearing from Jung Do. He tells her matter-of-factly all of them, including Mi Rae and him, are accomplices to the corruption scheme since they worked together on the project.
Mi Rae: How can this happen, if I am here as an upstanding witness?

Jung Do: It is simple. All that it is a matter of whether the upstanding witness is greater or weaker than the conspiracy. Do you have the courage to be that witness?
It is just too much for Mi Rae to handle, and she has no idea what to do. She calls up Jo Gook to get advice, and then heads to a hotel room where Jo Gook is staying. But Jo Gook is about to have a scheduled guest visit that evening, and Mi Rae isn't the scheduled guest.
Jo Gook: Oh, you guys haven't met? This is Go Go Hae. (He turns around to Go Hae and says:) And over here, this is just a secretary from the Mayor's office.
Jo Gook then asks Mi Rae to leave, they can discuss this in the morning, but Mi Rae sits down anyway. Mi Rae asks Jo Gook directly, to please help her, to help look into the Baendaengi documents for her. Surprisingly, Jo Gook flatly and coldly refuses to help.
Further crushed by Jo Gook's refusal and harsh attitude, Mi Rae is deflated. It is like her disqualification at the contest all over again, except this time it is in front of his fiancé rather than in front of a bunch of silly Baendaengis.
This is Jo Gook's Lesson #2 on life that he is giving to Mi Rae. Realizing something is going on here (or perhaps as a poisonous "oops, did I say something I shouldn't have said?"), Go Hae asks Jo Gook if THIS is the woman that he pulled strings with the Minister of Gender Equality to get back into the Baendaengi contest – this woman doesn't look THAT pitiful.  Mi Rae is now beyond confused—did Jo Gook help her?! Does that mean that her victory was really tainted? What is going on? To avoid Mi Rae's burning questions, Jo Gook drags her out of the room.
A mildly ruffled Go Hae wonders aloud why she is the one who feels like the intruder, when Mi Rae was the one who came late at night into her man's hotel room. Holding Go Hae in his arms, Jo Gook apologizes half-heartedly, however his mind is back on Mi Rae's plea for him to help.
Mi Rae, however, still needs answers. And if we have learned anything about Mi Rae, it is that she won't back down without trying.
The next morning, she goes back to the hotel and speaks with Go Hae, and the latter has no problem telling Mi Rae the story about how Jo Gook generously helped a woman who was to be pitied and assisted.  Mi Rae's response is near-reflex, as she just won't let anyone look down on her.   As she stands up to leave, Mi Rae nonchalantly and innocently asks Go Hae whether Jo Gook is always a beat ahead when he dances (ooh, a bit daring for me, but good one!).   Apparently, Go Hae has never danced with Jo Gook. *chalk one* for Mi Rae, who shows sharp claws when she needs to.
Mi Rae pieces everything together— the Baendaengi dismissal, her reinstatement, the diversion of money and….wait, was Jo Gook involved in the diversion of money too?  She confronts Jo Gook, but while Jo Gook doesn't know what she is talking about, he accepts responsibility anyway since he probably should have known. Jo Gook then passes along Lesson #3 on Life: Fight the battles that mean something, not the battles that mean nothing.
Mi Rae spends time thinking on what to do. She takes Jo Gook's advice and decides to take the small payoff cash (about $800, 5% of what her prize would have been) and counts it in the bathroom, crying as she feels as dirty as the money in front of her.
Meanwhile, Go Hae puts her visit to Inju to good use and puts in face time with Jo Gook's mom. Jo Gook's son, Rang, comes home from school and addresses Go Hae as "big sister" and gives her a hug. Aha. So Go Hae is not Rang's mother, after all. Jo Gook's mom is not fooled for an instant by Go Hae's warm smiles and kind words, as Go Hae won't even hug Jo Rang without asking him to first wash his hands. Jo Gook's mom also notes the striking similarity between Go Hae and Jo Gook – both with perfect behavior but lacking any sincerity.
With her cash payout in hand, Mi Rae continues her tasks as Miss Baendaengi and her job as secretary. But now she is finding it harder and harder to ignore the pain felt by other citizens coming from the actions of City Hall. She notices that the City Hall re-location matter is probably tainted with the same corrupt hands that touched the Baendaengi pageant. But she tries to forget it and just move on,
until she learns that Jung Do has resigned from his job.
"Why participate in the corruption if you are going to quit anyway?" Mi Rae confronts Jung Do, whom tells her that if he didn't do it, then someone else, maybe Boo Mi, would have been forced to do it. It is a very telling answer, and one that shows how far the corruption has spread in City Hall.
Jo Gook watches the interaction, but at this point, it is extremely difficult to understand what might be going through his mind. Does he feel responsible for Jung Do's resignation? Should he help Shin Mi Rae? Is it worth getting involved? Does he feel anything at all?
Caught unawares and off-guard by her husband's resignation, Joo Hwa questions Jung Do. Joo Hwa is worried that her plans to run for a higher elected position in the future will be endangered, as her husband being an unemployed bum is sure to cost her percentage points. Jung Do asks her to stop, to just stop trying to climb ahead by using everyone around her. She can be a bad woman to him but please leave everyone else alone. But this makes Joo Hwa even more upset now. Jung Do won't even lift a finger to help her to succeed. (Psst, Joo Hwa, it works both ways. Try behaving like a good wife first before you expect anything from your husband.)
Jung Do tries a different approach with Joo Hwa but really, really makes a huge mistake, asking her if she would consider going back to the hospital… As soon as the word "hospital" is mentioned, Joo Hwa freaks out and runs out of the house. Jung Do has said exactly the wrong thing.
A flash back now, back to when they were a newlywed couple… and we find out that Joo Hwa cannot have kids.  It is just devastating news to Joo Hwa.
Could this be the source of Joo Hwa's sociopathy? Did Joo Hwa use this tragedy as justification to be the way that she is?  Certainly, the memories are too painful for Joo Hwa to bear.
Meanwhile, Jo Gook has gathered the documents needed to send the Mayor down in flames (all the land deals, the money laundering, the Inju City tax money that went to political cronies and elsewhere), and now awaits the right time (and the right person to take the documents) to set the events in motion that will bring down the Mayor. But who to give it to?
The next day, we see Mi Rae taking a seat on the visitor's couch rather than her normal work station by the door, waiting to see the Mayor. Joo Hwa breezes by her to see the Mayor, but is held up by Mi Rae, who tells her to take a number and wait her turn. Being who they are, it is no surprise that the Mayor has to see both of them at the same time.
Mi Rae goes first. She asks to get her prize money, not knowing how far the corruption has gone and that Joo Hwa and the Mayor had planned this scheme from the beginning. And the biggest mistake of all, Mi Rae asks the Mayor to reinstate Jung Do in front of Joo Hwa!
Joo Hwa has had enough – even if Mi Rae apologizes for asking about the money which she was supposed to just forget about, Joo Hwa cannot forgive that Mi Rae has the guts to plead on the behalf of her husband in front of her. Joo Hwa demands Mi Rae's dismissal, effective immediately!
COMMENTS
This marks the end of the first segment of the City Hall series, with the end of the Miss Baendaengi story arc and the beginning of the fight between Joo Hwa and Mi Rae, and really, the awakening of Mi Rae to actually stand up and fight what what is right, not behind the scenes by asking other people to do a little bit of this or that, but to stand out in front, as a leader and as the lightning rod for all the counter-attacks that are surely to follow.
From an entertainment standpoint, Episode 5 might be a bit uneven, as it struggles a little to find its balance between drama and comedy. And while this is clearly a set-up episode, but I feel like they could have done better job in bringing story-lines together and introducing the rest of the series.
On the other hand, there are some really interesting battles to come. The Shin Mi Rae v. Min Joo Hwa battle is now beginning in earnest, and it is shaping up to be a real personal fight. Joo Hwa's words are nasty, indicating that her issue with Mi Rae is personal. Mi Rae is strong in character even though she doesn't have money, education, title, or family background, making Joo Hwa look weak by comparison. Mi Rae also has integrity and honesty, characteristics that Joo Hwa lacks completely. And finally, Mi Rae made Joo Hwa look like she didn't even have a husband, since Mi Rae begs the Mayor for Jung Do's job even before Joo Hwa gets a chance to do the same.
The Shin Mi Rae v. Go Go Hae battle is not yet on the horizon, if there is one to be had, but you get the feeling that it is coming.  This has the feel of an old-time western, where the hero has to battle the little guys before heading to the final showdown against the big guy. In this case, this is all about the strong, intelligent women protecting their turf, but is Shin Mi Rae really ready to fight these battles?
This is a bit random, but I am now confused by Jung Do's character's reasoning.  He was a diligent, hardworking person who knowingly and understandably acted in a conspiracy of corruption, so that others wouldn't have to get their hands dirty.  Then he quits, knowing that his duties will now be given to those same others.  He is smart enough and strong enough to make a stand, but doesn't.  Instead, when he is faced directly with what he has done, he decides to resign rather than fight.  This puts Mi Rae on an island by herself (thanks, Jung Do).  Why can't he be the upstanding co-witness that he asks if Mi Rae can be?  And if he is going to quit, why quit now?  If enough is enough, fine, but then Jung Do isn't taking any responsibility for everything he did, and Mi Rae now has one less ally in City Hall.
And finally, I am going to get a lot of barks about this, but I really, really don't understand why Jo Gook has to be so mean to Mi Rae all the time. Even if he had no interest in her at all, why would he be so cold to her, so many times? I feel like he is trying to discipline her, trying to train her, but I don't have any direct evidence to support that theory. Jo Gook was really a jerk to Mi Rae at times during this episode, and I don't think I can excuse that, because Jo Gook, of all the characters in this drama, is the one most able to be nice or not nice at the flip of a switch. Jo Gook CHOSE to be a jerk to Mi Rae, and that is just confusing.
THE ONE TO WATCH FOR IN THIS EPISODE: Min Joo Hwa.
The scenes with Joo Hwa crying over her pain at being unable to conceive are just heart-rending (whether they justify her turning into a sociopath is up to question, however), and normally I can stand when people cry, but when Joo Hwa cries, I sort of feel uncomfortable. Overall, just a wonderful, great job by the actress Choo Sang-mi (추상미), whom I really should have introduced properly in the beginning. Her perky evil-ness is just fun to watch (could that be a nickname? Mrs. Perky Evil?). Her scenes with Jung Do and Mi Rae are equally strong, and she is quickly becoming the person we love to loathe in this series.
On To Episode 6!
RELATED POSTS
Tags: Cha Seung-won, City Hall, Kim Sun-ah