City Hall: Episode 9
(written by Samsooki, editing, layout, design and City Hall dreams by 0timelost, cleown, and mead33)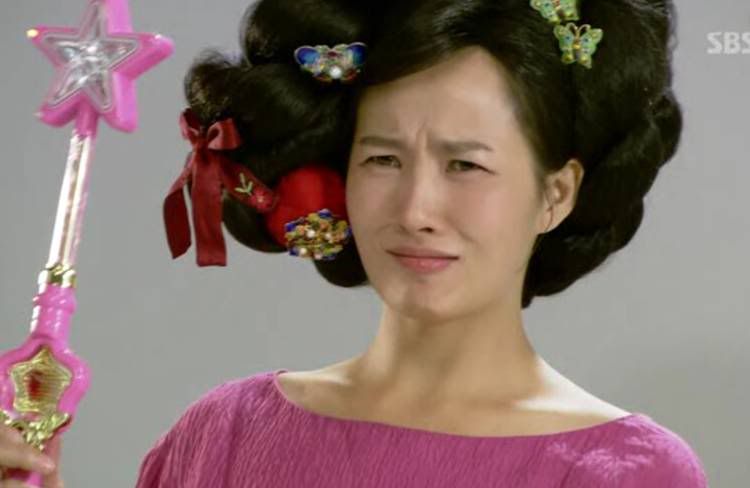 (This is what you get when you mix a little bit of Michelle Obama, Sailor Moon, an old rich Korean woman together with Mi Rae)
City Hall: Episode 9 – What It Means To Be A Civil Servant, What It Means To Be A Woman.
To neutralize Mi Rae as a wild card in the upcoming Mayoral election, Joo Hwa has just offered Mi Rae a job as a mascot / cheerleader for her Victory Party's candidate. Mi Rae, incensed at constantly being treated like a fool by Joo Hwa, rejects the offer. Mi Rae declares that SHE will run for Mayor, and she will just have to become Wonder Woman to do so! Joo Hwa is in disbelief, but recovers more than a little of her classic sneer in deriding Mi Rae's threatened action.
Joo Hwa: You think wearing star spangled panties is all it takes for anyone to become Wonder Woman? All those people with a dot on their nose, will they be like Jeon Ji Hyun? And what about Min So Hee? She's totally crazy just like you.
(Note: This is actually pretty funny, as City Hall writers continue to poke gentle fun at other Korean dramas and actors/actresses. Joo Hwa is referencing both the lovely actress Jeon Ji Hyun's now-removed tiny birthmark on her nose and the popular hit drama series, Temptation of Wife. In Temptation of Wife, the character of Min So Hee is a paranoid lunatic who also has a dot-sized birthmark on her nose. Btw, Temptation of Wife is one of those dramas that turns your brain into a sandglass with your brain cells leaking out as you watch. People might label it as a "mak-jang" drama but I think it is more appropriately named a "crack-jang" drama, due to its addictiveness and resulting brain damage.)
Unfazed by Joo Hwa's derision, Mi Rae gives Joo Hwa a pat on the shoulder and leaves, noting that Joo Hwa's fear is clearly showing. With her plans completely backfired, Joo Hwa can't help but look worried.
Ah, but Mi Rae is a wily one. Back at the Mexico and Chicken Restaurant, Mi Rae admits she said all that just so as to piss off Joo Hwa and put a little scare into her. Who would vote for Mi Rae anyway?
Meanwhile, Jo Gook is playing a round of golf with Governor So, the provincial governor whose jurisdiction covers Inju City. Governor So introduces his man who he wants to be the next Mayor of Inju City. Jo Gook politely refuses to manage the campaign of the Governor's man; he's already got a candidate in mind to become Mayor, and this particular candidate doesn't even know how many political parties there are in Korea. Governor So is outraged that Jo Gook would pull this kind of double-cross.
Even Soo In is confused by this maneuver. Jo Gook's candidate wouldn't be Shin Mi Rae, would it? How can that make any sense? Not happy to be asked about Mi Rae, Jo Gook responds: did it make any sense for Soo In to betray Jo Gook? (Uhh, what does one thing have to do with other?)
In any case, it looks like Jo Gook has gotten over Soo In's backstabbing, as Jo Gook admits that if BB had asked him to do the same, Jo Gook would have done it too, but done it better. Right down to the stylish suits, the penchant for backstabbing, the hair parts on the same side of the head, and even the faint mustache and beard outlines, Jo Gook and Soo In are alike, and it seems that both like Mi Rae too.
Meanwhile, things are moving quickly in Inju City. Joo Hwa gets her dad to run as the Victory Party's nominee for Mayor. And on the other side of town, Boo Mi tells Mi Rae about that certain job that she is trying to get for Mi Rae. Boo Mi took all the remaining money that she had, AND, all the money that Mi Rae gave to her (which was all the money that Mi Rae had), and used it to pay for the Mayoral election application fee! Mi Rae, obviously, freaks out. She cannot run for Mayor!
Later that night, Jo Gook meets with Boo Mi and gives her an envelope full of cash, to reimburse her and Mi Rae for the application fee. But Boo Mi refuses to take the reimbursement money. She asks Jo Gook: does the former Deputy Mayor think that Mi Rae can win? Jo Gook nods. Boo Mi responds, ruefully, that she doesn't think Mi Rae can win. Boo Mi explains herself:
Boo Mi: Mi Rae is too simple-minded, too naïve. She goes around helping anyone and everyone, and she spends all of her time trying to take care of everyone – from taking part-time jobs to donating money to schools, making snacks for the children for their field trips, rice cakes for people having birthdays. And most of all, 365 days out of the year, Mi Rae is never fake; she is always sincere and real. I have never once seen a mayor like that in my whole life.

Jo Gook: And so?

Boo Mi: And so, that's why I am putting all of my own money in. That's why you should take this money back. And that's why you must make Mi Rae the next Mayor.
(That rocks. Boo Mi is one fierce and loyal ahjumma. I said that I want to grow up to be like Jung Do, but I change my mind – I want to be like Boo Mi.)
With that, Boo Mi heads back to the porridge shop where she is working part-time. Mi Rae and Jung Do are waiting for her. They tried to get back the application fee from the city election office but to no avail. The money is now gone. Mi Rae screams at Boo Mi, wondering how she could just waste all their money like that!
Boo Mi doesn't back down and yells back:
Boo Mi: It ISN'T wasted! If you get 15% of the vote, all of your money will be refunded. So you, you must get over 15% of the vote!

Mi Rae: 15% comes so easily off of your lips! Is 15% the name of your dog? Do you know how hard getting 15% is?!!

Boo Mi: So work HARD and I am telling you, you WILL get 15%! Work your hardest to get 15%, and then work even harder to win the election. Work your hardest to win the election, and then when you are Mayor… get me my job back.
Mi Rae: (speechless, in tears)

Boo Mi: I was a good civil servant, you know. For our country, I was loyal and did my best. For the citizens, I acted righteously and I worked hard for them. In my work, I was creative and conscientious. At my workplace, I acted respectfully and spoke credibly. And in my life, I act honestly and cleanly. I swore an oath to keep all those things, and I kept all of them. And so you have to get me my job back, do you understand?
Mi Rae despairs. Everything Boo Mi has said is right, but Boo Mi has just laid the responsibility of her unemployment squarely on Mi Rae. It is too much for Mi Rae, and she cries out that now all the people that Boo Mi got signatures from will be disappointed in Mi Rae, and questions how she can show her face to anyone. It is a heart-tugging scene, as Boo Mi's hopes for (and demands on) Mi Rae have frightened Mi Rae beyond even her own strength and courage. Mi Rae cannot deal, and runs out of the porridge shop.
Jung Do has been silent the entire time, but now he questions Boo Mi.
Jung Do: You didn't, by any chance, meet with the former Deputy Mayor, did you?

Boo Mi: Yes, I did. In the beginning, I did start this because of him, but as I went around getting signatures, I realized that this was the thing that I actually wanted for Mi Rae all along, and so…

Jung Do (interrupting): I know YOUR intent quite well, but did you even once stop and think at what the former Deputy Mayor's objectives are? Don't you know that he wants a Mayor that he thinks he can easily manipulate?
Boo Mi is speechless for once, as she starts to realize how big of an error she might have made. This is a really, really good point by Jung Do. (Note: Boo Mi and I both got so caught up in the moment, we BOTH totally forgot about Jo Gook's penchant for doing things that benefit him first. Thank goodness for Jung Do to keep us all grounded!)
The following day at the market, Mi Rae is selling her fish and trying to calculate how many votes it will take to get to 15% – it is a whole lot. As Mi Rae starts to despair again, a familiar person is walking through the market, with his child and his mother to boot! Jo Gook is making his rounds, giving smiles and handshakes. Rang looks adorable in his capri khakis, but Jo Gook's mom could not be less thrilled with being used as a political prop. Jo Gook sees Mi Rae, and he greets her rather awkwardly.
Jo Gook: It has been a long time.

Mi Rae: Yes.

Jo Gook: (says nothing)

Jo Rang: Who is that, daddy?

Mi Rae: (looks curiously at Rang, it is her first time seeing the child).

Jo Gook: Oh. This noona is… your dad's… colleague. (Note: in this context, "noona," or "older sister" is merely a polite way to talk about a stranger)
Mi Rae is rocked by Jo Gook's portrayal of their relationship, but hides it behind a warm smile to Rang. Before Jo Gook can finish introducing his mother, Jo Gook's mother snaps that she knows who Mi Rae is since she reads the newspapers. With that she storms off with Rang as the smell of baendaengis is too much for her nose – Mi Rae doesn't even get to properly introduce herself.
(Being able to make a good first impression to a potential future mother-in-law might be important to any woman, but in Korean culture, it is vital because the wife is expected to join the husband's family, leaving her own behind. Historically, this would mean that the wife would be directly under the supervision, care and control of the husband's mother. So first meetings are doubly important for the wife-to-be. But Jo Gook introduces Mi Rae as a "colleague" and Jo Gook's mom takes the cue and doesn't wait around long enough to meet Mi Rae. And so Jo Gook has just obliterated any chance that Mi Rae might have had at making a good first impression. Mi Rae can only interpret that as Jo Gook saying to her that they have no chance to be together.)
Outside the market, Jo Gook and family start to drive away when Mi Rae dashes out to stop the car. Even if she has no chance at a relationship with him, even if she has been labeled by Jo Gook as being nobody special, Mi Rae still needs Jo Gook's help.
Mi Rae and Jo Gook have their face to face, and Mi Rae asks Jo Gook if he believes that she can win, and if she cannot, whether she can at least get 15% of the vote, and if she cannot even get that amount, whether Jo Gook can give her the application fee. He responds that there is no way that Mi Rae will lose, and so she shouldn't think like that.
Jo Gook then asks what Mi Rae would be willing to give him, if he helps her to win the election. Will Mi Rae agree to whatever Jo Gook wants? Mi Rae sighs and nods.
Jo Gook: You haven't even asked me what it is that I will require from you.

Mi Rae: I already know.

Jo Gook: You know?

Mi Rae: Yes.
Mi Rae: As guys get closer to me, they all want the same thing.

Jo Gook: Really?

Mi Rae: Yes. They all say "Get lost!" or "You should find a good man, I am not deserving of you" or "Wouldn't it be better if we were just like brother and sister?"

Jo Gook: Who are these jerks anyway? You should call them up so I can deal with them.

Mi Rae: Oh, but there is another guy too. He's the worst of them all.

Jo Gook: Why are there so many of these jerks?

Mi Rae (staring straight at Jo Gook): Yeah, this guy says, "Oh, this noona, she's your father's colleague."
Jo Gook is truly shaken by Mi Rae's words which hit him squarely in the heart. He looks hurt and betrayed by her comments. But honestly, WHO is the one who has done the hurting and the betraying?
Mi Rae continues – she isn't some 20-year old girl who will hang on every word of a guy who takes her on a camping trip. So he needn't look so serious at her comments. But Jo Gook has a few stunning words in return.
Jo Gook: These days, I've been doing things that I've never done before. And in living this life of mine, I've never had anything like this happen to me before. Doing the things that I did with you took a lot of courage for someone like me. Don't you see that?

Mi Rae (frozen by his words).

Jo Gook: I admit that I am not a good man, but I hope that you won't see me like a person that you would despise.
That has got to be one of the best responses in the history of responses. Mi Rae feels, well, she feels about what she looks like. She has had her heart crushed and inflated, twisted and straightened, and forever altered by this man, who is just so hard to understand. When he speaks the truth, it hurts. When he lies, it hurts. There is no getting around pain when Mi Rae hears words that come from Jo Gook, but no matter what, if he starts speaking, Mi Rae's heart opens up again.
Back to the furious pace of this episode! The election nominee deadline has passed, and the candidates are gathered at the city election office to give slogans and to announce their platforms. Without further ado, we proudly present the candidates for Inju's mayoral by-election:
Clockwise, from the top left: Candidate #1 for the newly revamped Victory Party, Joo Hwa's dad! Candidate #2 for the Purity Party, the man that Governor So wanted! Candidate #3 for the Sovereignty Party, Father Time himself! And Candidate #4 for the Citizens' Progress Party, well, some guy:
And Candidate #5 is… not present. Where is Mi Rae on this important day? She has searched out Jung Do, to ask for his help. But Jung Do is not convinced that Mi Rae knows what she is doing, especially since her top priority seems to be getting her money back. Jung Do challenges Mi Rae about her lack of educational background and experience. Who would be willing to vote for her? Undaunted, Mi Rae challenges back:
Mi Rae: Was Mayor Go's education poor? Was his work experience bad? Politics! What is that anyway? Isn't it, "For people whose lives are poor, to help them get better lives, and for people whose lives are good, to ask them to help out." Isn't that what it is about? At the very least, I am confident that I can do a better job than Mayor Go in that regard!!
Well, I dare say that Mi Rae has got a little bit of Boo Mi fire in her eyes now! Jung Do agrees to help out with Mi Rae's campaign…but of course, now we have two cooks in the same kitchen. Two savvy political guys, graduated from the academy in the same year, with completely different ideas on how to make Mi Rae into the next Mayor of Inju City.
First issue to resolve – what is going to be the overall photo concept for the campaign? What kind of image should Mi Rae portray? Progressive Jo Gook likes the Hillary Clinton and the Michelle Obama looks. Traditional Jung Do likes the "dignified and noble older Korean woman" kind of look and also the "Korean freedom fighter Yoo Gwan Sun" look. They start to dress Mi Rae like a doll. Hehe!
Fortunately, Mi Rae gets the final say and she scraps these contrived looks for something that actually means something to her. the final photo concept ends up being a picture of Mi Rae, taken by Boo Mi during one of the Miss Baendaengi contest event. And to convey the Wonder Woman concept, her friends photoshop in a tiara to the hat. The words read, "For the future, let's pull for Mi Rae! Wonder Woman Shin Mi Rae! We ask this of you, Inju City!"
Right off the bat, Mi Rae receives some good news. Candidate #3's (Father Time's) check has bounced and he is out of the election! Mi Rae's chances have just risen!
As Jo Gook is driving Mi Rae home after a long day, he receives a call on his cell As Mi Rae curiously looks on, Jo Gook's side of the conversation ends like this: "Mmmhmm… I miss you too." Mi Rae can only hear a few bits and pieces of the conversation, but she has a pretty good idea of exactly who Jo Gook is missing. Jo Gook suddenly stops the car and tells Mi Rae to get out, as he has a meeting to attend. Mi Rae can only watch as Jo Gook speeds off, away from her…
and towards …
During their walk through the park, Jo Gook tells his fiancée frankly that he is using her to ensure that BB will help him ascend the Blue House. Go Hae answers that it is okay if he uses her, but in return, she would like to be by his side when he enters the Blue House. This is the bargain they have made with each other.
Go Hae also offers to help finance Mi Rae's election. She gently asks Jo Gook not to refuse her money, since if he does refuse, then she might get the wrong idea about the relationship between him and Mi Rae. It is a difficult choice for Jo Gook, as Go Hae seems to be the key to both his ambitions and Mi Rae's ambitions. And what Go Hae asks in return will keep him and Mi Rae apart forever.
As a very troubled and sad Jo Gook is driving back to Inju City, his thoughts go back to a recent memory of the camping trip that he had with Mi Rae. And now we are able to see what happened on that overnight trip, between the two of them that night.
It looks like both of them are unable to sleep, especially Mi Rae, who has a man close enough to her that she can feel his breath. Jo Gook pretends to sleep though, perhaps to give Mi Rae some measure of comfort.
But Mi Rae, in a surprising move, rolls over and Jo Gook quickly closes his eyes.
Mi Rae tentatively reaches out, like a fish testing a baited hook, and then falling back quickly. Jo Gook does not awake, and so she reaches out and strokes his face.
Mi Rae can barely breathe. Almost on their own, her fingertips start tracing his eye brows, and then his cheek. As her fingers touch his lips, Jo Gook's hand grabs Mi Rae's!! CAUGHT!! Jo Gook, the clever fisherman, has caught his very first baendaengi!!
Jo Gook (sleepily): Keep that up, and you will get jumped…
Mi Rae rolls back over to her side of the tent like she is on fire. As it is, she should take comfort in the fact that any other human being would have actually burst into flames. Mercifully, Mi Rae is let off of the hook by Jo Gook who volunteers to sleep outside…and the scene shifts to the present again…but this memory is no longer Jo Gook's alone, but Mi Rae's as well! She too has been thinking of that night they spent together camping.
Mi Rae's eyes falls on Jo Gook's jacket, which is still hanging in her room. Mi Rae walks over to the jacket that told her more about Jo Gook than any of his words. Shouldn't she return the jacket? Given the events of the day, it is clear to Mi Rae that the jacket, like the unspoken promise it held, would very likely remain empty.
The next day, it is campaign finance awareness day for Mi Rae. Both Jung Do and Jo Gook finally agree on this critical point: If Mi Rae wants to have any success at all in this mayoral election, she will need to borrow a lot of money, quickly – in the neighborhood of a quarter million dollars!
To that end, Jo Gook takes Mi Rae to a hotel room to meet with a VIP sponsor. Mi Rae is fearful and sickened, thinking that Jo Gook is trying to make her spend the night with some sleazy guy. Mi Rae is now not only hurt by Jo Gook, she is disgusted by him. But as Mi Rae stands up to go, the VIP sponsor enters the room:
Comments –
If Episode 6 is the episode that made City Hall the drama series that cannot be missed, then Episode 9 is the episode that makes City Hall the drama series that must be loved. I absolutely LOVED this episode. There are so many scenes that were so brilliant, with the OST songs and lyrics matching the scenes, the powerful acting by everyone, the wonderful pacing, and the balanced direction by the PD and staff.
While Mi Rae's and Jo Gook's feelings for each other are easy to see, the relationship itself keeps running into the reality of Jo Gook's world. He needs Go Hae, not just for her money, but because she is the key to keeping BB on Jo Gook's side (or, rather, the key to keeping BB from being Jo Gook's enemy). The only thing that his fiancée wants in return is for her to be there by his side when he enters the Blue House. That's the arrangement, and that's what Jo Gook has agreed to do. But that means that Mi Rae will be left alone, only able to dance with an empty jacket.
And as we see, there are lines that Mi Rae simply will not cross. She will not sell her body or her principles for money or for power. And if Jo Gook goes down an unethical road for the sake of his own ambition, it is extremely unlikely that Mi Rae would sell out for his sake either. And this makes Mi Rae and Jo Gook potential enemies.
Sitting back a moment, and reflecting on Mi Rae, it is hard to imagine how Mi Rae's heart can take so much. As a guy, perhaps, I try to parse and break things into manageable pieces, to organize and to compartmentalize. One thing has got nothing to do with another. But for Mi Rae, her heart mixes everything together, and her emotions are the result of the love she holds in her heart for everyone in her world. And her holding onto the promise of the jacket, despite everything that tells her otherwise, it is her expression of what it means to be a woman.
The one to watch for in this Episode: Boo Mi.
If everyone in government service had as much fire, passion, and integrity as Boo Mi, how much better of a world would we live in today?
While recapping this episode, I went back to the Boo Mi scenes with Jo Gook and with Mi Rae, and I feel like her words should be etched in stone and put in every government office, as the very essence what it means to be a civil servant.
I said this before, but Boo Mi is one fierce ahjumma. And while every girl should have a friend like Jo Gook, I think that every person should have a best friend like Boo Mi.
On To Episode 10!
RELATED POSTS
Tags: Cha Seung-won, City Hall, Kim Sun-ah