Hyun Bin isn't afraid of the Friend comparisons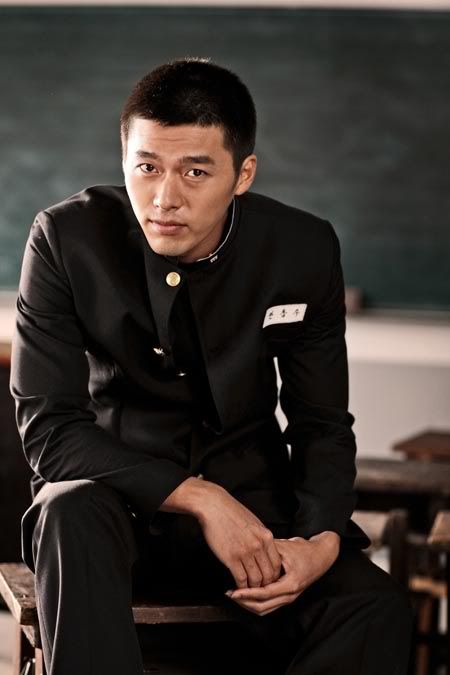 I haven't had a chance to see the newly aired drama Friend, Our Legend [친구, 우리들의 전설], but perhaps you have. It premiered this past weekend on MBC, and has been the source of a lot of curiosity, given its cast (Hyun Bin, Kim Min-joon), director (Kwak Kyung-taek of the film), and high-profile source material (the movie Friend) which starred one of Korea's most famous and well-liked movie actors, Jang Dong-gun. Naturally people have been prepared to draw comparisons between the two versions (and two lead actors in the main role of Dong-soo).
On the drama's upside, the entire series has been produced in its entirety, meaning that the actors are now done filming and the production won't be in a race to beat the clock to get the episodes on air. Furthermore, having the same director behind both projects pre-empts some of the comments that the drama is merely aping the style of its film predecessor.
Here's an interview with Hyun Bin from last week, published just a few days before the drama's premiere.
Did you feel any pressure choosing this role?

When I first chose this role, I guessed that I would be compared to Jang Dong-gun sunbae. Although there were people who worried about it, I took on the challenge and as we filmed, I have never once regretted it. We began filming in January and things got better as we went along, and by now I'm not afraid [of people's reactions]. I'm not worried, either. Watching this drama, people who saw the film Friend will think back to the first one.

Was it difficult acting with the Saturi accent?

When we first went down to Busan in January, director Kwak Kyung-taek gave me all twenty scripts and two cassette tapes. The director had recorded all my dialogue himself, and I listened to it over and over, and asked questions on set, too. Even now, I can't speak like a Busan person. I have to show that I tried hard. I'm faster at picking up on the pronunciation now, so you can say I improved in my ability to follow along. It's good enough that people won't misunderstand what I'm saying, so I'm not worried that it will make viewers in general lose focus on the drama. They may find it awkward at first, but it improves soon afterward.

Is there any advice that Jang Dong-gun gave you?

He told me, "Give everything to director Kwak." He came to the Busan shooting location not long ago, and he didn't say much, only, "It brings me back to the old days." Watching me film, he was pleased. We talked over the phone, too, but he didn't tell me anything particular. He trusts me and just asks, "Is filming going well?"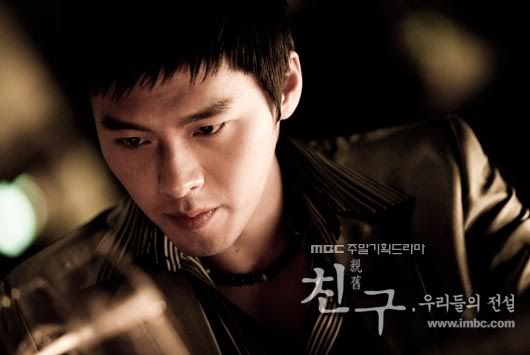 How will your acting differ from the Dong-soo that Jang Dong-gun acted?

I'm very aware that the Dong-soo character acted by Jang Dong-gun left a deep impression on many people. I wanted to act the character differently than in the movie. At first, I thought seeing the film would make me model my acting after it so I didn't watch it, but after reading the script I thought I should carry over some of the actions and looks from Jang Dong-gun's acting, and changed my mind. After that point, I saw the film at least twenty or thirty times. I put it on repeat four or five times a day. At some parts, you may see bits of the film Dong-soo character.

The dramatic storyline with Jin-sook (actress Wang Ji-hye) didn't happen in the movie, and is only given a central role in the drama series. I also wanted to show a lot of expression in my eyes. In the drama, Dong-soo boxes, I've been training with someone in Busan since January, and found that the looks in athletes' or martial artists' eyes are different. I worked hard to bring out a fierce look in my eyes.

How did you find doing the action scenes?

It was tough on my body, but fun. I had some injuries, and now have a permanent scar on my leg. In the early part, there was a scene I shot while on a boat, and I fell wrong from an oil container and hurt my right leg on the shin area.

How do you feel about your short haircut?

This is the first time I'm wearing my hair this short since middle school and when I first started shooting Nonstop 4. I couldn't imagine how I'd look with short hair, so I was nervous at first. Now that I cut it off, what do you think, does it look okay? [Laughs]

What's the main point when watching?

In the film, the friends go right from their school days into adulthood, but in the drama, things progress in between that time, like the prominent story with Jin-sook. One of the appeals of Friend, Our Legend will be watching for some of the same lines and the same locations but with different actors.
Via Mk.co.kr
RELATED POSTS
Tags: Friend, Hyun Bin, interviews