Jung Il-woo: "Acting is a marathon"
Oh, I love Jung Il-woo. True, when I first saw him, I was more swayed by his bashful sweet charm than his acting talent, but 2009 was a year of transformation for the young actor, as he went from baby-faced young boy to a fierce, confident adult in the MBC drama Return of Iljimae (and yes, I know recaps are, um, exceedingly late at this point, but they are not dead. Promise).
Now he gives another interview as he prepares for his next role, which takes him one step further into adulthood as he steps into character as lawyer "Lee Tae-yoon" in KBS's new Wednesday-Thursday drama My Fair Lady.
My Fair Lady follows a year that's already been pretty busy — after Return of Iljimae ended in April, Jung spent a month traveling through Europe, visiting England, Spain, Germany. Last month, he also visited Tokyo to meet with approximately 1,000 fans, since Return of Iljimae is currently broadcasting in Japan.
I get the feeling that Jung Il-woo is not very popular among international kdrama fans, especially compared to his profile in Korea; perhaps that's unsurprising because Unstoppable High Kick — the hugely popular sitcom that made Jung into a household name in 2006 — isn't much watched by overseas drama fans. (I'm sure the length and the lack of reliable subtitles contributes to this.)
But I'm betting his profile will soar sharply when My Fair Lady premieres on August 19, in which Jung Il-woo forms a love triangle with Yoon Eun-hye and Yoon Sang-hyun. Though he is the youngest of the three, his character is about four years older than Jung's own young age (22).
"Acting is a marathon. I've learned to give myself space"
"At the time, I received about thirty offers for acting roles. My shoulders tensed up, and I restrained myself. I tried to go back to the beginning. The year I took off gave me the chance to feel a lot of things. If I had kept going with that momentum and continued working, I may have gained a lot more other things. But that wasn't the answer. It's not like I'm going to quit after a couple of roles; this is something I'll do for the rest of my life. I want to go slowly. I think acting is like a marathon. I learned to give myself space."

This is the confession of a 22-year-old young man who's shot the stars. This is Jung Il-woo. In 2006, he made a quiet acting debut in The World of Silence. That year, he shot to fame as Lee Yun-ho in the MBC sitcom Unstoppable High Kick.

He stirred the hearts of women ranging from teenagers to fortysomethings. Back then, his every move was the focus of attention inside and outside of the entertainment industry. He chose the film My Love, and in that movie, Jung Il-woo's image as a pure young man strengthened. This year, he took on the sageuk challenge in MBC's Return of Iljimae, and showed an unfamiliar image for viewers who were looking for the "rebellious child" Lee Yun-ho [of High Kick]. Against industry expectations, it faced troubles on the viewership ratings front, but this was not a painful result for him. According to Jung Il-woo, "It was a drama that enabled me to learn a lot of things, which I'll never be able to forget."

Next month, Jung Il-woo returns in a modern drama — his first in three years — in KBS's My Fair Lady [아가씨를 부탁해]. Already Jung Il-woo's fans are clamoring, because they're looking forward to his role as a second-generation chaebol and human rights lawyer. As time passes, the excitement builds even more.

I met with Jung Il-woo on July 21. I had guessed accurately. With his innocent smile, he's not the rebellious Lee Yun-ho or Iljimae, but a young man with dreams that shoot up as high as the skies. He's full of positive energy. Healthy in body and mind, an honest and true man.
Were you disappointed with the ratings for your previous drama, Return of Iljimae?

It was my first lead role, so at first I felt some pressure. After it began airing, though, I relaxed. I also grew more stubborn and wanted to work even harder.

At the time, my mother told me, "You're still young, and if you lose confidence because of falling ratings or look unhappy on the film set, you can't continue in this work. It's a fight with yourself."

I put my utmost into filming the drama through the last scene. I have no regrets. It's a drama where I learned a lot of things as an actor, so I am really grateful to director Hwang In-roi.

I'm curious why you chose the drama My Fair Lady.

The script is really entertaining. I've known about this project for a year, when it was in the planning phases. I thought it would be a fun drama, and I'm happy to be a part of it. The best thing is the two solid supports — I'm glad to have my very close hyung [Yoon] Sang-hyun and Yoon Eun-hye sunbae.

I'll do my best with my role, but I'm glad to be working with my sunbaes. I also wanted to do a romantic comedy, so I'm pleased to have this chance.

Yoon Eun-hye is the focus of attention, as this is her acting return after two years. Does that bother you?

I've never once thought that. Yoon Eun-hye sunbae has an easygoing personality, and she's very nice. I thought that the atmosphere would be awkward at our recent first script rehearsal, but it was really positive, thanks to Sang-hyun hyung. We haven't begun shooting yet, but I'm looking forward to it.

I wonder how you feel about coming back in a contemporary drama.

I think it's a drama I can take on while enjoying myself a lot. I'm excited to be doing a contemporary project since it's been a while since the last in Unstoppable High Kick. I feel more excitement than burden.

What ratings numbers are being anticipated for My Fair Lady?

I worried back with Return of Iljimae. I can't really guess, but I hope the ratings will be good. I hear that our rival drama, SBS's Swallow the Sun, is getting good ratings. I think I'll keep an eye on that one.

How do you think it'll be, acting with Yoon Eun-hye and Yoon Sang-hyun?

Contrary to my expectation, Yoon Eun-hye sunbae is extremely easygoing and friendly. Although I thought the first script rehearsal would be awkward, it was completely the opposite, and we worked in a very peaceful, mellow atmosphere. I've known Yoon Sang-hyun hyung for five years, and we even received acting coaching together. The actors who took lessons together back then are all good friends, and we go to restaurants and noraebangs together.

At the first script rehearsal, even when it wasn't our own part, we helped each other along with the dialogue and discussed a lot of things together. I'm looking forward to it.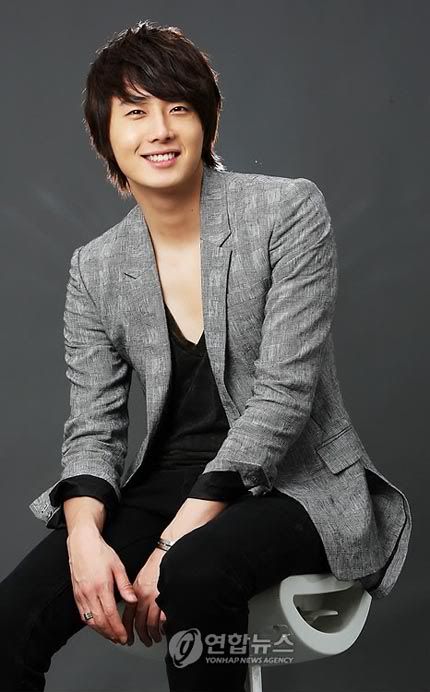 What would you like to gain through working on My Fair Lady?

I've never thought of what I want to gain. Whatever the project, I learn a lot of things from each one. I think I'll learn and gain a lot through this drama.

In the drama, you're a second-generation chaebol. Do you like the character? How does he compare with you in real life?

There are a lot of similarities with my real self. Haha, just kidding. I'll pour myself into that character to become one with that person. Actually, when I first got the script, I felt a bit of a burden because he was a lot older than my real age, but he's a very appealing character. I think it's appealing to act an age older than myself.

Say something for your viewers.

It's a light, cheerful drama. I think you'll be able to watch it comfortably, and I'll be able to show a side of myself that isn't heavy or dark. Since it's the first modern drama I'm doing in three years, I think viewers will see a different appeal to me than before. I'll create a different appeal. I flatter you. I shortened the drama title so it turns from "Please take care of the lady" to "flattery" [아가씨를 부탁해 = 아부해], and a lot of fans enjoyed that. Haha.

Season 2 of Unstoppable High Kick is going to broadcast soon.

Like a lot of other people, I'm really looking forward to the second season. I've enjoyed director Kim Byung-wook's sitcoms since I was young. Soonpoong Clinic, LA Arirang, they all didn't disappoint, and I'm anticipating this one too. I heard that Lee Soon-jae is appearing in it. I'm planning to follow it closely.

I'm curious about your love life, now that you're at that age of passionate youth.

I don't think dating happens just by wanting to, just like you can't avoid it by saying you want to avoid it. I think people have to become close naturally, and begin dating naturally. I do think it would be nice to have a girlfriend.

Does your close friend Lee Min-ho encourage you?

He tells me to do my best and act without regrets.

When will we be able to see the two of you acting together?

I want to, before we turn thirty. We promised each other, and I think we'll keep that promise.
RELATED POSTS
Tags: interviews, Jung Il-woo, My Fair Lady, Return of Iljimae