Press conference day for SBS's Dream
Ja Myung Go is wrapping up this week, and you know what this means: Next Monday, the much-buzzed-about new drama Dream premieres.
The SBS drama held its production press conference in Busan on July 21, and the lead actors came looking fan-tas-tic. See for yourselves!
Dream is a 20-episode series set in the world of mixed martial arts. Lead actor Joo Jin-mo said of his return to television dramas (his last was 2006's Queen of the Game — Bichunmu aired in 2008 but was filmed several years before), "As this is my first drama in three years, I'm looking forward to it and therefore working very hard." Of his agent character, he explained, "Nam Jae-il is similar to Tom Cruise's character in the movie Jerry Maguire. In the past, I've played a lot of heavy roles, but this time I'll show an upbeat and light-hearted side, as though the character is the oppa next door."
Yes, I'm sure we'd all like oppas like Joo Jin-mo next door, eh? The man just oozes charisma.
Adorable Kim Bum is looking a lot younger and baby-faced than he has in recent days, isn't he? I mean, he's always has that same cute face, but when he's not in character playing a playboy or a badass, he looks every bit as young as he is:
True, I'm still wary of Sohn Dam-bi in her acting debut, but at least for now, she's looking gorgeous as she shows off her dancer's body:
Stylish Choi Yeo-jin looks cool and fresh and rounds out the (tall!) main cast: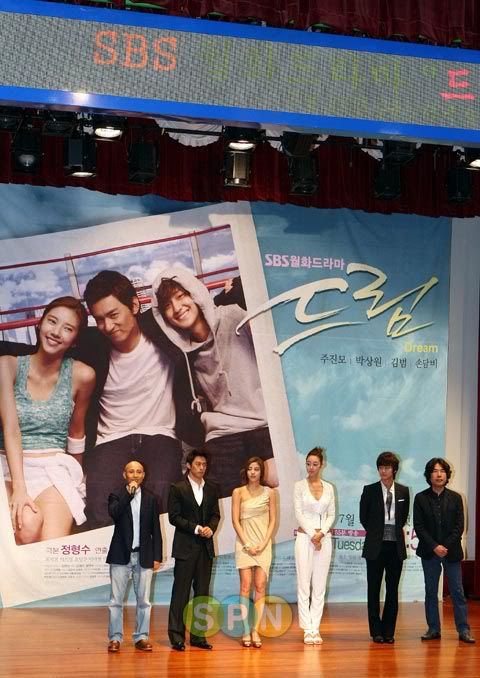 RELATED POSTS
Tags: Choi Yeo-jin, Dream, Joo Jin-mo, Kim Bum, press conferences, Sohn Dam-bi