Preview screening for horror movie Chaw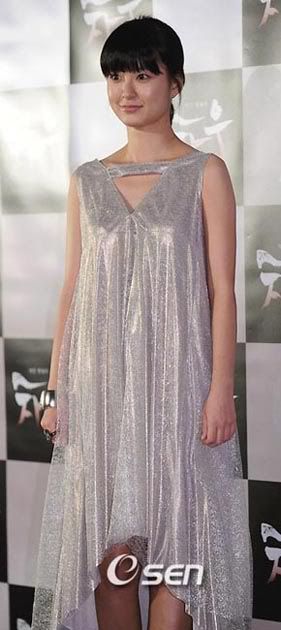 Just watch, I'll bet that after all the razzing I've done about Chaw [차우], it'll put me to shame and turn out to be a hit. It's just that I can't get past the dubious-sounding premise of a wild, people-killing boar going on the rampage near a small village that results in a hunt through some remote mountains. But I'm hesitant to write it off, if anything because the cast is so solid.
The film held its preview screening and press conference on the afternoon of July 8, attended by the film's stars (Uhm Tae-woong, Jung Yumi, Jang Hang-seon, Yoon Jae-moon, and Park Hyuk-kwon) whose characters form a five-member hunting team to capture the murderous beast.
Jung Yumi related a story of actually eating a caterpillar as part of her filming experience. When the director of photography had asked after the filming had wrapped whether she felt disappointed by anything, she had named one breakfast scene because she hadn't actually eaten the caterpillar that was supposed to come out of the food prepared in the mountainside. Jung explained, "I didn't know we'd actually re-shoot it. When the director said, 'Let's do it again' in June, I was surprised. The crew, art team, wardrobe, and the entire staff got to work." Her reasoning was, "even if the character didn't eat the whole thing, I felt she would at least give it a taste."
(So… I infer that Jung Yumi is again playing a quirky oddball, then? Love it.)
Chaw opens in theaters on July 15.
Uhm Tae-woong is currently wearing his hair long for his television series, the Monday-Tuesday historical drama Queen Seon-deok:

Jung Yumi (Que Sera Sera, Oishii Man) looks pretty in pink, and also white:

Yoon Jae-moon (Mother) and Park Hyuk-kwon (Bandhobi, Antique Bakery):

And Jang Hang-seon looks pretty happy to be there, although I've grown to think of him as selfish, gruff Chairman Chae of Story of a Man:
RELATED POSTS
Tags: Jung Yumi, press conferences, Uhm Tae-woong