Another actor collapses on set
This is probably callous of me, but another actor faints on set and all I've got to say is: Ho-hum.
It was belatedly revealed over the weekend that Kim Bum fainted on the set of his SBS drama Dream, and was released from the hospital visit after a brief stay and an IV drip. This occurred last week — he shot a fighting scene over the 11th and 12th, then lost consciousness just before filming was scheduled to begin on the 13th. Honestly, I can't recall if this is the first or second time he's collapsed on Dream, because news like this is so common these days, and Kim Bum has already taken several trips to the hospital this year as he filmed his last drama, Boys Before Flowers.
I'm not totally jaded to stories of overworked singers and actors, because the system is definitely broken and they're the ones suffering from over-packed schedules, which lead to constant exhaustion and frenzied transportation between events, which then often lead to those too-common car accidents we're always hearing about. (Yep, I've seen those pics of Daesung's car crash, and… yeesh.) Sure, we can blame the managers who are often at the wheel when said car accidents occur, but that would be a bit shortsighted, since often the road manager is under extreme pressure to meet the demands placed upon them (and the star) by those in higher positions.
Then you could blame those higher-ups, like management company presidents, for perpetuating an impossible system whereby stars are forced to speed from, say, a talk-show appearance to a radio show to a CF shoot and a fansigning and so on. But even though they may have more power to dictate star schedules, one would be remiss if one placed all the blame on them, because it could then be argued that the frenzy is in response to the fleeting nature of popularity in the k-entertainment industry.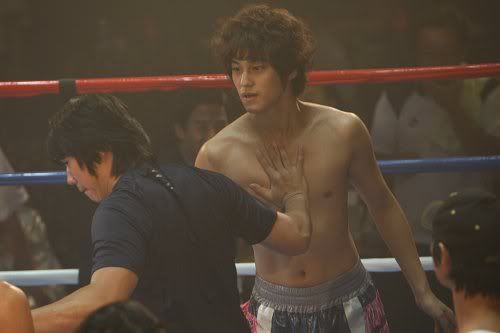 And when one gets into that kettle of fish, the issue of mandatory male military service is never far away, because forcing all draft-age young males into a two-year hiatus contributes to the panicked feeling that one must take advantage of popularity when it comes, because tomorrow it could be gone — for two years, perhaps, or maybe forever. Inertia is a scary thing, when one's livelihood depends upon it.
Yet if you blamed everything on army duty, that would be a rather flat argument. We can't forget that there's always an element of choice and decision-making involved when a person embarks on an entertainment career, no matter how pressure-filled it is, and to pin the blame for everything on an abstract issue like the draft is to absolve a human being of the decisions s/he makes on a day-to-day basis. And these people — though often pressured, and taken advantage of, and locked into burdensome contracts — are still people who make choices and take agency for their actions.
Complicating matters, you can't deny that there's a certain sort of twisted pride that accompanies such pronouncements, as if to say, "Oh my, what dedication! How admirable! Working oneself to death — or to collapse — is so… romantic!"
I recognize this sort of misplaced hubris first-hand, because I went to a very competitive college where students weren't so much disturbed as they were proud of the bodily sufferings invoked in the name of academic prowess. There were students who boasted-complained, "I only got three hours of sleep last night!" who were often one-upped by "Well, I only got TWO hours of sleep last night!" and "I haven't slept in four days!" The "So there!" that followed was, naturally, implied. And we know that Korea is a society that prizes hard work and sacrifice. Combine that with a penchant for melodrama and glorified suffering, and, well, there you've got your disturbing phenomenon of actors constantly collapsing from overwork and those instances being reported like they're a good thing. Or at least an admirable thing.
But anyway. Dream airs Mondays and Tuesdays and continues to get pummeled in the ratings by Queen Seon-deok.
Via Arts News
RELATED POSTS
Tags: Dream, Kim Bum, overworking, star accidents