Drinking interview with Han Hyo-joo (Part 1)
The last (and first) drinking interview I posted was with Kang Ji-hwan (Part 1 and Part 2). Here's a new one featuring Han Hyo-joo, recent star of SBS's hit weekend show Brilliant Legacy. Like Kang Ji-hwan's, this one is also divided into two parts (Part 2 will be up soon!).

"I haven't had any work done,
but I'm not against plastic surgery"
Short-haired Han Hyo-joo seemed like she had just burst out of her drama Brilliant Legacy as main character Go Eun-sung. She says, "I come out of character relatively easily," but the afterimage of her Eun-sung character remains in her appearance and gaze. Her expression is as lively as it is calm when she sees a wine she likes before we begin the drinking interview, or when she says, "I'd like to try acting in a heavy melodrama."
After the end of her drama, Han Hyo-joo has been flooded with CF and interview requests and unable to rest comfortably. But her posture hasn't slumped once. Netizens have said, "She has a fresh appearance" and dubbed her with the nickname "인상녀" [insang-nyeo, meaning a woman with a nice appearance or good impression]. She debuted in 2005's Nonstop 5 and is already in the fifth year of her acting career, but her age is just 22. This new generation's Cinderella is preparing for yet another leap.

I met with Han Hyo-joo, the heroine of Brilliant Legacy, on August 4 in Apgujung-dong in Seoul's Kangnam district. When I said, "Why is it so difficult to meet up like this?" her manager surreptitiously showed me her schedule book.

From the drama's July 26 finale through mid-August, her schedule is completely packed. She hasn't rested a day till now, and even yesterday stayed up till dawn shooting an outdoor CF in Taean, Chungnam. She's running swiftly toward her life's best moments with her 22-year-old "young blood."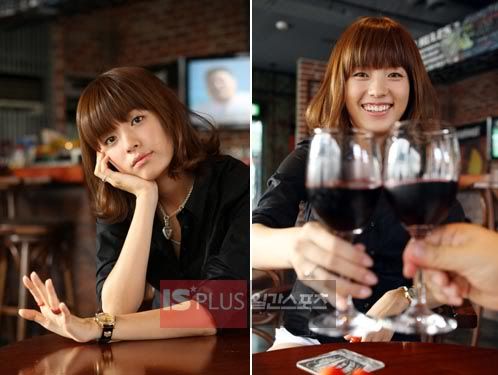 Taking revenge through the kiss scene with Lee Seung-gi

Han Hyo-joo looked just like Eun-sung in the drama. With her slightly waved short hair and hot pants, she looked simple but attractive. However, it was clear she was feeling tense. We ordered wine and some fruit and sat at a table. As the most popular wine brand in the country, M brand, came out, she smiled widely, saying, "Wow, this is my favorite wine."

Do you feel a lot has changed with the ending of Brilliant Legacy?

Yes, I'm recognized a lot. I went to this one event, and a five-year-old little girl called me Eun-sung unni. Grandmothers would also come up to me and greet me with, "Eun-sung, hi."

You must have learned a lot.

This drama felt like a halfway point between a miniseries and a weekend drama. There were veteran actors like Yoo Ji-in and Kim Mi-sook, the actors developed a sympathy amongst ourselves, and I think the acting was realistic.

What is Lee Seung-gi like?

We're the same age. We're in the same 2005 entry year at Dongkuk University, and we also acted together in Nonstop 5. He really puts a lot of effort into it, and really believes in himself. His only flaw is that he prepares excessively. That's a problem. [Laughs]

Why is that a problem?

What I mean is, he prepares so diligently that if the situation on the filming location changes even a little, he has a hard time. Watching that from nearby, I find it a serious thing but also funny. He's different from me in that.

Then does that mean you have a more adaptable acting style?

Me? Not at all. I tried really hard, too. But I suppose you can say all actors have their own way of getting close to their characters.

Your kiss scene with Lee Seung-gi was impressive.

Oh, that. We did it twice. The first time, my nose pushed up against Seung-gi's cheek and got smooshed. It's supposed to be a romantic moment, but it wasn't exactly. So in the next kiss scene, I had my small revenge. The scene has Eun-sung kissing Hwan first, so I put both of my hands firmly on both sides of his face and smooshed his cheeks. [Laughs.]


Han Hyo-joo laughs brightly like Eun-sung, enjoying herself, and takes a deep drink of her wine. The face that had stiffened slightly when I asked to see what was inside her bag before the interview relaxes a bit now.


I hear the CF offers are pouring in.

I wouldn't say pouring in, but there's a lot of interest. Actually, I'm on my way back from an overnight CF shoot yesterday in Taean.

Is there anything you feel disappointed with?

No. I did my best, so I don't feel disappointed with anything. To be honest, wouldn't anyone feel a bit disappointed with any project they did? But I try to forget quickly the things that have passed. I can immerse myself in my character, but I tend to come out of character quickly.

I like my nickname "insang-nyeo"

I hear you have a nickname.

The fans gave me the nickname from this drama, meaning "girl with a good impression." They say it's because the first impression is of a kind, fresh person. I really like the nickname, more than being called "beautiful actress."

You have a very diverse appeal.

Hearing you say that so straightforwardly is a little embarrassing. I hear that a lot, because I can look very different with a different hairstyle or directing. I think so too.

Thinking about it, I remember you wore a sexy dress to last year's Baeksang Arts Awards.

It was a grey one-piece minidress. But why?

I was a little startled to see your legginess.

I am pretty leggy. [Laughs]

Your secret?

Don't I have to say I was born lucky? I'm joking. I'm like my mother.

You're a natural beauty, aren't you?

Yes. I haven't had any work done. But I don't have any opposition to receiving plastic surgery.

Does that mean there's nothing you'd like done?

It doesn't mean I don't, but I like how I look now. I've had areas that I've disliked, but I fixed the way I thought and became comfortable with it. I think the instant you think of it as a complex, things that didn't bother you before turn into complexes. Some people tell me to remove to dot from under my left eye, but I won't. I like it.


She took another deep drink of her wine. Half a bottle quickly emptied. Han Hyo-joo's face wasn't very red. She said her tolerance level was about half a bottle of wine, or three to four shots of soju, but that must have been the polite answer. She seemed stronger than that.


Han Hyo-joo's Profile

Birthdate: February 2, 1987
Birthplace: Cheongju, Chungbuk
Family: Elder of two, 1 younger brother
School: Dongkuk University, Theater and Film department, currently on leave
Hobbies: Film appreciation, reading, oral storytelling
Debut: Nonstop 5 (2005)
Essential filmography: Dramas: Spring Waltz (2006), As Much as Heaven and Earth (2007), Iljimae (2008), Brilliant Legacy (2009).
Films: My Boss, My Teacher (2006), Ad Lib Night (2006), Go, Bicycle (2008), My Dear Enemy (2008)
Part 2 is on its way…
Via IS Plus
RELATED POSTS
Tags: Brilliant Legacy, Han Hyo-joo, interviews