Haeundae eyes the 10 million ticket threshold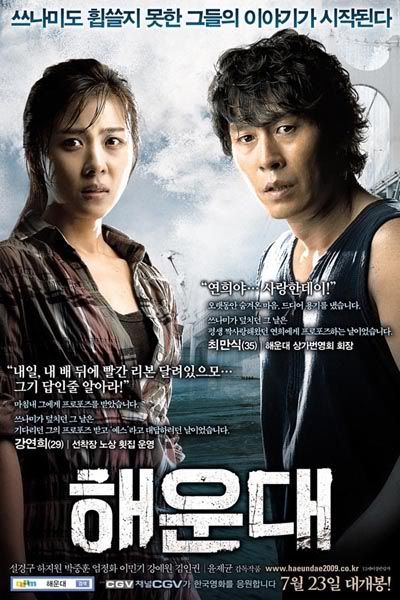 Despite being several weeks into its release, eyes are on disaster film Haeundae this weekend at the box office as the film is expected to break the 9 million mark in viewers.
As of reports on Saturday morning, the 15th, the film has sold more than 8.5 million tickets, putting it squarely at #5 in the all-time Korean box-office list. It recently surpassed the #7 film Friend (8.18 million), #6 Speed Scandal (8.21 million), and #5 D War (8.43 million).
There have only been four movies to break 10 million, and people are curious to see whether Haeundae will join them. They are: #4 Silmido (11.08 million), #3 Taegukgi (11.74 million), #2 King and the Clown (12.3 million), and #1 The Host (13.02 million).
If Haeundae manages to hit the 10 million mark, its stars Ha Ji-won and Sol Kyung-gu will join their colleagues Song Kang-ho and Jang Dong-gun as 10-million-ticket actors, earning Ha Ji-won the distinction of being the first woman in the club. (King and the Clown did star Kang Sung-yeon and The Host included Bae Doo-na, but they aren't considered "10-million-ticket" actresses; they weren't the lead draws and were part of the subplots.)
RELATED POSTS
Tags: box office, Ha Ji-won, Sol Kyung-gu