Han Ji-hye turns gisaeng in new film
Han Ji-hye's next role takes her back to Joseon Korea, and for her role as a famous gisaeng, has begun taking a variety of classes. As gisaeng entertainers were often skilled in the arts of dance and music, her education includes classes in the gayageum (a stringed lute, the same instrument Honey Lee is known for playing) and singing in verse.
Han Ji-hye has mostly been known for acting in dramas (East of Eden, Likable or Not), but this project is the latest movie from director Lee Jun-ik (You're Far Away, King and the Clown), called Like the Moon Escaping from Clouds [그르믈 버서난 달처럼, also written 구름을 벗어난 달처럼]. It's an action-fighting period film based on a Park Heung-ryong manhwa of the same name and boasts quite an impressive cast list: In addition to the previously announced Hwang Jung-min it has added City Hall's Cha Seung-won and Accidental Couple's young Baek Sung-hyun. (Looks like Uhm Tae-woong and Ryu Seung-beom are out.)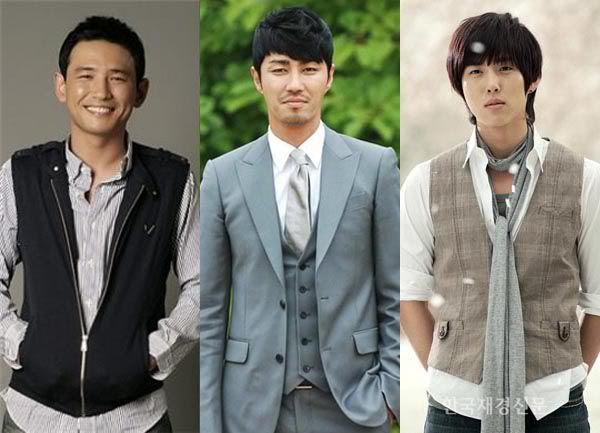 Hwang Jung-min, Cha Seung-won, Baek Sung-hyun
The story is set in 1596, and Cha Seung-won plays a man of royal blood (though born of a concubine) who schemes of a rebellion to overthrow the social order and establish a new one. As a practiced gisaeng, Han Ji-hye is used to having noblemen fall for her, but falls in love with him and shows only her pure side to him. Baek Sung-hyun chases Cha Seung-won's character in vengeance for killing his father, causing the gisaeng to become caught in conflict between him and Cha's character.
He (Baek) travels with his Accidental Couple buddy Hwang Jung-min, who plays a blind swordsman who teaches him how to fight, and who also has a revenge mission against Cha Seung-won. Ryu Seung-beom is another man of illegitimate birth who, like Cha, feels the social divide because of his status and joins in the rebellion.
Director Lee Jun-ik explained that he cast Han Ji-hye without auditioning her — not for her talents, but for her Asian-looking eyes. He said, "I don't really watch dramas, so I didn't know who Han Ji-hye was. I met with her through staff recommendation, and I was startled that unlike the other twentysomething actresses these days, she didn't have the double eyelid. She has eyes that are difficult to find these days. I told her to never get surgery. She also spoke reasonably. Other actresses her age are afraid of me and can't speak, but she was very natural. She was perfect for the role."
The film starts shooting this month and will release in early 2010.
Via Sports Khan, Hankyung
RELATED POSTS
Tags: Baek Sung-hyun, Cha Seung-won, Han Ji-hye, Hwang Jung-min, Ryu Seung-beom, Uhm Tae-woong