Han Ye-seul sings for Mighty Mouth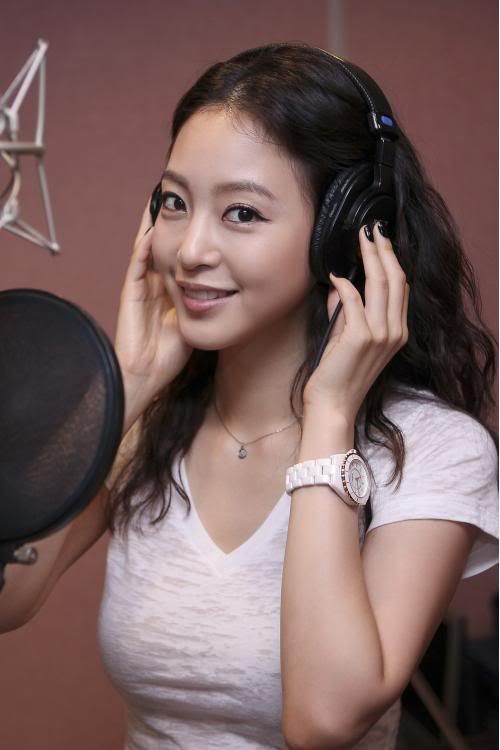 Hip-hop duo Mighty Mouth has scored another high-profile collaboration, this time with actress Han Ye-seul (Miss Gold Digger, Tazza). For their relatively new status in the kpop field, the group has already drawn notice for featuring name singers like Yoon Eun-hye, Sun Ye of the Wonder Girls, and Sohn Dam-bi.
Han Ye-seul hasn't pursued a career as a singer, but she has recorded a few songs for soundtracks, such as the track below from one of her earliest roles, college sitcom Nonstop 4. (I thought she was pretty awful in the show — she's improved a lot since — but she enjoyed some popularity for her onscreen love triangle between Hyun Bin and Shinhwa's Andy.) Listen to the track (and watch the clip) below.
SONG OF THE DAY
Han Ye-seul – "그댄 달라요" (You are different) from the soundtrack of Nonstop 4. Like with many actresses who sing, her voice is pretty but a little weak. [ Download ]
Audio clip: Adobe Flash Player (version 9 or above) is required to play this audio clip. Download the latest version here. You also need to have JavaScript enabled in your browser.


The song Han Ye-seul sings for Mighty Mouth is "연애특강" (Crash Course in Love) and lays out twenty methods to romance. It's an up-tempo tune mixing Han's vocals with Mighty Mouth's quick, upbeat rapping. A rep from Mighty Mouth's side explained, "Han Ye-seul has lent her pure, sweet voice to singing with Mighty Mouth in the song that sets out a love formula, '연애특강.'"
The group also has a new music video featuring Hyun-ah of the new girl group 4minute and Uee of After School. The new album goes on sale on August 6, after which the duo will begin formal activities to promote it.
Here's Han Ye-seul's "You're Different" from Nonstop 4:
This is Han Ye-seul singing "Make Me Shine" from the OST of her romantic comedy film Miss Gold Digger:
Via Hankyung
RELATED POSTS
Tags: Han Ye-seul, singers