My Name Is: Seo Woo
She gained a bit of notice with her supporting role in Gong Hyo-jin's movie Crush and Blush, but now actress Seo Woo is garnering more attention for her lead role in the MBC show Tamra the Island. Its ratings are pretty low (it's being crushed by weekend heavy-hitter Sons of Sol Pharmacy) but the drama has attracted a small amount of buzz. And in the following interview, Seo Woo shows how adorable and bubbly she is — she really seems like her Beo-jin character come to life.
Seo Woo, truly an enviable actor

For a girl born on Jeju Island, what a horrible dilemma it is to dislike the water. And in the year 1640, no less. In MBC's Tamra the Island, it's when the sixteen-year old diving girl Jang Beo-jin (Seo Woo) hits that conflict that she meets the golden-haired, blue-eyed young man William (Hwang Chan-bin). In one moment, without hesitation, she rescues this foreigner from the sea, and a new world opens.
In the 21st century, a different young girl grew up expecting to become a dancer, but could not find happiness in dance. In the end, she quit dancing after nine years, and by chance took a step toward acting. Just as Beo-jin hated and feared water, she had to endure days of filming up to twelve hours underwater. Thus Seo Woo became Tamra the Island's Beo-jin. Looking out at the life that has been given you is a frightening but exciting thing.

Where on earth did this young lady come from?

"The thing I hate most in the world is swimming. I once fell into water, so to be honest I dislike baths too. I only shower." Small frame, little face, large eyes, and thick lips. The reason one cannot take one's eyes off her isn't so much her doll-like appearance but because one doesn't know when she'll toss out more unexpected words.

As she recalls those tough underwater shoots at depths of 6 meters that can endanger the eardrum or internal organs, she bursts out laughing, "In episode 1 there's an underwater CPR scene with William, I was so nervous that I bought three different kinds of mouthwash and kept brushing my teeth! But when it came time to shoot, I forgot my embarrassment and it was tough enough just managing my breathing to survive that I was completely flustered!" Seo Woo's laughing isn't quite the sort of comment to expect of a rookie actress trying to manage her image.
She was born late to her parents and grew up receiving lots of love and, under the influence of older sisters who are much older, her personality is often said to be "ajumma-like." It appears that this 22-year-old young woman, who looks so much younger than her age, was born with her open-hearted spirit. When she went on an audition not long after her debut, she made her introduction amongst stiff competition, announcing, "I've appeared in one project Son [아들], but in exchange my salary will be the cheapest out of everyone here!" She got the part. It was the part in MBC's Kimchi Cheese Smile of a quirky girl who sprinkled cola on her kimbap [rice rolls].

She says, "Later on, I was passing by the broadcast station and one director asked, 'Wait, are you… her?' There must have been a lot of people who were confused by me." Seo Woo's mischievous face as she speaks lightly, like she's about to fly away, overlaps with the image of her from her "Ok me wa ka" ice cream ad and her middle school student character from Crush and Blush, whose outsider status among the whole student body made her insist, "They must all feel an inferiority complex from me!"
Here's Seo Woo's CF with the "Ok me wa ka" dance:
Last year, Seo Woo won new actress awards, big and small, for Crush and Blush. She laughs as she says, "When I first got an award, I thought, 'Did my management pull some strings?'" As such, the pressure is on her for Tamra the Island. "The prejudice about me is thinking that I'm a good actor. That's prejudice! Just doing well once doesn't mean I do well all the time." How ironic that as her face becomes serious, this actress explains that she is like a bubble.

However, her tenacity is impressive, considering how she endured the underwater filming she so hates and a tough year of filming in advance, and says, "Compared to then, this is nothing." She also trained intensively, staying up nights to learn the Jeju Saturi dialogue when the script was amended two days before the script reading. As Seo Woo says, "I don't work hard to receive praise, but so that I don't disappoint people's expectations. Please watch with an open mind," she makes her pledge with a sly smile.

At last, we have an actress who isn't flower-like or goddess-like, but rather a heroine who is like a time bomb with a lit fuse.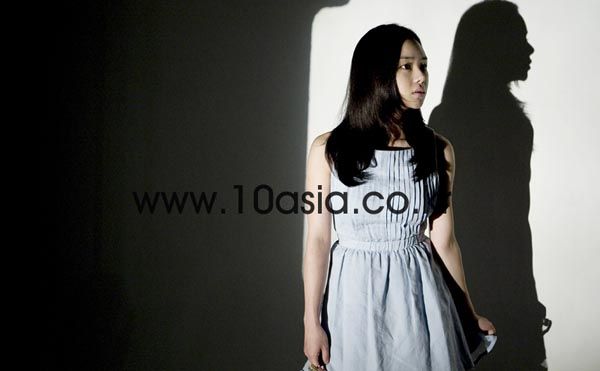 My Name Is…

My name is Seo Woo. Of course, that's a stage name.

I was born on July 7, 1988. This year, on my birthday I stayed up all night filming. I had filmed on my birthday last year so I wasn't taken by surprise, but I was incredibly touched when the staff came out suddenly on the set singing Happy Birthday and threw me a party.

My family consists of my parents and an older sister who is eleven years older, and another sister six years older.

I went on an audition when I was really new and didn't know anything, and I made it through four rounds. I was so nervous that I drank a teeny bit of alcohol to relax before the audition, but underneath the lighting my face grew redder and my posture became gradually looser. The people watching asked, "Seo Woo, did you drink?" and I answered honestly… and I was cut. Hahaha.

The day I auditioned for Crush and Blush, I had been at a shoot wearing a school uniform so I went dressed like that, and director Lee Kyung-mi says she thought I was a middle school student. I think I was picked because she thought, "She's young, but she acts as though she knows a lot." Actually, because I didn't know anything about acting then, I just thought, "If I film in Incheon, I bet I'll eat tons of sushi!"

I studied Korean dance, but my body isn't very flexible. I have trouble making wave movements on the ground, but I have to do that underwater. So I watched Jessica Alba's Into the Blue and other diving and underwater movies to study.

Beo-jin's Jeju Island Saturi accent came after much revising. If I spoke entirely in Jeju dialect we would need too many subtitles, so we took out as much Saturi as we could from the scripts, then put some back in two days before the overall script reading. The actors who are from Jeju like Seo Tae-hwa sunbae taught me a lot.

The first bit of Jeju Saturi I learned was "head," as in "Want me to hit your head?" It's something Beo-jin's mother (Kim Mi-kyung) says when she's scolding her. My favorite phrase is, "Did you eat?" I like that asking whether someone has eaten is a greeting phrase with some feeling behind it.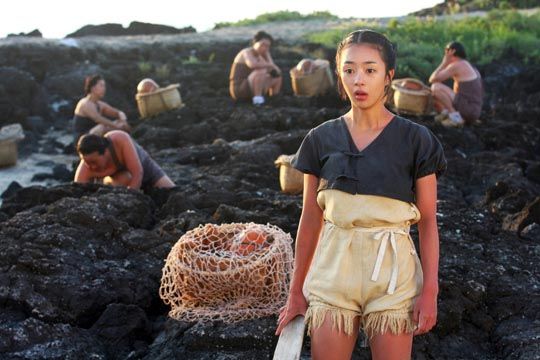 The actors of Tamra the Island made a bet about the ratings of the first episode. The person who was closest to the real number would win, and the one furthest would pay for drinks. I was thinking not to be too greedy, and that we could gradually increase the number, so I wrote 11%. But other people said, "I'll buy and say 50%!" and "Then I say 80%!" I think I was too timid with my number.
Unfortunately, she's probably the winner, since the ratings for the drama, now four episodes in, are hovering around 5%.
When I first met Im Joo-hwan oppa, who plays Park Kyu, I thought, "He's reaaaaally tall!" In the beginning of filming, I even wondered, "Why can't I open my eyes? Is the Jeju sun too bright?" Later on, I realized that it was because when I acted with Joo-hwan oppa, I had to look up at the sky. Haha.

When I first met Hwang Chan-bin oppa, who plays William, I didn't feel like he was a foreigner. He was like a close girlfriend. When we see each other, he chats about things like, "What should I eat today? There's this place that has good lettuce wraps, have you been there?"

Lee Sun-ho oppa, who plays Yan, is extremely quiet. Out of the four of us, he is the eldest, so when I'm curious about something I end up asking him a lot. And I advise him, "Hurry up and get a girlfriend." Haha.

Most of my fans are women. (Gong) Hyo-jin unni from Crush and Blush is also like that, and our relationship is like that of next-door unni-dongsaeng.

To be honest, I'm kind of lazy. When I get up in the morning, I linger and ask, "I don't want to go! Can't I stay?" and when I'm late my manager oppa calls the film set to push the start time an hour. So it turns out I've never made it on time!

I shot the movie Paju, which releases this October, over two months earlier this year when Tamra filming had been interrupted. The role is of a girl who falls in love with the boyfriend of her dead sister. After getting into that character who doesn't speak much but has a lot of loneliness, I found it difficult to return to Beo-jin after that.

I enjoy cooking, so in the future I'd like to learn more as I continue acting. Sometimes I make this or that for the people at the office, and my manager oppa eats everything and then says it's not that good!

Originally published August 11, 2009
Written by Choi Ji-eun
RELATED POSTS
Tags: interviews, Seo Woo, Tamra the Island