Press conference for Itaewon Murder Case
Jang Geun-seok's new movie Itaewon Murder Case [이태원 살인사건] is scheduled to release next month, and the actors came out on August 11 for the film's press conference. In this thriller, which is based on a real-life 1997 murder, Jang plays a Korean-American murder suspect (named "Pierson") in an Itaewon stabbing, while Jung Jin-young is the hard-nosed prosecutor who interrogates him.
Jang explained, "Since I was young, I've liked mysteries and unsolved crime stories. I saw news of the Itaewon murder case when I was a kid and was curious about it. As soon as I read the script, I wanted to play Pierson… Most people call him a villain, but I see him as two-faced."
He said of acting with co-star Jung Jin-young: "Aside from acting, I learned a lot about what an actor needs to prepare when he comes to the set through him." This isn't the first time that the two actors have worked together; Jang Geun-seok and Jung Jin-young both appeared in Lee Jun-ik's 2007 comedy film Happy Life.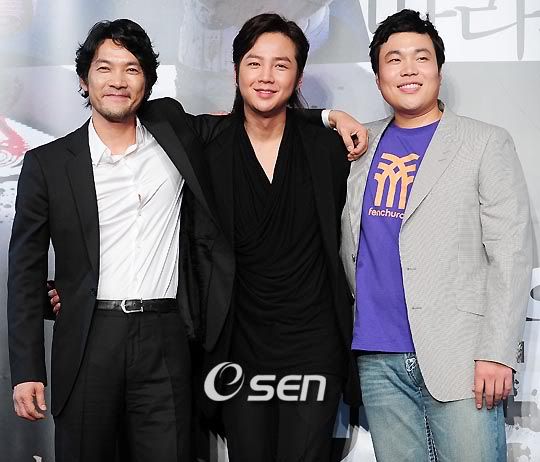 Meanwhile, Jung Jin-young explained that he took this role "to offer solace to the spirit of the victim," as the killer in the true-life incident was never caught and the case was seen as botched by prosecutors. He mentioned the ritual often performed before shooting on a film begins, and how their film went a bit further in holding a memorial service for the victim of the 1997 murder, Jo Joong-pil.
Still, he emphasized that this film isn't a documentary: "I felt uncomfortable acting in a scenario based on a real event, because I can't go too far, or not go far enough. That's why I tried not to think of it as a true story. I tried not to think of this as a report of the case in its entirety, but a story focusing on these characters. We can't forget the true case that occurred twelve years ago, but a movie should be watched as a movie."
Oh Kwang-rok and Go Chang-seok also star in Itaewon Murder Case.
Jang Geun-seok was most recently in MBC's hit drama series Beethoven Virus and is next slated for the idol-star drama You're Beautiful. Jung Jin-young was seen in the drama Kingdom of the Wind and the movie Sunny (aka You're Far Away).
Okay, now with all that out of the way, can I ask: Jang Geun-seok, why must you insist on wearing women's clothing?
Don't get me wrong, I think he's definitely cute, and he's one of the better actors of his age range. He's good-looking and charismatic. I'm also glad to see that he's gained some weight, since these young actors are often so overworked that it's a little painful seeing them visibly growing skinnier as they film drama series.
And yet… it seems he has yet to discover the art of a fine masculine cut. (Masculine… feminine… masculine, masculine, masculine… feminine?…) Why have so many of his suits and outfits been tailored in a feminine style? We may never know.
Via Donga, Sports Khan
RELATED POSTS