Sneak peek at Kim Bum's training session for Dream
In the first two episodes of SBS's new Monday-Tuesday drama Dream, lead actor Kim Bum hasn't yet begun training his way to mixed martial arts glory, but in these latest preview stills, we get a glimpse of some of his Rocky-esque moments as his Jang-seok character begins physical training.
So far in the drama (MILD SPOILERS AHEAD), we've seen his Jang-seok knock out amateur boxing champ Jung-chul with one blow. Sure, Jung-chul was drunk at the time, but given his winning streak of 125 consecutive victories, this feat grabs the attention of sports agent Joo Jin-mo. The next step has Jang-seok joining up with the agent to be trained into a fighter; hence this scene, wherein Jang-seok races up and down a beach dragging a tire. (END SPOILERS)
This beach scene was shot on the morning of July 30 in Incheon (which suggests that Dream is already filming pretty close to real time… I wonder how that bodes for its future, given that it's just started airing). After repeating his 100 meter dash approximately twenty times, Kim Bum waved his hand as he said, panting, "Even walking is difficult now."
The scene in question airs on August 4 (in episode 4).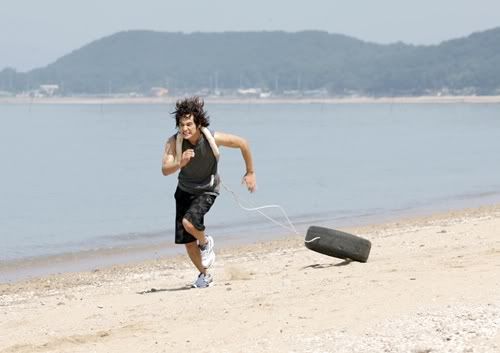 Via OSEN
RELATED POSTS