Style abounds with star cameos

Kim Hye-soo with 2NE1's Park Bom
As announced, weekend drama Style has some upcoming star cameos in the works, and it looks like they're using them all up in the same episode. The crew shot the scene (a party for the fictional Style magazine's 200th issue) on August 10 and has released some behind-the-scenes images. As we know, Kang Ji-hwan is one of those stars, but joining him on the faux red carpet were members of pop group 2NE1, singer Bada, actress Cha Ye-ryun, and others.
(On the downside, with this party setup, I doubt any of the stars get much camera time at all.)
The shoot took place at a hotel in the Itaewon district in Seoul on the evening of August 10.
I'm guessing that the members of 2NE1 are playing themselves (or fictionalized versions thereof):
I love Bada's dress and want it for my own:
(Don't even think about claiming my) Kang Ji-hwan!!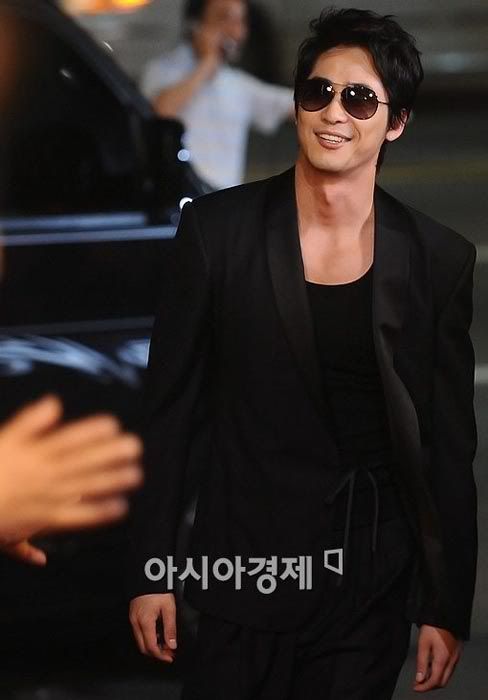 Actress Cha Ye-ryun (A Star's Lover) walks the carpet with two different outfits:
Comedian and musical actor Hong Rok-gi; designer Lee Sang-bong:
Last but not least, here's the cast of Style, featuring Kim Hye-soo in her element as a glamorous editor with Na Young-hee, her publisher boss, as well as Lee Yong-woo playing hottie photographer and Lee Jia as the hapless assistant:
RELATED POSTS
Tags: 2NE1, Bada, Cha Ye-ryun, Kang Ji-hwan, Kim Hye-soo, Lee Jia, Lee Yong-woo, Sandara Park, Style