A look at Iris's supporting cast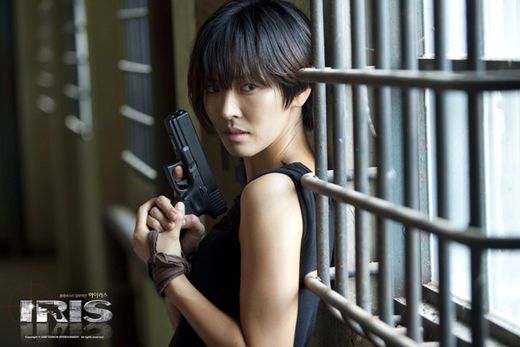 Looks like each of the characters in the main cast of spy drama Iris [아이리스] is getting his/her moment in the spotlight. With a name like Lee Byung-heon in the cast, it's no surprise he gets most of the attention, as does his CF queen leading lady Kim Tae-hee, but this is one solid supporting cast.
First up: Kim So-yeon (Gourmet). Kim cut off her long hair to play Kim Sun-hwa, a North Korean spy who shows off lots of fierce action skills.
Sun-hwa is "like a shadow" to her superior officer, North Korea's top spy, played by Kim Seung-woo. An intense person who believes that failure is always soon followed by death, Sun-hwa becomes conflicted when she becomes indebted to the enemy: In the process of pursuing top South Korean spy Kim Hyun-joon (Lee Byung-heon), she finds her loyalty swayed to him after Hyun-joon saves her life.
Through the course of filming the numerous action scenes, Kim So-yeon has already incurred several injuries including tearing a ligament in her leg and needing 12 stitches for a slash to her leg.
Next, Kim Seung-woo (How to Meet a Perfect Neighbor, Woman on the Beach). As Park Chul-young, North Korea's top spy, Kim showcases a different side to his character from the softer, gentler image he's shown in previous works. Fiercely dedicated to his work, he is capable of dying for his beliefs, and once he fixes on a target, he never gives up.
On the other side, we have Jung Jun-ho (Last Scandal of My Life), who plays Jin Sang-woo. Like most of the cast, Jung also takes on a departure from his previous softer image as he takes on the role of an elite spy as part of South Korea's NSS (its security agency).
Sang-woo falls for Seung-hee (Kim Tae-hee's profiler character) at first sight. However, because of his deep friendship with his agent colleague Hyun-joon (Lee Byung-heon), who also has a romantic development with her, Sang-woo keeps his feelings for Seung-hee hidden.
Even as the role of Sang-woo involves car chases, explosions, foot chases, and many other action sequences, Jung Jun-ho is said to be the witty and humorous mood-maker on set, who keeps his co-stars and the staff laughing behind the scenes.
Last but not least, we have Big Bang idol star TOP (aka Choi Seung-hyun) making his return to television after his role in the 2007 drama I Am Sam.
TOP plays a cold-blooded killer with a 100% kill rate who has been ordered to kill Lee Byung-heon. As a lesser character, TOP has fewer scenes to shoot, but is said to come onto the filming set on days he doesn't film to keep monitoring the acting of his sunbaes. (Probably a smart move for a fledgling actor making the leap from idol singer status.)
Iris is scheduled to premiere on KBS on October 14.
Via BNT News, DongA, Hankyung, MJK News
RELATED POSTS
Tags: IRIS, Jung Jun-ho, Kim Seung-woo, Kim So-yeon, TOP