Cafe Noir earns praise at Venice International Film Festival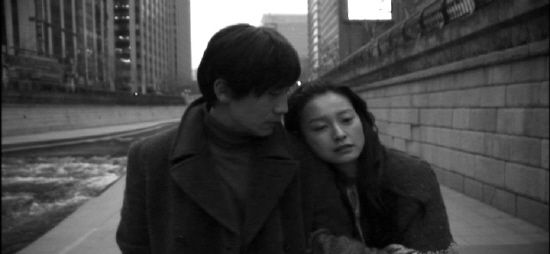 Cafe Noir is notable for being the debut film for its director, film critic Jung Sung-il. It is also now notable for drawing praise at its world premiere screening at the recent Venice International Film Festival (as the only selection from Asia).
Cafe Noir was described by one of the festival's executive committee members as showcasing a unique form, while a selection committee member praised it as "a film that you don't often see from a new director." A section director said, "When one discovers the hidden political message, which is sprinkled throughout the film, it would be difficult to suppress your astonishment at this film."
The movie stars Shin Ha-kyun (Thirst) as a man who is addicted to sad love, Moon Jung-hee (My Sweet Seoul) as the woman who "loves him to death," and Kim Hye-na (Yoga School) as the woman who loves him "more than life" (isn't that the same thing?). Jung Yumi (Chaw, Que Sera Sera) and "Hongdae uljjang" singer Yozoh are two women who hurt him, whom he decides to meet again in order to get over his pain.
Cafe Noir will also screen at the upcoming Pusan International Film Festival in October, which will be its first showing to Korean audiences. After all that praise (and mention of a hidden message), this is one I really want to see! I suppose critiquing films for a living gives one particular insight into knowing what does and doesn't work for a film.
Via Newsen
RELATED POSTS
Tags: film festivals, Jung Yumi, Kim Hye-na, Moon Jung-hee, Shin Ha-kyun, Yozoh