Jung Il-woo is confused with his character
The production of My Fair Lady held a press conference and open set day on September 18, where both Jung Il-woo and Yoon Eun-hye spoke frankly about struggling with their characters.
Jung Il-woo plays "Tae-yoon," a lawyer and chaebol who is pretty much the perfect man. But the actor confessed that he's having trouble understanding the recent developments involving his character: "I personally couldn't accept my girlfriend falling for another man. Tae-yoon is a person who lets that go very gently, but to be honest, I can't put up with that. I think to myself, 'Why does he act this way?' as I act."
I think Jung's own feelings probably mirror the viewers' impressions. I joke that his bad hairdo has lessened his appeal, but really, there's more to it. At some point, Tae-yoon has dulled, and I blame the writing.
Jung Il-woo: "The Tae-yoon character has changed a lot from the earlier episodes. Something about him has become flat, and I feel like I'm only playing a third wheel between Hae-na and Dong-chan. In the September 17 episode (#10), now that he realized that he likes Hae-na, there needed to be some burst of emotion, but there wasn't. With this development, we need to see the progression, but it doesn't show any of that. I think our drama only focuses on results [and not the process]. … My head is so frustrated trying to figure out how to express his feelings."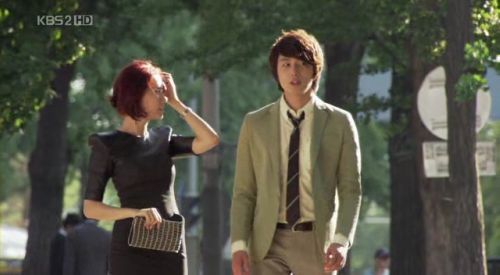 I have said a few times that Jung Il-woo is hardly acting in this drama, but reading his candid thoughts actually makes me feel better (about him as an actor, not about the drama). Yes, he's a cutie, but my love for him has very little to do with his looks; I have admired his work ethic and devotion to improving his skills; he has been known to overwork himself to extremes, immerse himself in character, seek advice from veteran sunbaes and show respect for his elders.
Thus it's a disappointment to see how blank Jung's latest character is, but it's not for a lack of trying on his part. However, although he may have devoted himself to character and script analysis for his Iljimae character, in Return of Iljimae he was working with a superior script and director; in My Fair Lady, not so much.
Jung Il-woo: "When I was filming Return of Iljimae, I struggled a lot so I thought that this time would be more relaxed, but I'm even more uncomfortable. Even if it's only at this late stage, I think I have to find his focus. There are a lot of things I'm disappointed about."
(The photo below is a few months old, but I much prefer his Iljimae hair to the weird helmet-hair he's currently sporting.)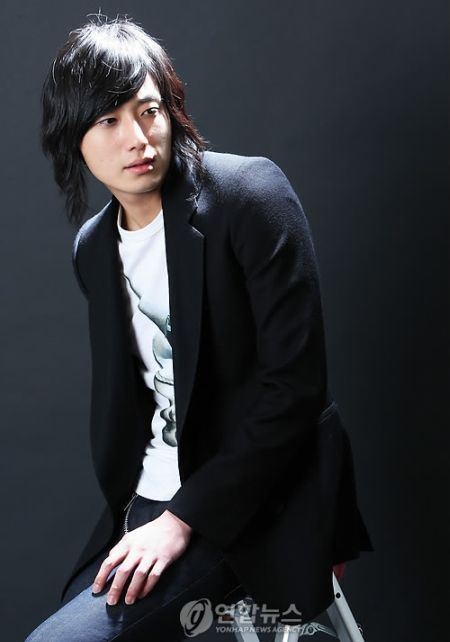 He also feels frustrated with Tae-yoon's indecision, although that may be because of his own personality, which is so different:
Jung Il-woo: "If I were put into these circumstances, I don't think I'd agonize about it — I would think that it's not worth it to love that kind of woman. To put it nicely, both men have their charm, but to put it another way, the woman is toying with both men. These days, I'm feeling confused and bewildered. … If a woman I liked stopped liking me, I'd leave very coolly. I wouldn't look back."
I think the script is My Fair Lady's biggest liability — it has its moments but is pretty thin. Jung is much more generous than I am, though:
Jung Il-woo: "I think this is all because I'm lacking a lot in my acting. I want to immerse myself more deeply and do my best through the end."
He feels his portrayal will change in the future episodes, vowing to come on more forcefully: "Soon there will be scenes where he is not weak but comes out as decisive and firm."
Meanwhile, Yoon Eun-hye addressed the acting criticism, saying she understands the comments: "Even to me, the parts with my awkward acting stick out, so it's understandable that the viewers felt that too." She also agreed with the complaints of her muddled enunciation, saying, "That's definitely something I have to improve. In the past, I would have dived into the character and become comfortable acting the part, but now I'm paying more attention to my speech."
Via Joy News, Asia Economy, My Daily
RELATED POSTS
Tags: Jung Il-woo, My Fair Lady, Yoon Eun-hye