Lee Young-ae gives her first post-wedding statements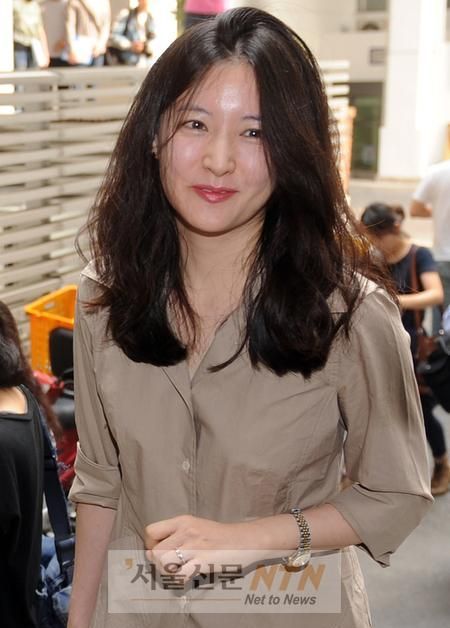 Newlywed actress Lee Young-ae shocked the industry by getting secretly married in Hawaii last month. She made the initial announcement through her management, but had not spoken to the press after returning to Korea to resume her studies (she is currently working toward a doctorate degree at Hanyang University in its theater and film department).
Not one to let an opportunity slip them by, reporters found Lee Young-ae on the Hanyang campus as she began her new term, and ambushed her with questions. I find it remarkable that Lee kept her poise and answered questions that were obviously unwanted, and did so without whacking a reporter in the process. But then again, she's an old pro who's been on the A-list ranks for years, so perhaps she's had a lot of practice.
The guerrilla-style interview took place on the morning of September 15 as she attended classes. This was the first time she had spoken with press since her wedding, and a crowd of a few dozen reporters found her outside a lecture room before one of her classes.
She started by saying, "I'm sorry, this is a happy event so I hope you will understand with an open mind. In the end, I am very thankful and happy. In the future, studying diligently as I am now will be an extension of being an actor. Just because you don't see me doesn't mean I am going to quit acting."
What are your feelings on being married?

"I'm a student on my way to class, so I can't speak for a long time. Please understand."

What kind of person is your husband?

"Everyone has his strengths and weaknesses, but to me, he's very reliable, faithful, and a good person. My feelings for my husband go deeper than love."

Are you happy being married? Has anything changed?

"I'm happy. Usually I'm not sought out like this, but it's different now that I've married. There hasn't been any particular change in my daily life."

Are your parents and in-laws pleased?

"Everyone is happy. Everyone has such a deep interest in my marriage that it's uncomfortable for me in my advanced age. If possible, I would appreciate you not going to my in-laws' home or here to my school."

Why did you keep your wedding unpublicized?

"Since I'm an entertainer, it would have been nice to have it more public, but my husband is a normal citizen and would have found it uncomfortable, so I did my best to look after his wishes. We both wanted it that way, and our parents did as well, so we kept it a closed ceremony."

Do you have plans for children?

"I'm a bit older so if it happens…"

What about your plans for the future?

"First off, since I've formed my own family now, I want to devote myself to that. School has started for me, and since my field of study is my work, I'm working hard to show a more mature to myself as an actor."
Via Joy News
RELATED POSTS
Tags: interviews, Lee Young-ae, weddings