Park Shin-hye crossdresses for You're Beautiful
We just saw Jang Geun-seok's new look for the upcoming drama You're Beautiful, and now we get a look at Park Shin-hye's transformation as a girl crossdressing as a boy to be a part of an idol group called "A.N.JELL," whose leader is Jang Geun-seok.
(Just for the record, the "namjang" trend — women dressing as men — is a kdrama staple that tends to be overused, but it's another one I don't mind. Recent entries into the genre have shown it can be done well, such as Moon Geun-young in Painter of the Wind and Yoon Eun-hye in Coffee Prince. And by all accounts, it seems Lee Yo-won's namjang stint in Queen Seon-deok was better received than her princess portrayal.)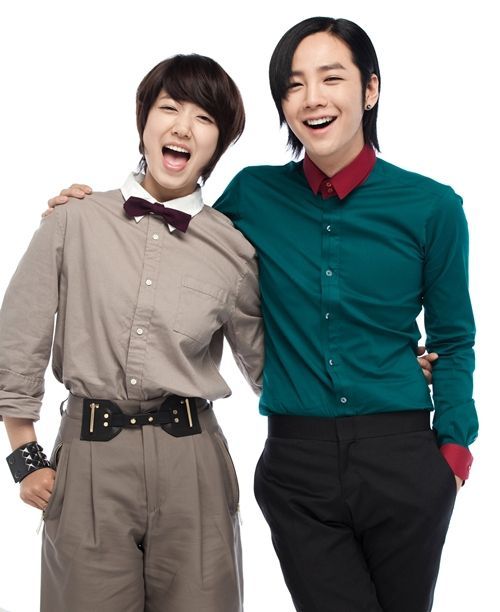 In the drama, Park Shin-hye plays fraternal twins, of whom the boy half is a member in an idol group. However, after he is injured in an accident and cannot participate in overseas events, his sister takes his place.
Park Shin-hye said, "In previous dramas, I had some difficulty because I had to play several years older than my real age, with characters 23 or 24 years old. [Park is 19.] This time, I'm playing my age and although the role is a male character, I'm approaching it comfortably."
Personally, I don't really think Park Shin-hye pulls off the boy look so well in these stills — she looks just the same as she did in her drama Radish Kimchi (where she played a female). But I've enjoyed all of the Hong sisters dramas, and a tight comic story is the most important part of a trendy drama, more so than name casting or high budgets, so I'm taking an optimistic approach to this.
(Side note: It's interesting to contemplate that Jang Geun-seok and Park Shin-hye were strong contenders for the Gu Jun-pyo and Geum Jan-di roles in Boys Before Flowers. While I think Lee Min-ho played Jun-pyo as well as he could be played, I've always wondered what Jan-di would have been like with the spunkier Park Shin-hye playing her.)
You're Beautiful premieres on SBS on October 7.
Via Segye
RELATED POSTS