Premium horror drama Hon's ending lacks punch
This past Thursday, MBC's "premium horror" series Hon (Soul) ended its 10-episode broadcast. While the drama has generally been received favorably, there were some comments expressing disappointment at its end. It's been called "2% lacking," which is an expression that means that everything was generally good, but missing a certain punch. (No spoilers in this article.)
The ratings numbers aren't the issue; although the finale went out with a 7.2%, the number is in keeping with the rest of its run, and Hon is still being credited with reopening the door for more high-quality genre dramas in the future. Rather, the problem was the way the drama went out: Many felt that compared to the rest of the series, the finale held improbable plot developments, a lack of tension, and a somewhat ill-fitting ending.
PD Kim Sang-ho admitted frankly that he also felt some dissatisfaction with the way things wrapped. On September 4, the actors and staff gathered for the airing of its last episode, where Kim said, "To be honest, I was disappointed with the ending too. I take all the responsibility for it, and I understand the viewers' criticism."
He explained his intent: "The core of the drama was expressing the coexistence of good and evil within people's hearts. However, at some point, the confrontation of good and evil came through the character of Do-shik [actor Kim Gab-su]. … Originally, I wanted to show that humans have value just by being able to choose good. However, I was so pressed I didn't have the time to think of the overall flow. Time was chasing us, and I'm really disappointed to have ended like that."
(If you think that sounds tough, consider how insane the time crunch was on his last series.)
The drama's star, Lee Seo-jin, had the same sentiments about the last episode, but expressed no regrets about his role in the drama as a whole, which he "put my name on the line for" and views as "a very special project in my life." Lee came to the project already good friends with the director, which contributed to the solid relationship and faith they had in each other.
Meanwhile, the breakout new star Im Joo-eun, who played a possessed high school student, thanked Lee Seo-jin and credited him as being "an outstanding acting teacher" to her. She said of him, "To be honest, at first I found it difficult to ask oppa [Lee Seo-jin] questions, but later I grew comfortable enough with him to seek him out to ask his opinion on things."
Of her first major role, Im said, "We worked so madly on this drama that I'm so sad that it's over. I've been praised by a lot of people, but there are a lot of things I'm lacking. …Everyone prepared for the drama's filming so perfectly, but I think I set it back by being the only one who was less prepared. We didn't make it this far because I did a good job, but that I received so much help from the writer, director, and actors."
Given the widespread praise for Im's acting, that sounds like it's her modesty talking — Lee Seo-jin praised her, saying, "Im Joo-eun acted so well that it's hard to believe she's a rookie." However, some of her self-reflection may be deserved, and it sounds like she's conscious of her flaws: "In the beginning, there were many difficult scenes, and many people helped me. What's disappointing is that in the later part, we were so pressed for time that I couldn't focus. I heard some comments that my acting declined toward the end and was even asked if we filmed the later parts first."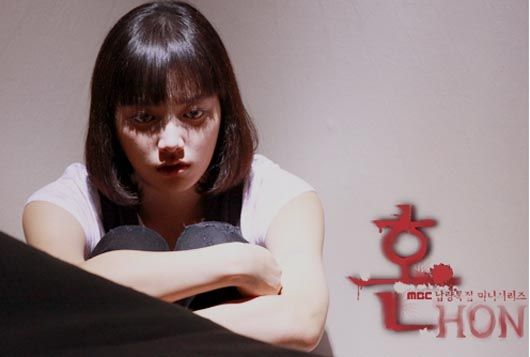 Despite the ending's flaws, PD Kim Sang-ho did assert that he was proud of being able to incorporate variety of social issues into the drama to create a different kind of horror drama: "I think horror these days isn't about ghosts, but horror about our own selves and the uncertain future, and I wanted to express that in this drama. I was very pleased as a director when viewers went searching for the various social messages within the drama. …Even though I was disappointed with the limitations of our ending, I'm proud to have been able to make a horror drama of this caliber."
If you liked PD Kim Sang-ho's work in Hon — who had tread completely different ground with his romantic comedy Fantasy Couple — keep your eyes peeled for his next project: "A science-fiction comedy called My Stepmother Is an Alien." (Related to the American movie, perhaps?) Lee Seo-jin, on the other hand, has yet to choose his next role.
Taking over Hon's Wednesday-Thursday time slot in the coming week is U-Know Yunho's debut acting project, Heading to the Ground.
Via Joy News 1, 2, and 3
RELATED POSTS
Tags: Hon, Im Joo-eun, Kim Sang-ho, Lee Seo-jin