Sports dramas struggle to stay in the game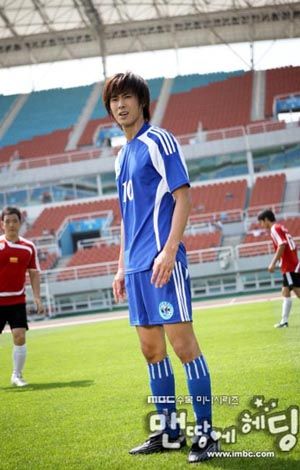 Heading to the Ground; Dream
2009 was supposed to be the year of the sports drama revival, and it has had its share of sports-themed series, with at least another still to come. Unfortunately, they've all tanked.
The two currently struggling on the air are SBS's fighting drama Dream, which has settled around the 4% mark for the bulk of its run, and MBC's soccer series Heading to the Ground, which kicked off with a 7.2%, which dropped to an inauspicious 5.6% for its second episode and heads into its second week today.
Sure, one can point to Dream's stiff competition (Queen Seon-deok), but the response is disappointing given that both these shows were buzz shows, promoted heavily for its pretty faces (Kim Bum, Sohn Dam-bi, U-Know Yunho, Go Ara). Heading was hoping to do better with its soccer theme (Koreans love them some soccer) and the attention being paid to Yunho's acting debut.
Earlier in the year, Triple hovered in the 6%-7% range throughout its run despite a national skating fervor roused by Kim Yuna's phenomenal performances and wins in the past year. On top of that, it had a much-regarded director and name cast (but meandering writing). And Strike Love performed the best of these, yet was still yanked by MBC and cut early despite a ratings high of 10.6%.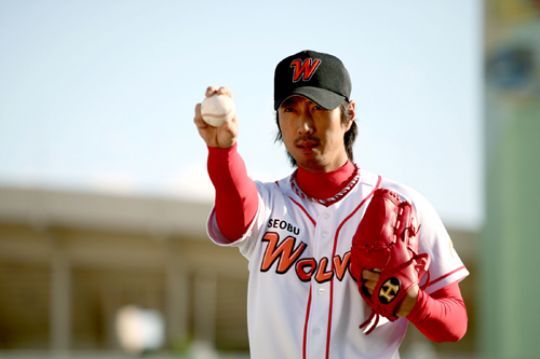 Strike Love
So why are sports dramas faltering so?
This article by Sports Chosun says:
This situation is the diametric opposite of sports films like [ski jumping themed] Take off and [weightlifting movie] Lifting King Kong, which brought in incredible numbers at cinemas and drew much popularity.

One industry source says, "These sports-themed films that emphasize the human spirit appeal to the fans' emotional sensibilities and gain strong popularity, but dramas focus not on the emotion of the sport, but on the love lives of its lead characters, and they haven't drawn the interest that the films have. Also, in sports films, the actors have plenty of time to research and prepare their characters, as well as time to film. However, sports dramas are always racing to film on time and it's unavoidable that the actors playing athletes are unable to fully act the part."
Meanwhile, another article by Newsen points to the case of 1994's basketball kdrama The Last Match [마지막 승부], which starred a young Jang Dong-gun and Shim Eun-ha. It was extremely popular and pretty much established the sports kdrama genre, though no drama since has been able to capture what made that one such a success.
At the time, The Last Match coincided with the popularity of university basketball, of which Yonsei and Koryo Universities were at the top, as well discovering fresh faces in Shim Eun-ha, whom we cannot see acting these days, and Jang Dong-gun, who became a top star. However, none of the sports dramas to follow have had high ratings to match it. Both MBC's hockey-related Icing and SBS's boxing series Punch were unsuccessful, and for a while, the sports drama trend cooled. Of course, MBC's Bottom of the 9th with 2 Outs included sports, but it wasn't so much about sports as it merely used baseball as a theme and featured a character who was an athlete. PD Lee Yoon-jung's eight-episode MBC drama Taereung National Village was a well-acted and praised drama that told the stories of national-level athletes, but on the ratings front it wasn't able to earn high marks.
Not to mention that sports by nature are riveting in their excitement and suspense, qualities that are difficult to maintain over the course of 16 (or more) episodes: "It wouldn't be an exaggeration to say that from the starting point, sports dramas inevitably face much more difficulties in succeeding compared to general dramas."

Triple
Via Sports Chosun, Newsen
RELATED POSTS
Tags: Dream, Heading to the Ground, Strike Love, Taereung National Village, The Last Match, Triple