The Princess Has Returned on KBS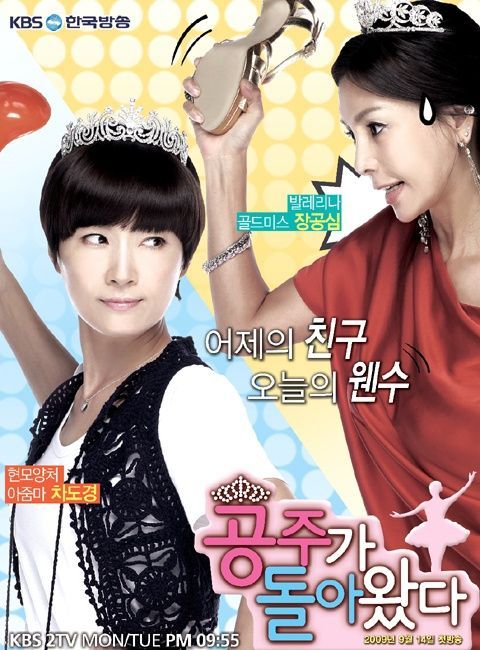 This hasn't really been on my "to-watch" radar, but KBS has just launched a new Monday-Tuesday series, The Princess Has Returned [공주가 돌아왔다], which follows the disappointing revival of last year's popular ghost-story series Hometown of Legends.
The Princess Has Returned kicked off today and stars veteran film actress Hwang Shin-hye in her drama comeback. The 46-year-old Hwang (Family, Destiny) plays a luxury "gold miss" (single and lovin' it) ballerina, who in the first episode meets up with "typical ajumma" Oh Yeon-soo (La Dolce Vita) for the first time in seventeen years.
…and, I presume from the above picture, their relationship isn't exactly smooth sailing. Their dynamic is described as being a peculiar rivalry, tracing back to (what else?) a man. The one in question is Tak Jae-hoon (Daytime Drinking, Little Prince), a poor aspiring singer. Once the boyfriend of ballerina Hwang Shin-hye, he is now the husband to Oh Yeon-soo. The drama flashes back to high school and university scenes as well as the present.
Reports of the first episode paint Princess as comic and fast-paced (which, combined with its plot, may make it a nice companion to Queen of Housewives). Alas, it has a steep hill to climb, because it goes up against MBC's Queen Seon-deok, and I suspect there are relatively low expectations for the performance of this drama. But if epic historical series or flawed sports shows like Dream aren't your bag, looks like The Princess Has Returned may be a refreshing alternative, with its mature cast of solid actors and fun comic sensibility.
Via Newsen
Tags: Hwang Shin-hye, Oh Yeon-soo