Iris and Chuno run into production disputes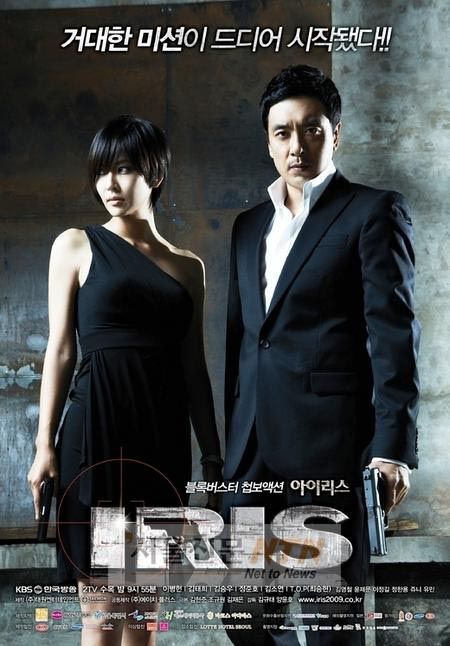 With only a day before its airdate, the premiere of Iris was thrown into question as the drama's production company, Taewon Entertainment, announced a dispute with its broadcaster, KBS. After a day of negotiations, the two sides did reconcile and come to an agreement, meaning that the Wednesday premiere of the high-profile action series will continue as planned. But not without some major issues built in, as we learned from the grievances aired by Taewon.
Things had ground to a stalemate in the last days leading to the broadcast date as the production company felt taken advantage of by its broadcaster and their "unreasonable demands." The day before the premiere, they had gone so far as to announce that they were ready to cancel the drama's broadcast. KBS had given them an extremely low production budget to work with, supplying a mere 3 billion won (approx $2.5 million) out of its overall 20 billion won budget ($16 million).
Furthermore, if KBS is only able to sell ads at a rate lower than its norm, they will cut down the promised budget by as much as 30 million won. If viewership ratings come in at under 15%, an additional 10 million won will be withheld. (Here is where we see the argument for why ratings are important; on the artistic front, they are not always an accurate indicator of quality, but on the business front, they are the main barometer for success.)
KBS countered that it is written into the production contract that the broadcast station has the right to adjust the drama's airing depending on various factors, and also reserves the right to extend or curtail the drama.
Also, this drama doesn't have a formal contract regarding broadcasting details (which is apparently not uncommon practice), which contributed to the last-minute disputes. KBS's CP stated that they will be drawing up a formal broadcasting contract soon.
Meanwhile, another drama is facing troubles for a different reason: upcoming action sageuk series Chuno. (Forgive me in advance if I miss some of the finer points of stock trading.) Its production company, Chorokbaem (Green Snake) Media is facing issues over the right of management, which may endanger the drama's upcoming broadcast.
Chorokbaem's controlling capital is coming dangerously close to 50%, and if the matter is not settled by December, it may be in danger of being delisted as a publicly traded stock. In order to prevent this, the CEO and directors are working on a way to undertake capital reduction (which, if I understand correctly, would bring the number of stocks within the acceptable range, thereby rectifying the argument over management rights).
CEO Kil Kyung-jin explained, "This strife comes from a failure to solicit investments for Chuno, and if we face delisting, the worst-case scenario would be the endangerment of the production."
Chorokbaem Media is responsible for a number of hit series, such as Jumong, All In, Unstoppable High Kick, and Iljimae. However, in recent times, many outside production companies are facing losses, which are exacerbated by unfair contracts with the broadcast stations (see Iris's case above). One of the biggest problems is that 100% of ad revenues from drama reruns and internet views goes to the broadcast company. Production companies must offset losses with product placement and overseas licensing, among other things, because as we know, production budgets keep rising but the revenues are not growing to match them.
Recently, SBS's morning drama Green Coach [녹색마차] even shut down filming when its production company failed to pay its actors on time. A representative from the Citizen Network for Media Reset (i.e., reform) asserted that broadcast stations must change their behavior of wielding their power and exacerbating the problems already faced by these outside production companies.
One production company rep who requested anonymity said, "These production companies that make Hallyu dramas are mired in debt. They must bring in adequate profits in order to make good dramas and to revitalize Hallyu."
Via Herald Biz, Yonhap
RELATED POSTS
Tags: Chuno, controversies, drama production, IRIS