KBS's new family drama Three Brothers
KBS has a new family drama in the lineup for weekends, Three Brothers [수상한 삼형제], which follows recent hit Sons of Sol Pharmacy. Perhaps in search of the same success, Three Brothers seems to be aiming for a similar tone and premise (though perhaps a bit less comedic than Sol Pharmacy), with its focus on family stories. How will its three brothers compare to the winning combination of Sol Pharmacy's four?
With a week till its premiere, Three Brothers held its production press conference on the afternoon of the 12th. In attendance were the actors who comprise the titular trio, as well as the actresses who play their wives: Ahn Nae-sang, Oh Dae-kyu, and Lee Jun-hyuk are paired with Do Ji-won, Kim Hee-jung, and Oh Ji-eun.
In addition to its cast, the drama is attracting notice for its scriptwriter Moon Young-nam, whose has numerous hit dramas to her name: First Wives Club, Infamous Chil Princesses, A Rosy Life. This drama is being described as a heartwarming and lively conventional drama, which means that we probably won't get much in the way of radically inventive ideas but can probably expect to be entertained with a reliable offering of family conflict and some makjang tendencies, if those kinds of dramas are up your alley.
According to PD Jin Hyung-wook, the drama draws upon three grown brothers jockeying for their parents' favor. The standard mother- and daughter-in-law conflicts apply, as well as tensions between the brothers- and sisters-in-law. Ahn Nae-sang responded jokingly to a question asking for the difference between Three Brothers and Sol Pharmacy, answering, "Our characters are more wonderful," adding, "Also, our script quality is excellent."
I'm not sure I'm in the mood for a conventional drama, but if you are, Three Brothers premieres on October 17.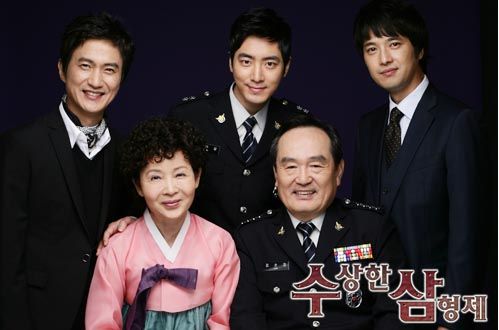 Via E Daily
RELATED POSTS
Tags: Ahn Nae-sang, Lee Jun-hyuk, Three Brothers