My Fair Lady: Episode 14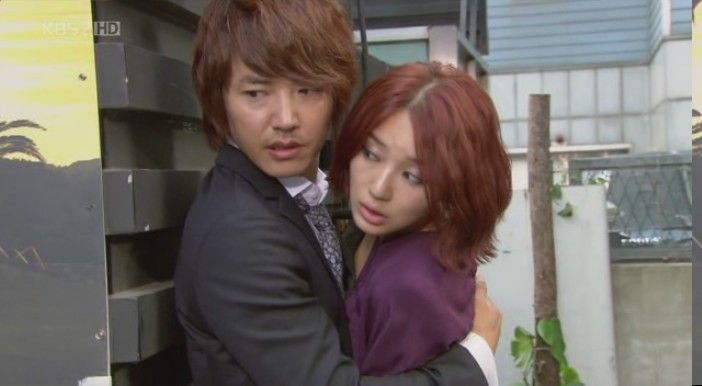 Like the past three (or so) episodes, I think Episode 14 is rife with weird, illogical moments. But unlike the past three episodes, at least this one has a couple of nice, conflict-ridden scenes to make up for it. No, it doesn't make up for all of the shortcomings, but there were a couple bits of dialogue that were really nice (okay, maybe just one great line) and a burst of emotion. Finally!
SONG OF THE DAY
Taesabiae – "이 노래를 들으면" (When hearing this song) [ Download ]
Audio clip: Adobe Flash Player (version 9 or above) is required to play this audio clip. Download the latest version here. You also need to have JavaScript enabled in your browser.

EPISODE 14 RECAP
Hae-na bursts out of the meeting, grabs Dong-chan, and starts running. He's completely clueless as to why they're running, or why they are being chased by men in suits, but then again so am I. This inexplicable chase scene also reminds me of Witch Amusement's Episode 15, when Jae Hee and Han Ga-in run out of a wedding together and are chased for unclear reasons.
Dong-chan asks what's going on, and Hae-na tells him, "Grandfather knows everything." His initial shock gives way to the logical conclusion that running will solve nothing. He grabs her this time, leading her back to face her grandfather, but she protests. This isn't something that can be fixed by asking for forgiveness — the paparazzi have gotten wind of the story, and rumors will start spreading.
She asks, "Can you stand to not see me again? Can you live the rest of your life without me? If you go to Grandfather now, you and I are over — we may never see each other again. I can't break up with you like this. Are you okay not seeing me again?"
He thinks on it.
Grandpa orders his men to block the news from spreading further, no matter what. He wants to see Hae-na and Dong-chan ASAP.
Upon reading the news, Eui-joo tries calling Dong-chan, but can't get through. She finds Tae-yoon blissfully unaware of the uproar and shows him the newspaper article. He sets out for Hae-na's house, and together they ask the staff what has happened to Hae-na and Dong-chan.
The staff don't know where they've gone, and are busily preparing for a busy day, what with the reporters about to descend upon the household. To Eui-joo's dismay, Tae-yoon speculates that it's likely that the couple ran away together.
This is indeed the case, and the two have taken a bus to a small seaside town. (This is also like in Witch Amusement — really, if they were going to crib from a drama, couldn't they have picked a good one?)
Hae-na's mood lifts once they arrive, but Dong-chan remains heavy-hearted as he wonders, "I don't know if this is the right thing to do." Hae-na advises, "Don't be so troubled. Let's think that we came on vacation." She wants to keep a happy mood while they're here, and makes him promise to avoid unhappy thoughts.
With that, they rent a room and settle in, enjoying their time frolicking on the beach.
Hae-na asks when Dong-chan started to like her, making guesses — was it the day he taught her how to ride a bike? When she gave him the birthday coupon? No, Dong-chan says, it was the day he first saw her cry back at the stables. He'd felt sorry for her and wanted to treat her well.
Thinking on it, he says that he's seen her crying a lot, "So I don't want to see you crying anymore." He promises to make sure she doesn't cry in the future — which, of course, touches her so much she cries.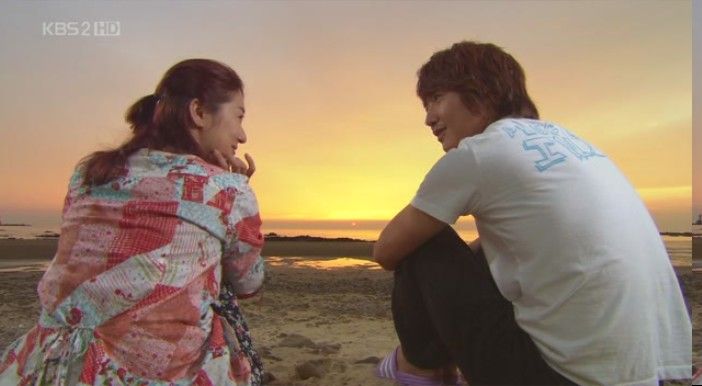 Hae-na asks Dong-chan to sing for her, and he complies.
The next thing we know, Eui-joo is also singing — loudly and bitterly, substituting her own lyrics about how Hae-na is a bad person. (LOL. It's cute.) At first bemused, Tae-yoon watches in amusement as she belts out her modified lyrics.
I've noticed for a while now that the writer of this drama tends to plot the episodes very simply, with one particular motif often cropping up multiple times in a single episode. For instance, yesterday everyone kept falling asleep and waking up. Today, people sing for no apparent reason. It's like the writer doesn't have enough ideas for ways to fill up the time, so everyone does the same thing.
As they leave the karaoke bar, Tae-yoon comments that Eui-joo's quite unusual: "You can sing in these circumstances?" Eui-joo finds that better than the alternative — crying — and grumbles how she hates Dong-chan and Hae-na. Tae-yoon, on the other hand, doesn't agree. Instead of feeling hate, "My heart hurts. I had liked seeing her smiling, and that she made me smile…"
Eui-joo complains that Tae-yoon is merely pretending to act cool, and feels put out that both men like Hae-na so much: "It makes me jealous."
However, by the time Tae-yoon drops her off at home, Eui-joo has calmed a bit and admits that she doesn't really think Tae-yoon is just pretending to act cool or impressive by reacting so maturely. (Some of us would call that maturity.) She concedes, "You are pretty cool," and advises him not to torture himself.
Tae-yoon smiles at her misconception of him — he's not the type for self-torture. And he hasn't given up on Hae-na yet. He agrees to her earlier proposal to unite in their efforts, because whether he's acting out of love or pride, he wants to try seeing this through to the end, "So if I feel regrets, I can feel them after I have my answer."
That night, Hae-na tries to hint to get Dong-chan to stay with her for the night, put out when he courteously gives up the room for her to use alone. Annoyed, she grabs the blankets from him, resulting in a tug-of-war. Which, naturally, ends with him on top of her.
They freeze, faces within inches of each other, Hae-na closing her eyes in anticipation for a kiss… but he doesn't kiss her. Instead, he gets up and heads outside for some air.
He still feels guilty, unsure whether running away was a good thing, and calls Mr. Jang to tell him not to worry about Hae-na. Mr. Jang asks, "Are you sure this is for her benefit?" Hae-na would be losing too much if she had to give up everything to follow Dong-chan.
Those words echo his own inner monologue, and Dong-chan seems to make a decision with himself. Thus when Hae-na joins him outside, she can sense his mood and reminds him that he'd promised to think happy thoughts. (He teases that he was — he was thinking of all the ways he'd nag her tomorrow.)
Hae-na: "Do you have regrets? Is that why?"
Dong-chan: "What about you? Do you have regrets?"
Hae-na: "You still don't know me that well. I never regret things — because I'm Kang Hae-na. But there is one thing I regret — that I'm not just Kang Hae-na, but the Kang Hae-na of Kang San Group. If I had grown up in a normal family as a normal child, it would have been less difficult on you. But what can I do? I'm Kang Hae-na and I don't change, so even if it's hard for you, you have to accept it. Because I can't help being Kang Hae-na."
(Who writes this dialogue??)
Without knowing it, Hae-na's words have made up Dong-chan's mind for him, because they remind him that she'll never NOT be the Kang San Group heir, that she isn't "just" the regular Kang Hae-na but someone with a greater future in store for her. That's why he decides it's time to return home and face reality.
Hae-na greets Dong-chan in the morning with his favorite food — kimchi chigae — although her cooking skills aren't quite up to par. Dong-chan is impressed that she made the effort, and asks if she can live doing her own cooking, cleaning, and laundry. Hae-na answers cheerily in the negative, saying that she's only doing this today because it's a special occasion.
Dong-chan tells her it's time to go back to Seoul and meet her grandfather; they can't run forever. Hae-na wants to linger here, but he tells her that without her grandfather's approval, they won't be able to be happy.
Hae-na wonders if Dong-chan can win Grandpa's approval, and he says he'll have to try.
However, it doesn't actually appear that he intends to try at all, based on the sad, meaningful way he looks at and speaks to Hae-na. She picks up on it as well, such as when he returns her sparkly hairpin and his words are tinged with a sense of finality. She's uneasy at his way of speaking, so he laughs it off (unconvincingly), saying that he hadn't meant anything by it.
Dong-chan calls Grandpa to arrange a meeting, assuring Hae-na that he is eager to receive her. However, we can tell that he's covering something up in the way he looks conflicted and answers her questions vaguely while ushering her to the meeting place at a fancy hotel.
The truth is, they're not meeting Grandpa Kang to announce their relationship and to gain his approval (which is what Hae-na believes). In truth, Dong-chan has agreed to deliver Hae-na to the hotel meeting room, while Grandpa Kang comes to his own understanding with Tae-yoon.
When Tae-yoon visits Grandpa Kang, the latter apologizes for Hae-na's behavior. He's vastly relieved at Tae-yoon's calm response that he knows Dong-chan isn't a bad guy and that Hae-na is merely going through a temporary bout with her emotions. Grandpa asks Tae-yoon to stick with Hae-na, calling her childish for her current rebellion, sure that she can be persuaded to come around.
Dong-chan and Hae-na arrive first, at which point Dong-chan excuses himself and instructs Hae-na to wait for her grandfather to arrive. Believing that he's just stepping out for a short moment, Hae-na agrees. Dong-chan knows better and walks away with a heavy heart, not wanting to leave but knowing he must, and leaves the hotel as Grandpa Kang arrives.
Hae-na greets her grandfather and starts to apologize, but stops when someone else joins them — Tae-yoon.
Unbeknownst to her, Tae-yoon and Grandpa have arranged a meeting with Tae-yoon's parents: This is the customary formal greeting between the parents of a bridal couple. Tae-yoon's parents are under the impression that the kids are still on for wedding, and ask when the date should be set. Tae-yoon promises to go with whatever is decided, so the adults ask Hae-na when she would like to set the date.
All the while, Hae-na sits in growing anxiety, feeling trapped and sorry for causing yet more trouble. When she is pressed about the wedding date, Hae-na starts to speak, then falters. Finally, she says sorrowfully, "I cannot agree to this marriage. I'm sorry."
Unsurprisingly, Tae-yoon's parents are deeply offended and storm out. Grandpa demands to know why she can't marry Tae-yoon. She starts to answer, "I love someone else—" and he cuts her off, saying, "If you're going to talk about Dong-chan, don't say a word."
But she has to tell him, and admits that it is because of Dong-chan. This horrifies her grandfather, who knows the full truth of Dong-chan's background. He asks indignantly, "How can you do this?" He sees that she is serious, and denounces her decision: "If you're going to like him, don't even think of appearing before me!"
Outside, Tae-yoon asks in a voice tinged with bitterness, "Are you happy with things like this? You really are courageous." I don't know what he has to be so pissy about, since nobody told Hae-na what the meeting was about and he knows how she feels about Dong-chan.
Hae-na asks if it was Tae-yoon who arranged the meeting, or Dong-chan. He asks, "Is that so important?" But it is important to her, so he answers that both he and Dong-chan were struck with the same idea.
That distinction is important, because it defines the motives behind Dong-chan's actions. Thus she's angry and hurt when she arrives at the flower shop to confront him, and slaps him.
Hae-na: "I came to say thank you. I was really happy that you suggested making our formal greeting to Grandfather. But you were going to give me away to Tae-yoon. … I came back from the seaside thinking we would be making a new start, but you were thinking of breaking up. Tell me, did you even love me? Is this what your love is?"
Hae-na leaves, and this time, given his actions, Dong-chan can't follow.
Back at home, Mr. Jang and the housekeeper Ms. Jo disagree about the situation, their views mirroring Hae-na and Dong-chan's. Both servants like and respect Dong-chan, but Mr. Jang thinks that the couple should separate, for Hae-na's own good. He thinks the housekeeper is naive for thinking that Hae-na's happiness would be secured by being with the one she loves. He says, "We cannot be happy with only love." She retorts, "Yes, you're right. But it's even harder to be happy without love."
The housekeeper calls Dong-chan to tell him that Hae-na is refusing to go home and is staying at the hotel. Dong-chan shows up at her door, insisting that she go home.
He forces his way inside to pack her things. Resisting, Hae-na yells at him to leave and calls the front desk to have the intruder removed. At that, Dong-chan loses his temper and demands, "Do you really not understand why I let you go?"
Hae-na: "Why do you think I asked you to run away with me? Because I was bored? To get some air? To see the ocean? No. I thought that if only you were with me, I could abandon everything. I even thought I could leave Grandfather. I cared for you that much, and thought you felt the same. No matter what happened, I trusted that you wouldn't leave me. But you sent me to Tae-yoon so easily. That makes me so furious I can't take it! You're too selfish, and cowardly."
And now Dong-chan speaks the one bit of dialogue that I thought made this episode worth the madness:
Dong-chan: "Yeah, I'm a coward. Rich people like you can love grandly — that must be great. You have a lot to lose, and a lot to give up. But for poor guys like me, the only thing I have that I can give up for your sake is myself. That's why I sent you to Tae-yoon. If that's such a cowardly and stupid thing to do, then yes, you're right. If I knew this is how things would end, it would have been better to remain as your ordinary jibsa, unaffected by worry. You and I were never right for each other from the start."
Hae-na cries, "That's not what I'm talking about!" This isn't the conversation she meant to have, and as Dong-chan leaves after telling her to return home, Hae-na's face crumples into tears. She sobs that she's sorry, that this wasn't what she meant.
As Dong-chan walks away, he recalls Hae-na's words, and their recent conversations strike out at his conscience and his hurt heart. Upon reaching the lobby, he pauses, battling with himself — then turns back.
He pounds on her door, and pushes his way inside again. This time, he grabs Hae-na to him in a hug, then kisses her. As the door swings shut on the camera, his jacket slips to the floor…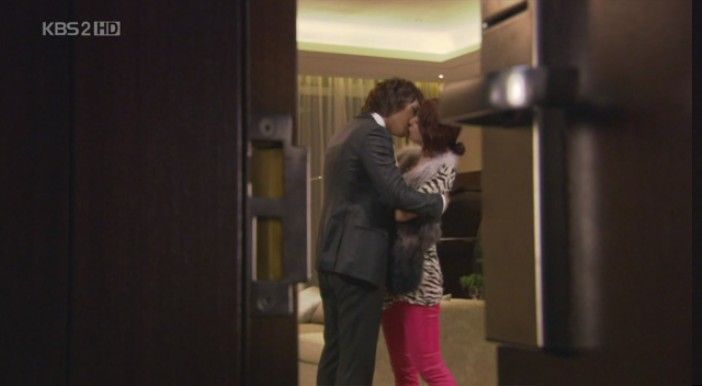 COMMENTS
Ooh, finally some physical action between the lovers! (Although it was better done in Coffee Prince.) I really didn't think we'd be getting anything more than another peck or two, because this drama has been strangely and almost laughably innocent in its depiction of romance. (Like I said, it's been like a high school romance — or middle school — with the teasing and bickering and hand-holding.)
I don't think Episode 14 made any more cold hard sense than Episode 13, but at least it was markedly better because it hit on an emotional beat. That last scene stood out because Hae-na and Dong-chan seem to connect most when they are engaged in intense emotional conflict. Not so much during the lovey-dovey stuff, which went on waaay too long in this episode. Remember how I mentioned the writer's tendency to overdo motifs? The whole seaside frolicking bit is another example of that, and at one point I asked my screen, "What the hell is going on?" I think it was about the time Dong-chan leapfrogged over Hae-na on the beach.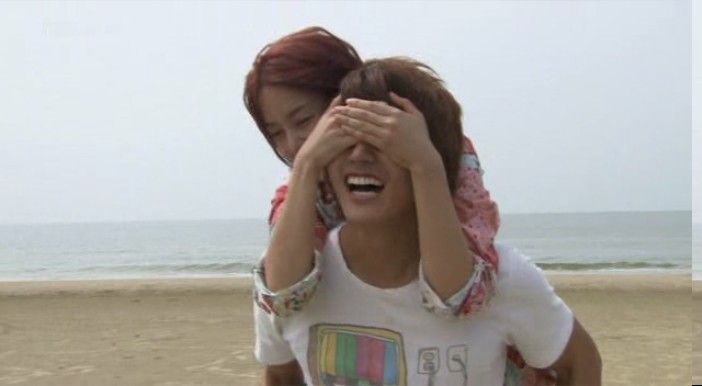 But the reason I love the argument near the ending is because it's a nice bit of reality. Hae-na losing everything for love — now THAT'S actually a meaty topic to explore, and one that this drama should have struck upon about four episodes ago, not when we're heading into its final week. Passion and attraction are great and all — but how would Hae-na fare if she were forced to do her own laundry, cleaning, and cooking, as Dong-chan suggested? I'd love to see her actually having to face those issues rather than playing house with Dong-chan at Eui-joo's — where, frankly, she didn't actually have responsibilities. (She didn't pay mortgage or rent or buy the groceries. In fact, the only thing she bought was a present from Gucci.) Alas, like with her job at Kang San, Hae-na never gets beyond pretending to be a grown-up.
Yoon Sang-hyun did a great job in that scene when he tells Hae-na why he let her go. Until that moment, he seems to be the typical self-sacrificing lover, giving up his own happiness for Hae-na's own good, but when he tells her that he has nothing to lose for her, I felt the impact of that line. Whoa. That's true, and it must suck. He'd pursued her because he had a lot to gain, but now he laments that he has nothing to lose. Dramas tend to frame the unbalance in relationships in terms of what the two sides possess. We see it time and time again whenever a rich guy falls for a poor girl (or very rarely, rich girl with poor boy). So it's nice to consider, for once, that being poor also means that one must contend with having a lack of something to give up. And given the gender dynamics here, and the fact that Korean men are expected to provide, this must be a blow to Dong-chan's pride as a man — one who is already subservient to Hae-na as her direct employee, to boot.
Now if only we could have actually SEEN any of this stuff explored in the drama!

RELATED POSTS
Tags: Jung Il-woo, Moon Chae-won, My Fair Lady, Yoon Eun-hye, Yoon Sang-hyun