Smile: Episode 4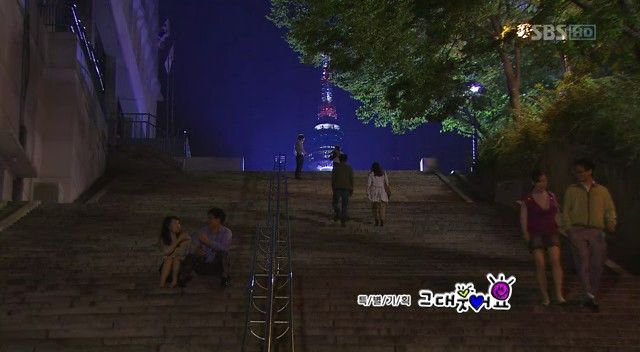 This episode had a quite a bit less hustle and bustle compared to the first 3 episodes, but showcased a subtler side. It still had its energy, but maybe with a little restraint. I missed Jung-in a little bit, but appreciated the bits of tranquility.
I'm hoping that the directing will take a hint. Most of the drama to this point has been talking heads just capturing dialogue. While I love close ups of an actor's facial expression, moderation is usually a good policy. The screencap above is one of the very few wide angle shots – Hyun-soo and Jung-kyung's first date – and you can feel their awkwardness, in contrast to the other couples in the scene. It's really a beautiful way to convey their emotions in a NON "I-need-to-hit-you-over-the-head" way.

Episode 4 Recap
Episode 4 starts off the same as episode 3, with the Kang family (minus Hyun-soo) kneeling in front of Grandpa Man-bok. Sang-hoon explains that he took care of the 1,800 won ($1500) bar bill, by going to Jung-kil's house and getting it from Joo-hee. Man-bok is unhappy but lets him get off the hook and tells Geum-ja to take care of spousal issue on their own, which she does by checking his body for any signs of a woman's touch.
We then move to the Seo family, where there is more calamity. Joo-hee greets her husband at the door, who promptly calls a family meeting to discuss his plan: "Let's go to America!" The family is frustrated to hear it but Jung-kil is adamant that this is the only way out. Jung-Kyung won't hear any of it, "You do whatever you want. I'll just live as though I don't have a family."
As Jung-kyung is about to leave the house, Jung-in tells her not to trust in men, knowing that Jung-kyung is about to go on a date with Hyun-soo. Even though Jung-in pretends not to like Hyun-soo, we see her standing up for him, telling her sister not to slap him anymore. Jung-kyung has no idea what she's talking about, tells her to mind her own business and worry about herself.
Hyun-soo is excited beyond belief about his date tomorrow with Jung-kyung. He looks at the stars hoping for good weather. He even asks grandpa Man-bok what he did with his grandma on their first date and runs around like a little kid. It's super cute.
The Seo family heads to the airport to run away to the States. They wait awhile for their housekeeper to bring them the money from selling Jung-in's wedding presents (without Jung-in's knowledge). When she doesn't show up, they check into their flight, only have security show up and take Jung-kil away.
Sang-hoon, in his desire to get on his wife's good side, asks grandpa Man-bok to give them the extra room for Hyun-soo. He promises to pay rent for the room. So when grandpa Man-book tells Geum-ja and Hyun-soo to leave the room furniture, she's confused at his words. Sang-hoon then comes in and tells them that Hyun-soo can use the room. Geum-ja is elated.
Meanwhile, the Kang family has been brought to the police station and finds out that their housekeeper was brought in because she tried to pawn off too much jewelry at once. He tries to act like he's not behind it but it's pretty obvious that he's the one in charge of the operation.
Jung-kyung arrives at the police station shocked to see that they haven't left for America. Jung-in and mom ask her to get some money but Jung-kyung doesn't want to get involved. Jung-in is furious, "What have you done since we've become like this. Dad's in jail and you're only worried about your pride?" Jung-in may be a brat, but she's a loyal brat and loves her family, no matter what they've done. Mom Joo-hee cries that they need to contact their older brother, Sung-joon to solve their problems.
Jung-kyung is back at the hospital where her doctor friend is there to comfort her. But his jealous daughter comes to take him away. Just then, Hyun-soo arrives for his date with Jung-kyung and introduces himself as her boyfriend to her dismay. Hyun-soo and Jung-kyung then head off for their date, leaving her older doctor friend befuddled.
Hyun-soo tries hard to keep the conversation alive on their way to the restaurant, but receives no response from Jung-Kyung. When they finally get to the restaurant, they miss their reservation and need to go eat somewhere else.
So their first date turns from a fancy dinner with the view of the city to a ho-hum dinner at a Korean restaurant. But even with the date going awry, Hyun-soo keeps up his spirits and tries to keep her entertained. (Although he can't contain his nerves and starts to hiccup.)
When Jung-kyung asks Hyun-soo why he likes her, he tells her that it's because he's always thinking about her and curious to know what she's like. She tell him that she has someone like that also, "I wonder what he's thinking even when I'm next to him. And if I'm not with him, I wonder what he's doing. This is why I came out today, to tell that you that I have someone like that also." She gets up to leave but Jung-kyung grabs her and tells her to stay and finish eating, since it's their first date. (It's his manly act #1.)
Grandpa Man-bok receives a call from the Kang family housekeeper and goes to the police station to visit Jung-kil. Jung-kil tries to act remorseful and asks Man-bok for bail money, asking him to sell his auto shop. When he finds out that they still have a mortgage left to pay on it, Jung-kil changes his tune and yells at grandpa Man-bok to leave. Then as a last resort, he pretends to faint.
Jung-kyung receives a call from Jung-in and runs to the police station to check up on her dad, with Hyun-soo following her. However, she immediately realizes that her dad is faking and yells at him to get up. Jung-kil is at his wits end and asks Jung-kyung to take him to her hospital as her patient. He'll do whatever it takes to get out of jail. Even grandpa Man-bok has had enough and leaves.
A frustrated and sad Jung-kyung goes outside to find Hyun-soo waiting for her with dessert (can of coffee). He confesses that he's always found excuses when she rejected him but he'll accept her words this time. She tells him that he's a good man and that it's not his fault that she doesn't have feeling for him. And Jung-in comes out to witness the end of their date. She wonders how her sister could be on a date at a time like this. (I also think she's starting to feel something for Hyun-soo. Whether that something is love or friendship, it's not clear, and she would certainly deny such feelings. Even though they bicker every time they meet, she doesn't want to see him get hurt.)
On his way back home, he goes down memory lane and remembers seeing Jung-kyung for the first time. He believes that her words are real and knows that he needs to let her go. He tries to throw out her picture out the bus window but can't get himself to do it.
Back at the hospital, Jung-in and Jung-kyung argue about the situation. Jung-in leaves for the hospital but their mom Joo-hee wants to call the Kang family for help.
A despondent Hyun-soo comes home and can't handle his mother's energy. He asks her to leave him alone just for tonight. But he can't any rest because Jung-in calls with her "I need something" voice, calling her oppa and all. She inquires about his date and asks for his help in honor of the occasion. Hyun-soo is not in the mood to handle her and hangs up on her. She calls back wondering why he's in such a foul mood after going on a successful date. He yells, "Even if I'm in a good mood, I turn sour when I hear your voice" and disconnects the phone.
The next morning, Jung-in calls her brother, Sung Joon, who they've been trying to contact since the bankruptcy. He's in the States pursuing a golf career. She leaves a voicemail as only she could, "Are you Tiger Woods? I never see you on TV, why do you always say that you're in a tournament? You'd better call me immediately when you get this message. Or I'm gonna go find you!"
Han-sae is looking for a way to purchase Hyun-soo's new product and tries to partner with the school to work with him. But Hyun-soo wants his designs to be put to good use and reminds Han-sae that he's looking for a way to help people, not make more money.
During dinner, Han-sae receives a call from Jung-in and he makes sure that Hyun-soo knows who's calling him. When Jung-in arrives at the restaurant, she lets Hyun-soo have it, "Who do you think you are? I don't have any desire to get back together with you. Why are you using your mom to do this to me? Don't worry about it, I'll return all your presents."
Hae-sae doesn't know anything about it and wants to start again with Jung-in. He tells her that he was going to call her once her anger subsided and that he really did love her. She's furious to hear him talk about love and kicks him before saying, "I chewed up and spat out your love. If you want to find love, go check the ground!"
As Han-sae tries to push Jung-in into his car, Hyun-soo comes out to see them together. He doesn't want to get involved at first, but hears her screaming and goes to her rescue, shocking Jung-in with his aggressiveness (Manly act #2):
HS: Jung-in, what are you doing here? Oppa will take you home.
JI: Hey you, what are you doing?
HS: You say, hey you, to your oppa!!! (To Han-sae) We'll go first. (To Jung-in) Follow me.
[Walking away…]
HS: A girl, roaming around so late at night…
JI: Can you not hold my arm so tight?
HS: NO!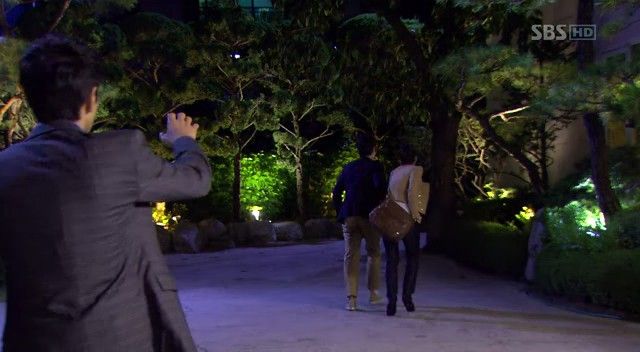 They leave Han-sae behind looking dazed and confused.
Not knowing the situation, Hyun-soo tells Jung-in to stop chasing after Han-sae. He tells her that Han-sae doesn't like her anymore, and this behavior just makes her look needy. Even though she may want to see him so much that it hurts, he's left her. So she should stop acting stupid, and just accept it. Jung-in is quite perceptive and realizes that he is no longer talking about her. She looks up at him with curious eyes and says, "you got dumped by the slapper?"
She makes fun of him and says that it's pretty obvious he took her on a bad date – cheap food, a can of coffee for dessert. Hyun-soo gets mad listening to her true accusations. They then have a repeat of their cute good-bye at the hospital from episode 2. Hyun-soo tells her that she'll die if he sees her again. And Jung-in replies, "Sure, I'm really scared." (She really gets him every time.) And he takes his frustrations out on a tree…
Sang-hoon is racking his brain, trying to find a way to mollify his wife. He decorates his backyard with baby's breath and tells her that today is the 30th anniversary of their first meeting. She says that they started dating in the spring. But he tells her, "it's been 10,951 days since I first laid eyes on you. They say that baby's breath signifies death, and rose signifies love. [While giving her a rose] I'll love you until the day I die." Hyun-soo and Kyung-soo, who works at the auto shop, appear to congratulate Geum-ja.
Joo-hee receives call a saying that Jung-kil will be released from jail. Grandpa Man-bok is waiting for him at the police station with tofu in hand, but Jung-kil hits it out of his hands. (In Korean tradition, released convicts eat tofu so that they won't go to jail again.) Jung-kil thinks that he was released on his own strength, not realizing that Man-bok is the one who got him out of jail.
The Seo family shows up with their bags, because loan sharks have taken over their house, and they have nowhere to go. Grandpa Man-bok offers his house to them. Jung-kil and Joo-hee says they don't want to, but Jung-Kyung humbly accepts his offer and the family heads over to the Kang household.
MeanwWhile the Seo family is celebrating Sang-hoon and Geum-ja's 30th "anniversary", and is completely shocked to see Grandpa Man-bok coming in. They try to hide the signs of a party, but Man-bok brings an even bigger surprise – the SEO FAMILY! We have an awkward meeting of Jung-kyung and Hyun-soo, realizing how their families are connected. And with that the 2 Kang men commence their hiccuping. The only one that seems happy is the ever affable, Jung-in, who seems like she's having fun with the awkwardness. Here's the new happy family!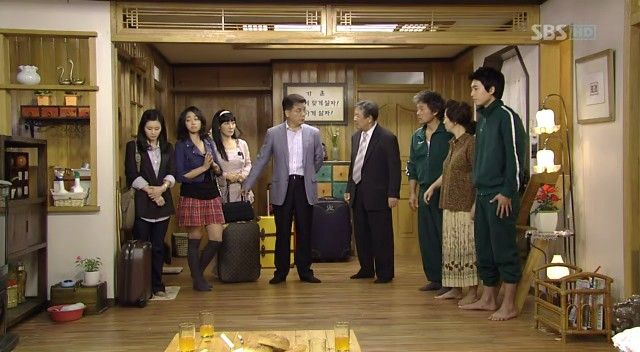 Comments
I fawned over Jung-in in my last recap, so it's time to show Hyun-soo some loving. With Hyun-soo at the helm of episode 4, it's nice to see a different side of him. He's more forceful and has a couple of "I am man, hear me roar" moments. Some may find this behavior schizophrenic, but I think it's because of his ardor and faithfulness to what he believes. He stands up for what he loves – 8 years of chasing a lost cause. I talked about Jung-in's bulwark loyalty to her family earlier and we now have found a trait that the couple shares.
I loved that he followed Jung-kyung to the hospital and waited to make sure that she was OK. I also loved that he walked away without looking back, even though he isn't quite ready to throw out her picture. It may be 8 years of foolishness, but I find his devotion to Jung-kyung irresistible. (It kinda reminds me of Poong Ho's adorable and undying commitment to Haru in Triple.)
Now that the 2 families moved in together, I'm looking forward to the hilarity that is sure to erupt in the house. I'm also looking forward to the love triangle that's coming to fruition. Will it be the lovely Jung-kyung or the sassy Jung-in? (Well, we probably know the answer but I'm pretty sure that it'll unfold in an entertaining way.)

RELATED POSTS
Tags: Jung Kyung-ho, Lee Min-jung, Smile