Stars weigh in on Swallow the Sun's end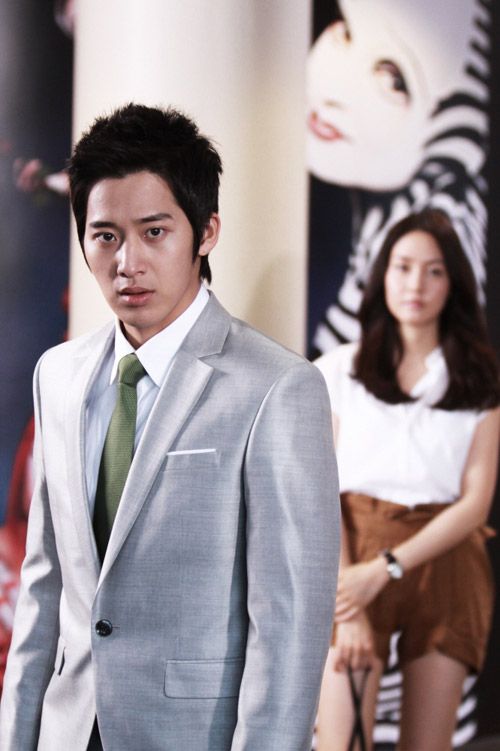 Swallow the Sun was never on my radar — I tried really hard to understand what was going on, but Episode 1 made my head hurt — but it has performed well throughout its run. (The story went all over the place (Vegas, Africa, Jeju Island), but I suppose it must have worked, Episode 1 notwithstanding.) It didn't break 20%, and I'm not sure the blockbuster-action-melodrama lived up to the hype of being "All In 2," but it did cap off with a series high this week with a finale episode at 18.8%.
The drama allowed SBS to claim Wednesdays and Thursdays this summer, but it may have been more of a benefit to its stars than the station; the three leads credit the drama for taking them another step further in their careers. Ji Sung, Lee Wan, and Sung Yuri have raised their profiles another notch, and spoke about their feelings as the drama wrapped.
Lee Wan (Insoon is Pretty, Boys Don't Cry) lost 2 to 3 kg prior to filming and changed up his image and hairstyle with his "Tae-hyuk" character. He overcame some early criticism of his character and came out with "realistic crying and mature acting" as the story progressed.
Lee said, "I'm happy to have been able to live as Tae-hyuk. I struggled in the beginning to really get my character, but through the fans' advice and love, I was able to come back from that. I was given the chance to look at acting in another way. I'm infinitely thankful for the concern and love I received throughout this experience." He added, "As I lived as Tae-hyuk, I experienced a lot and lived some exciting days. The time I spent with the staff and other actors will become more good memories in my acting life."
Next, Lee Wan will take part in the sports variety program Go Dream Team 2 — Green Team is Coming, which also features ballad singer Jo Sung-mo, ex-GOD member Danny Ahn, funny guy and singer Shin Jung-hwan, baby-faced actor Song Joong-ki, and others.
Ji Sung (New Heart), who played Jung-woo, credits Swallow the Sun for being a "major turning point" in his career. He was featured in a lot of action scenes in the earlier part of the drama, until he learns of his birth secret halfway through and decides to exact revenge upon his father, Chairman Jang, although (SPOILER) the last episode sees Jung-woo forgiving him and reconciling. (END SPOILER)
Ji Sung said, "The moment I read the script, I could feel the tough, masculine appeal of Kim Jung-woo, who is full of ambition and lives an adventurous life, and I completely fell for the character. It was fate that I met Swallow the Sun. I was happy that I could live as Kim Jung-woo and am sad now that this drama has ended." He described feeling a lot of pressure and underwent many tough shoots, "But in those tough times, I was urged on by encouragement and pep talks by director Yoo Chul-yong and writer Choi Wan-kyu."
For the role, Ji Sung learned how to ride a motorcycle and scuba dive, and also trained in boxing, taekwondo, and shooting guns. He described how it felt shooting in South Africa, saying, "While filming there, I couldn't let down my guard at any moment. If I were to make a mistake, all my fellow actors and staff members would have to suffer, so I worked even harder."
Of his character, he said, "In order to express the character of Jung-woo, I had to understand everything about him and immerse myself completely. Jung-woo has a tough spirit, always ready to confront but never growing tired. I learned about life through him, who always follows through to the end no matter what the difficulties he finds himself in."
For the moment, Ji Sung plans to take a break while deciding upon his next project, and will participate in some overseas promotional work.
Sung Yuri, meanwhile, continues to improve her acting in this latest role. She got off to a pretty rough start in her career, when she transitioned to acting from being a pop singer, and was panned virtually across the board for her earlier efforts. Taking on a comic and bright character in Hong Gil Dong greatly improved her image, and Swallow the Sun has continued that upward movement. I have read some unkind reviews of her character and her acting in this drama, but I think by and large she has benefited from this role, and may finally be ready to cast off that tag of "struggling singer-turned-actor" and pursue a more serious acting career.
Via BNT News, Herald Biz, No Cut News, E Daily
RELATED POSTS
Tags: Ji Sung, Lee Wan, Sung Yuri, Swallow the Sun