A.N.JELL holds its last concert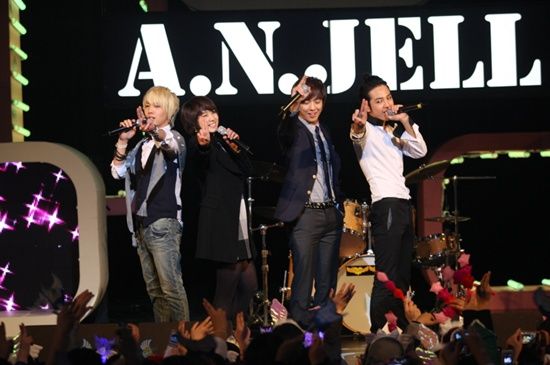 As previously announced, the cast of SBS's You're Beautiful held another mini-concert on November 23, where footage was shot for the drama's final episode, which airs this Thursday.
The mini-concert was held at Seoul's Melon AX Hall at 6pm and featured all four of its main cast members — Jang Geun-seok, Park Shin-hye, Lee Hong-ki, Jung Yong-hwa — who make up the fictional idol band A.N.JELL in the show. Even with only a few days' notice, a crowd of more than 2,500 fans showed up.
A source with the production company explained, "The first concert happened before the drama began airing, and I was shocked by fans who showed up through word of mouth. But this ending concert doesn't even compare to that in how much the fans cheered, which made me feel the enthusiasm for the drama for real. The actors and production team were spurred by that as they continue filming."
Naturally, the concert featured the songs that have been prominently featured in the drama, which were sung by the actors themselves. Those included A.N.JELL's "Promise" and "Still"; Jang Geun-seok also sang a few solos with "Good Bye" and "What Do I Do," the latter of which is the track Tae-kyung remakes for his mother in the drama. Park Shin-hye sang her character's theme song, "Lovely Day."
Jang said, "Now that You're Beautiful is ending, I feel really sad. SBS is wondering if they should seriously consider making a Season 2. Because we were scheduled against such a huge drama [IRIS], there was a lot of talk about us being doomed to die in the timeslot, but the fact that we stayed alive is the power of you all."
(Note: Don't get too carried away — this does NOT mean there will be a Season 2!)
After everything had ended, Jang said, "Thank you for coming to our final episode shoot. Thanks to you, I'm very happy." Park Shin-hye said, "Thanks to You're Beautiful, I've gained so much." Lee Hong-ki concluded by saying, "In the future, we won't be acting just as A.N.JELL anymore but as individuals, so please keep watching for us. Later on, I'll set up my own agency and produce A.N.JELL myself."
Meanwhile, the soundtrack continues to be a hit. Last month, it had sold more than 20,000 albums within its first week, which is an unusually high number for a soundtrack. Well, it has continued to perform strongly and has now sold more than 30,000 units total.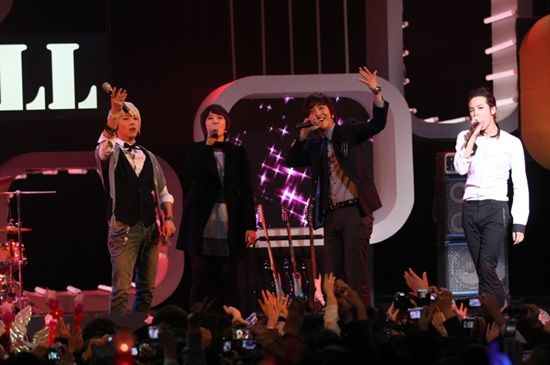 Via OSEN
RELATED POSTS
Tags: Jang Geun-seok, Jung Yong-hwa, Lee Hong-ki, Park Shin-hye, You're Beautiful