Cast of You're Beautiful buoyed by fan support
Fan support has been ardent, to say the least, for the SBS drama You're Beautiful and its young cast. The drama's lead, Jang Geun-seok, had expressed feeling disappointment that the ratings remain lower than hoped for and that he'd felt responsible as the main cast member. In reaction, fans to jump into action to show their love of the drama.
As you may know by now, he'd written a message to that effect on the drama's homepage last week, saying, "I wonder whether the reason for the ratings being lower than we thought may be because I'm not portraying the Hwang Tae-kyung character as fully as I could be. If not, maybe the drama isn't receiving more love because of me as Jang Geun-seok."
After learning this, Jang Geun-seok's fan club mobilized both on- and offline in full force to show their overwhelming support. His fan club forum is overrun with supportive messages. Fans also got together and delivered the cast and crew a buffet meal on their film set, which served 100 people. (The photos above and below are from that buffet lunch on October 30.) They've also sent presents like vitamins and letters rooting on the production.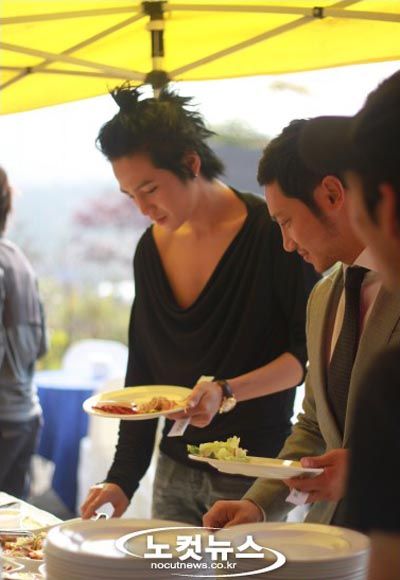 Jang expressed his gratitude, saying that he was cheered by all the support by fans who are "like eels who give me energy." (Eels are relatively expensive and eaten with the belief that they give added energy and stamina.) He added, "I'll do my best through the end with a grateful heart." His co-stars Park Shin-hye, Lee Hong-ki, and Jung Yong-hwa said, "Thank you for loving our Geun-seok hyung."
Meanwhile, on November 2, Lee Hong-ki wrote his own message which he posted on the drama's website, asking for fans' continued support. His message read, "Our You're Beautiful team filmed on the weekend from morning till night. We began filming in September, and already two months have passed and the drama is half over. I feel the difficulty of the actors and staff as we see the drama air scenes we had shot the day before. Even with the tough schedule, as I see the staff who are always smiling and our truly praiseworthy lead actors Jang Geun-seok hyung, Shin-hye, and Yong-hwa, I feel really secure, and coming to the set is a lot of fun."
He added, "After I finish shooting the drama as Jeremy, I will return to FT Island as Hong-ki, and I'm busy preparing for our concert on the 14th and 15th. I'm working hard on the drama too. Everyone, please give a lot of support to You're Beautiful through the end."
The drama has confirmed that it will end on the 26th with Episode 16. Note that this is NOT a cut-down of episodes, and I think the number is probably appropriate for this story. The production had left the door open in the beginning to extend the episodes to 20, but that was always going to be an option only if the drama proved to be a ratings hit.

Via Sports Seoul, Star News, Arts News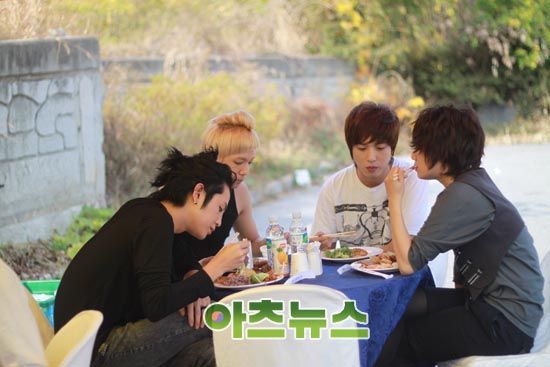 Note: I received a message from soompi-er Jennifer who is putting together a project for fans of the show to send support messages to the drama production. She asked that I spread the word. So if you are interested, the following are the details. (Additionally, you can check out the You're Beautiful forum at Soompi.com.)
"You're Beautiful" Fan Photo Project!
If you want to participate, and I really hope you do, all you have to do is take a picture of you with one of the following sentences:
I like Minami because….
내가 미남이를 좋아하는 이유는…
"Fighting YAB cast and crew!"
미남이시네요 제작진과 출연진, 화이팅!
"Feel the YAB love from the whole world"
미남이시네요에 보내는 전세계로부터의 응원을 알아주세요!
"Jang Geun-Seok we love you!"
장근석, 사랑해요!
"Park Shin Hye we adore you!"
박신혜, 정말 좋아해요!
"Lee Hong Ki you are the greatest!"
이홍기, 최고에요!
"Jung Yong Hwa you rule our world!"
정용화, 짱이에요!
"You are beautiful – the best show in the world!"
미남이시네요 – 세계최고에요!
"UEE – we love to hate you! Great Job"
유이, 미워서 좋아요! 진짜 잘하고 있어요!
Translation was kindly provided by pacepace!
Write them down on something like paper or anything you can think of! BE CREATIVE! Then take your picture! Please send it to: yabfighting@googlemail.com. We will collect the pictures and put them into a slide show. Additionally we will print them out.
We are now cooperating with DC Gallery who will deliver our oversea fan project personally to the set.
Since the drama won't be on too long anymore we have a very very tight schedule!
So the Deadline for the Photo OP is Friday, November 6, 6 pm GTM. If your picture arrives later then that I cannot promise that I will be in the slide show. I'm sorry about it but as said the schedule is very tight.
WHAT CAN YOU DO?
First of all take a picture and send it to yabfighting@googlemail.com
Spread the word. Tell people to come here and join. If you are in other communities tell them about our project! If you have friends, parents, student bodies, bosses, teachers or strangers willing to take a picture with a sentence from above take them in.
Join our community on Facebook: Mi Nami http://www.facebook.com/reqs.php#/home.php?ref=logo
Be creative in your picture
Sooner or later we have to set up a donation so we can give pao some money for printing out the pages. Please bear with me until then and remember that 3 dollars could already buy some flowers!

RELATED POSTS
Tags: Jang Geun-seok, Jung Yong-hwa, Lee Hong-ki, Park Shin-hye, You're Beautiful