Jang Geun-seok's fifth Japanese fanmeeting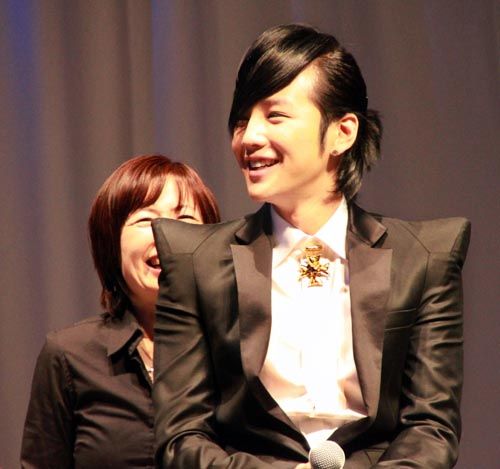 Fresh off his latest drama, You're Beautiful, rising Hallyu star Jang Geun-seok held a fanmeeting in Japan on Sunday before a crowd of 2,000. The event was called 2009 Jang Keun Suk Fanmeeting in Tokyo and was held at Tokyo's Sun Plaza. The attendees comprised fans from Japan, Korea, China, and even some who flew over from the U.S. to participate.
He sang several songs, including the song "Do You Hear It" (which he sang as part of the OST for his drama Beethoven Virus), "Good Bye" and "Without Words" (which he sang on the OST for You're Beautiful), and even a trot tune.
This isn't Jang's first time in Japan; he held his first fanmeeting there in February 2008 and has held five total in that country. His popularity stems from the numerous roles he's had over the past several years, several of which have been exported overseas with success. Among those are Hwang Jini, Hong Gil Dong, and Beethoven Virus, which will surely be followed by You're Beautiful.
Following the fanmeeting, Jang flew back home to Korea, where he intends to take a break for the moment while surveying potential new projects.
Via Star News
RELATED POSTS
Tags: fanmeetings, Jang Geun-seok