Lee Min-ho at first of four overseas fanmeetings
Speaking of Japanese fanmeetings, another rising Hallyu star, Lee Min-ho, held events in Japan last week; the two-parter occurred in Tokyo first (November 23), then Osaka (November 26).
Even considering the immense popularity of Boys Before Flowers (and the popularity of its source material, Hana Yori Dango), it's rather astonishing that Lee Min-ho attracted a total of 8,000 fans with this set of fanmeetings on the strength of ONE role; Boys Before Flowers was his first widely known project.
To offer up a point of comparison, Jang Geun-seok is more famous than Lee Min-ho, has been active longer, and has a number of movies and drama roles (leading and supporting) in his filmography, and his recent fanmeeting commanded the respectable number of 2,000 fans. (Note: I'm not making any comparison about their abilities as actors. I think both are adorable and talented and have big futures ahead of them.) Lee Min-ho's numbers don't quite rival top Hallyu-stars-in-Japan like Song Seung-heon, Yonsama, or Park Yong-ha, but 8,000 puts him in the same general tier.
(His prior roles are mostly small youth dramas like Run Mackerel, I Am Sam and Secret Campus. In fact, such is Lee's popularity in Japan due to Boys that even Japanese broadcasters will be showing Secret Campus, which was one of Lee's first roles as a 19-year-old. When Korean broadcasters decided to capitalize on Boys' success by re-airing Secret Campus, Lee said he was embarrassed to have people watching him in a younger, greener performance from three years ago.)
At the fanmeeting, Lee sang the song "My Everything," which he recorded for the Boys Before Flowers special edition OST and videos (watch and listen here). Lee made an effort to get close to as many fans as possible, even climbing on a crane to get closer to those farther away. A Japanese fan said, "I didn't expect to be able to see Min-ho-sshi up close, but I was touched that he greeted fans one by one and met their eyes individually." Because of his attentiveness (and a "high-five event" wherein he high-fived fans until his hand went into convulsions), fans started call him "Angel."
He didn't mention a project by name, but promised, "In order to fulfill your expectations, I'm taking a lot of care to choose my next project. I'd like to greet you again in a new role soon."
Initially only planned for two installments, due to fan request, the fanmeeting series was extended to four; Lee will follow the Japanese event with fanmeetings in Hong Kong, Taiwan, and Singapore.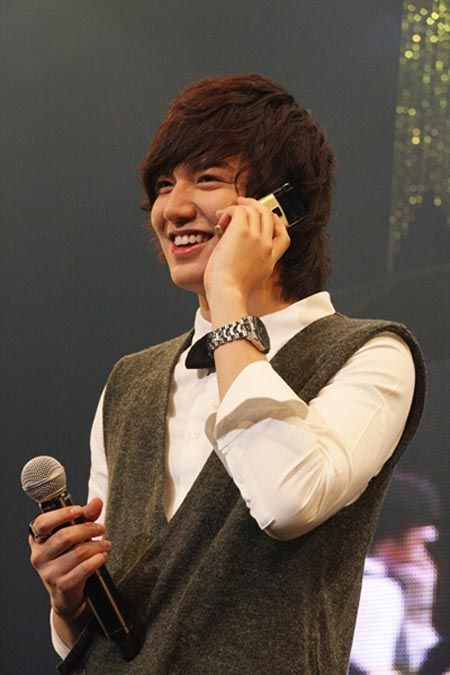 Via Sports Chosun, Mk.co.kr
RELATED POSTS
Tags: fanmeetings, Lee Min-ho