Nam Sang-mi is the Invincible Lee Pyeong-gang
KBS's current Monday-Tuesday show, Princess Has Returned [공주가 돌아왔다], has been pretty unremarkable (in ratings and in response) and ends on a similarly quiet note this week. On the other hand, I'm looking at the show to take over its slot next week with some interest — Invincible Lee Pyeong-gang [천하무적 이평강] seems to have come together rather under the radar, but now it's got me perked up in interest.
The drama blends together sageuk elements with the contemporary in its reimagining of the classic folktale of Princess Pyeong-gang and the Fool On-dal. The fusion drama stars Nam Sang-mi (Time of Dog and Wolf) and Ji Hyun-woo (My Sweet Seoul).
I'll have to say I'm definitely interested, but approaching cautiously because of a few red flags. First red flag: I'm a little leery of the writer (Park Kye-ok last wrote Cain and Abel), but this is a different genre, and I do have a soft spot for those traditional-contemporary fusion mixes. By "fusion," I don't mean Hong Gil Dong — although directing is Hong Gil Dong's PD Lee Jung-seob — but more like Delightful Girl Chun-hyang, where the modern story is based on a well-known folktale and refers to it in cheeky ways while carrying on its present-day storyline.
Here's a brief description of the traditional folk story of the princess Pyeong-gang and the fool On-Dal, from Korea.net:
Princess Pyeonggang was such a crybaby in her infant years that her father, King Pyeongwon, used to tease her, saying that if she didn't stop crying he would marry her off to Fool Ondal. Years later when she came of age, the princess quietly left the palace, searched out Fool Ondal, and married him, against her father's wishes. [She reminded her father of his promise and told him it was dishonorable to go back on his word.] She taught Ondal to be an outstanding figure. He won a national hunting competition, a feat that earned him the position of general. Moreover, he was accepted as the king's son-in-law for his distinguished services in wars against Silla and China's Northern Zhou. The Ondal episode shows a measure of openness of Goguryeo society, where even a commoner can rise up to become the king's son-in-law.
Meanwhile, KBS World has adopted the English title Taming of the Heir, although I think I'm going to stick to Pyeong-gang. The description furnished by KBS World says:
Pyeong-gang moved to Gang-won Province, far away from Seoul as a teen due to her father's occupation. Thanks to him, a renowned golf course designer, Pyeong-gang was able to fully understand every detail of golf course planning while growing up. Her father, however, unfortunately met with an untimely death before completing his ambitious work. Frustrated, Pyeong-gang tried to support the family, but the harsh reality didn't allow her and the rest of the family to live a comfortable life.

8 years later.

Pyeong-gang who wanted to follow in her father's footsteps to become a golf course designer, has to come to terms with the reality. She is now the bread-winner of the family, living paycheck by paycheck. She does chores at a resort town where she meets Ondal, the owner's eldest son.

Ondal's charismatic father Pyeong-on demands Ondal pass the semi-pro qualification test in a month. When he fails to make it, Ondal is told that he will be removed from the inheritance list due to his incompetence. To make matters worse, Pyeong-on collapses from a sudden stroke and in the midst of misfortune rumor circulates that Ondal's step mother and her son are going to take over the resort town. Being cornered, Ondal has no other choice but to stand on his own feet, but for Ondal who lacks competence and determination, retaking the resort is beyond his capacity.

Ondal and Pyeong-gang on bad terms with each other from the first time they met, join hands and Pyeong-gang's journey to taming the spoiled heir finally begins!
(Second red flag: allusion to Taming of the Shrew. I don't care if it's Shakespeare; I find it annoying and misogynistic. The description sounds as though the drama uses a reversal of that setup, however. (That makes me wonder: Is reversal of misogyny any better?) But in this case, maybe a title is just a title; the point seems to be that Pyeong-gang helps her man come into greatness in a way he couldn't achieve on his own.)
In addition to Nam Sang-mi and Ji Hyun-woo, the drama also stars Seo Do-young (Friend, Our Legend), Cha Ye-ryun (A Star's Lover), Kim Heung-soo (Life Special Investigation), Park Ki-woong (Story of a Man), Yeon Mi-joo (Accidental Couple), Choi Myung-gil (Hate You But Try Again), and Ahn Hye-kyung (The Naked Kitchen).
All told, I'll keeping an eye out to see what Invincible Lee Pyeong-gang serves up next week: It premieres Monday, November 9, on KBS.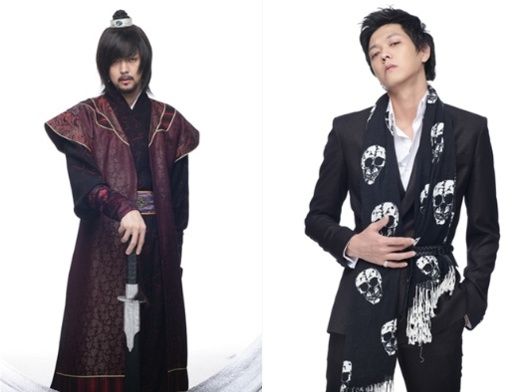 Via OSEN
RELATED POSTS
Tags: Cha Ye-ryun, Choi Myung-gil, Invincible Lee Pyeong-gang, Ji Hyun-woo, Kim Heung-soo, Nam Sang-mi, Park Ki-woong, Seo Do-young, Yeon Mi-joo