No Mercy for Ryu Seung-beom, Sol Kyung-gu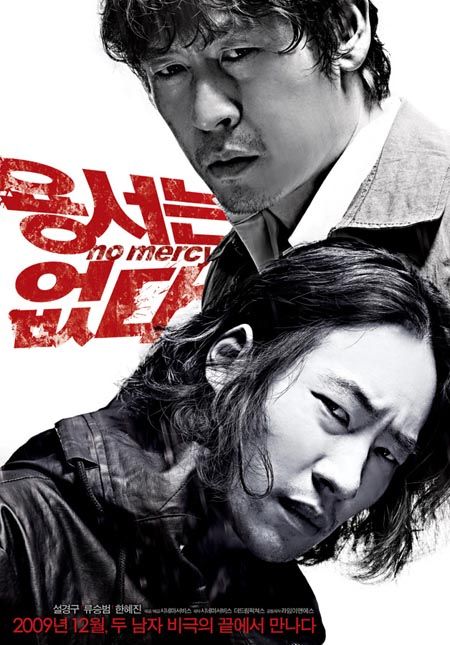 Here's a closer look at Ryu Seung-beom and Sol Kyung-gu's upcoming movie No Mercy (용서는 없다, which I'd previously translated as No Forgiveness). The Silence of the Lambs-like plot (watch preview below) features Ryu as a vicious killer with a secret who proposes a "dangerous deal" with Sol, who plays a top forensic investigator.
Despite being at the top of his field, Sol Kyung-gu's character decides to retire from his position as a forensics instructor and crime scene investigator in order to spend more time with his only family, a daughter. He takes on one last case, which involves the corpse of a beautiful woman that was hacked into six pieces. Through the investigation of a sharp police detective (Han Hye-jin), the suspect is narrowed down to Ryu Seung-beom.
Rather than being a crazed psychopath or unfeeling murderer, Ryu's character becomes a killer after suffering a severe trauma in the past, which results in a split personality. He's a respected environmental activist and proponent of eco-agriculture, and tells the detectives who take him in for questioning that the death happened during an activity opposing business ventures on the land. The investigation team, however, finds that the evidence doesn't add up. Working together, Han Hye-jin and Sol Kyung-gu are busy searching for a conclusive piece of evidence when Sol's daughter disappears. Sol finds out that the suspect is somehow connected to her disappearance, and Ryu offers up a deal: If he can figure out the meaning of a secret left on the corpse, his daughter may be saved.
No Mercy opens in theaters on January 7.
Via Asia Economy
RELATED POSTS
Tags: Han Hye-jin, Ryu Seung-beom, Sol Kyung-gu