Smile: Episodes 11-12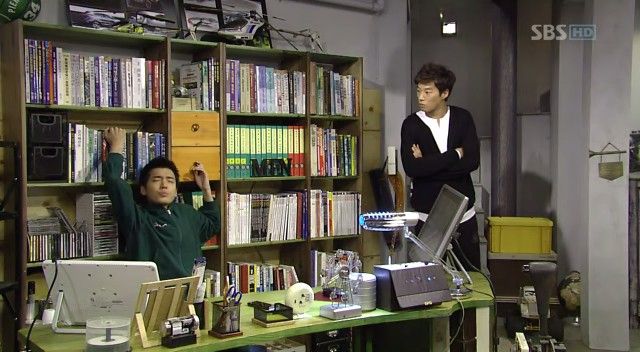 Hyun-soo and his Jung-in fantasies! So hilarious and adorable. Of course, the best part is that the dream becomes reality.
As soyjoy mentioned in her last recap, a few episodes had dragged on, but Smile has come back in full force the last few episodes. And these two take the cake! It's fun, sweet, with a bit of surprise thrown in. Totally loved it.
SONG OF THE DAY
Smile OST – Vis a Vis by Melo' Breeze [ Download ]
Audio clip: Adobe Flash Player (version 9 or above) is required to play this audio clip. Download the latest version here. You also need to have JavaScript enabled in your browser.
Episode 11
Geum-ja seethes with anger as she sees the cozy Sang-hoon and Joo-hee. As they start walking back home, Joo-hee asks, "Were you going somewhere?" And when he answer no, she asks again, "Then did you come out because you were worried about me?" He just laughs it off, because he had come out for a reason: to visit his wife! He walks Joo-hee back home and runs to Geum-ja.
Geum-ja's blood is boiling at this point. And when Sang-hoon comes in, she makes him sing a song (after seeing him sing Joo-hee a song). He sings his usual Geum-ja song, but hearing him sing to her right after seeing him sing for another woman make her even angrier.
Jung-in walks by the house, hoping to see Hyun-soo. Just as she's about to call him, Ji-soo walks into the front yard, chasing her away. When Hyun-soo comes outside and hears about Jung-in from Ji-soo, he immediately runs off even before Ji-soo finishes her sentence. Haha… how cute are you!!
He tries to call her, but hears a weird rattling noise nearby, forcing him to walk over. Luckily for him, it's Jung-in! He immediately demands to know where she's been and what she's been doing. (Protective much? LOL.) Jung-in is surprised at his questions. And Hyun-soo uses his mom as an excuse for worrying, seeing her reaction. He then offers to walk her back, making Jung-in all smiles. He tells her, "It's dark so stay close," and holds onto her arm. (Seriously. So cute!)
Upon arriving at the restaurant, it's pretty obvious that they don't want to part.
Jung-in: Since you're here, why don't you have a beer with me before you leave?
Hyun-soo: You little kid. Stop drinking.
Jung-in: You don't even know what I'm like inside. Fine. Go.
Hyun-soo: What about your inside? Are you hungry? You want me to bring you something? Tell me. I'll do whatever you ask except for drinking.
Jung-in: Really? You'll do anything?
Hyun-soo: But you have to come home tomorrow.
Jung-in: Alright. Since you're not one to say something you don't mean, I'll tell you everything.
Hyun-soo: What is it?
Jung-in: Let me borrow 10 million won ($8500 USD).
Hyun-soo: What? 10 million??
Jung-in: Yup. You're competent. Try to pull it together somehow. I'll figure out a way to pay you back.
Hyun-soo: What? You got kicked out because of money. You still can't think straight? Not even a hundred thousand or a million, but 10 million?
Jung-in: You said you'll do whatever I asked.
Hyun-soo: It needs to be something reasonable. Don't think about anything else. Just convince my mom and bring her home tomorrow. Hurry up and go. Hurry up and go!
Jung-in: I'm not coming home. You're fine without me as long as you have Jung-Kyung.
Hyun-soo: What? You…
Jung-in walks off in a huff as a surprised and slightly guilty Hyun-soo watches her walk back to the restaurant.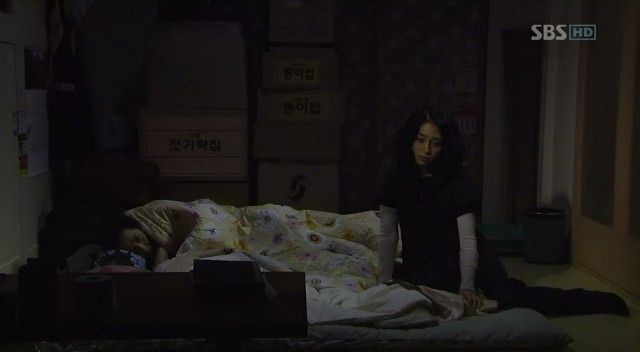 Back in their room, Jung-in and Geum-ja brood in their relationship problems. They are more alike than they realize, but they stay in silence.
Hyun-soo runs into Jung-kyung when he returns home. He tells her that he's coming back from dropping Jung-in off. Jung-kyung apologizes, assuming that he's being nice because she's her sister. But Hyun-soo replies, "It's OK. I said I would walk her back. I'm scared that she'll run off somewhere." He has a big smile when talking about Jung-in, which doesn't escape Jung-kyung. She watches him as he walks downstairs. Their relationship is doing a 180, as he's no longer the one watching her walk off.
Sung-joon runs off to buy beer after getting a few dollars from Hyun-soo. Ji-soo is in her truck making dduk-bok-ggi, and calls him over for a taste test. He heads out to buy some bottles of soju (alcohol) and comes back to eat some dduk-bok-ggi with the alcohol. Sung-joon get a wee bit drunk and tells Ji-soo that she needs to sell alcohol to make money. She's apprehensive about selling alcohol, but he assures her that he'll take care of it as her oppa. She response, "You will Ajusshi?" To which he responds, "What do you mean Ajusshi? Call me oppa."
As they talk, we learn that Ji-soo's parents left her when she was young. But she doesn't hate them because she realizes how difficult it is to live. Sung-joon is impressed by her attitude even in his drunken stupor. He starts to pinch her cheeks and pat her head, saying, "You're cute. You're so cute!" We, of course, know that she's got some sort of past, and her gaze changes into a menacing glare at Sung-joon.
The next morning, Sung-joon is sleeping inside Ji-soo's truck. When he tries to get up, he notices that his whole body is in pain. Ji-soo runs out when she sees Grandpa Man-bok, which gives Sung-joon time to sneak out the side. The family gather together in the front yard, and Grandpa Man-bok tells Joo-hee to change her clothes and tie up her hair. Her life of leisure is now over. She's got work to do! Sung-joon also comes back, pretending to have jogged around the neighborhood.
As the family does their morning exercises, Geum-ja looks on from a distance. She sees Sang-hoon handing Joo-hee a pair of gloves, and the two of them smiling and flirting with each other. She says to herself, "That fox. I shouldn't have left my place."
Jung-in looks for Geum-ja at the restaurant, but she's nowhere to be find. Joon-bae hands her a letter from Geum-ja, saying that she's left to go back home. When Geum-ja come home, she bows down to Bok-man, and repents for her actions. In order to show her penitent heart, she changes into the expensive outfit from Jung-in. She tells Man-bok, that she'll work in this outfit while reflecting on her wrong doings. Grandpa Man-bok gets a kick of her idea, and has a good laugh. "You've been singing your praises for 30 years, but it looks like you've finally learned something. Alright, you live in that outfit." She's accepted back into the fold.
Jung-kyung and Hyun-soo to leave for work together. While passing by Joon-bae's restaurant, he can't help but keep looking over. At that moment, Jung-in comes out of the restaurant, with Joon-bae close behind. Jung-kyung calls for her but Hyun-soo is quick to shout, "Hey, runny nose!" Jung-in looks up at him, surprised that they seem close. As Joon-bae is about to give Jung-in her pay, he's distracted by seeing Hyun-soo and Jung-Kyung together. He comments about how good they look together, which send Jung-in into a fit. She plucks the money out of his hands saying, "I'm going to pray that all of your hair falls out" before stomping off. (LOL.)
Jung-kyung looks over and sees Hyun-soo staring at Jung-in as she walks away. He really can't keep his eyes off of her. Jung-kyung has been given too many hints, and she's caught on that Hyun-soo is a little too attentive to her sister.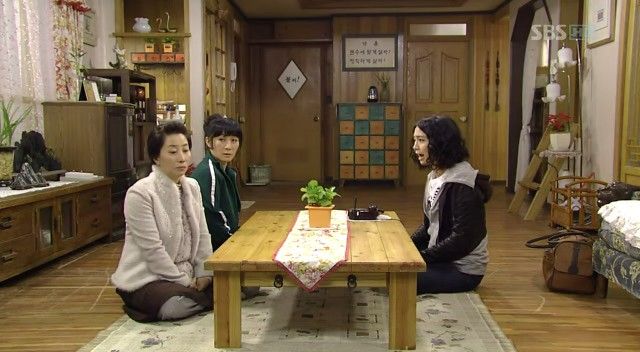 Jung-in comes right home, yelling, "Hello. I'm back!" She goes straight into the house and gives it to Geum-ja. "How can you not saying anything and betray me like that? I was in shock when I got up in the morning. I felt like my mom bought me ice cream and ran off." Joo-hee answers, "What do you mean? Your mom's right here." Jung-in tells her mom that she's no mom at all, not even looking for a daughter who left home. Geum-ja tells Jung-in that she had worries of her own.
When Grandpa Man-bok comes in, he screams, "Get out!" Jung-in replies back immediately, "I don't want to!" Man-bok tells her that she needs to pay for everything for 15 days (eating, sleeping, using the bathroom, etc.), if she wants to stay at home. Jung-in says that she'll pay and tries to run to the bathroom. Geum-ja stops her so that she can pay up before going in. Jung-in gives her money but cries for her change when Geum-ja says that she doesn't have money right now, "Do you know how many bowls of soup I need to serve in order to earn 4,000 won ($3)? Give me my money…" Man-bok is happy to see Jung-in cry over $3, knowing that she's earned the value of a dollar.
Jung-kil is back to his old ways. This time, he's hard at work trying to steal Grandpa Man-bok's house. Man-bok walks into the office as Jung-kil is hanging up a call with his lawyer. Jung-kil runs his mouth off with empty words, "Even though it was a short time, I've learned a lot by just watching you, President." Man-bok is shocked by Jung-kil's words, and replies, "You scare me more when you says such mature things."
Jung-kil is so ridiculously annoying. Someone seriously needs to kick his butt into shape.
Sung-joon takes Ji-soo aside to ask about what happened last night. He thinks maybe she's the one who caused him to ache all over. When they get into a conversation about her new food truck venture, he gets quite overprotective. He yells, "How can a woman sell alcohol?", not remembering that he made the suggestion. Sung-joon is funny blaming her for listening to him, "How could you listen to someone drunk?" And when she tells him that she's already bought the liquor, he's incredulous. "Why are you so unnecessarily diligent?" Hee-hee. I love Lee Chun-hee!
Kyung-soo sees the exchange, and sneaks his way to Sung-joon. He's got some sort of hidden past with Ji-soo, and knows about her dark side. He's unable to spill the beans, fearing Ji-soo's wrath, but does give Sung-joon a warning. "Even the thorn of a rose has poison."
Meanwhile, Jung-kyung asks the Chief for his daughter's phone number. She wants to get close, and thinks diving head first may be a good way to start. He reluctantly hands over the number. Jung-kyung calls her a close of times but Yeon-jae hangs up on her.
Hyun-soo and Han-se get into an argument at work over the new project. Han-se tells him to do as he says, but Hyun-soo does not back down and walks out of the conference room. (The competent kdrama man… how can you resist?)
Jung-in calls Hyun-soo to find out the computer password. Hyun-soo is glad to hear from her. When he starts telling her the password, "1-1-2…" She interjects. "Is it a 9 next? I see… Seo Jung Kyung's birthday… That's good. I needed some money anyways. Your savings account also is 1-1-2-9 right? Where's the bank card?" Hyun-soo tells her not to go through the desk drawers, but she hangs up on him, thanking him for telling her where it is.
Jung-in is annoyed that he still has feelings left for her sister, but moves onto her own problems. She googles, "How to make 10 million won instantly."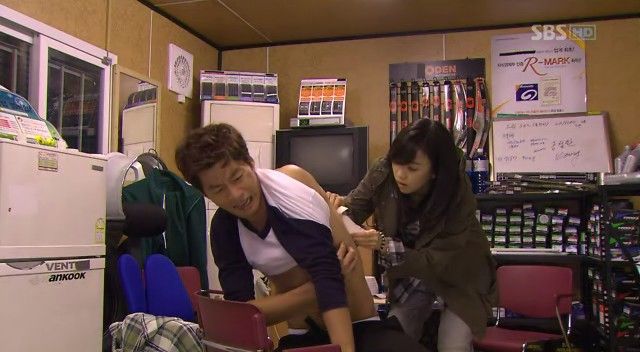 Sung-joon is still achy from the mysterious evening, and calls Ji-soo over to put some PAS (heating patch) on his back. She sticks them on without any help from Sung-joon, which makes him ask, "How did you where I was hurting even though I didn't tell you?" She's a little startled, but answers, "When you have a business, you get punched around a little. I just knew because I've been hurt around the same area." Sung-joon is shocked to hear that she got pushed around by guys, and tries to make her reconsider the food truck business.
As Jung-in rolls in bed with a stomachache, she gets a call from Han-se. He tells her to comfort Hyun-soo for getting yelled at in the meeting, not revealing that Hyun-soo's the one who got in the last word. Han-se tries to be all cool, telling Jung-in to come back to him. But he immediately hands up the phone when his mom enters the room.
Han-se's shrill mom yells at him for talking down to the new manager (Hyun-soo) at work. His father is livid that Han-se tried to get rid of Hyun-soo and is prepared to hand over the project to him. She tells him to give into Hyun-soo so that he can keep managing the project.
After seeing the job listing for the "Kiss Room: 100,000 won per kiss", Hyun-soo's head is filled with Jung-in. He holds onto his cellphone, waiting for her to respond to his text. Just then, a sexy nightie-wearing Jung-in walks into his room. She walks towards him and pushes him against the bookshelf. She then presses herself up against him and says, "100,000 won. All it takes is 100,000 won." Hyun-soo tries to resist her advances, but doesn't do such a good job. He can't help but pucker up his lips, ready for her kiss.
Puhahaha!! He so totally wants to be the first in line at that Kiss-room! As Hyun-soo is enjoying his daydream, Sung-joon comes down and interrupts. He asks Hyun-soo for some money, which gives him an excuse to stomp out of the room.
Meanwhile in adult-land, Sang-hoon goes off to the bakery to buy pastries for Geum-ja. He ends up picking one up for Joo-hee as well, which turns into a whole mess at the house. Sang-hoon give the bread to Joo-hee and starts singing "I Don't Care" to cheer up the crying woman. Geum-ja sees them together again, and is furious.
Hyun-soo tries to exercise off his thoughts, and does push ups in the backyard. Unfortunately, it doesn't help much and he calls Jung-in to come outside. He hears that she's giving herself a facial, and gets even more worried, compelling him to go into her room.
Hyun Soo's only able to see Jung-in's lips, and has to stop himself from imagining a kiss. When she reaches over and put a little facial cream on his face, he jumps up at her touch. He picks up one of her miniskirts and asks, "What's with this and why are you getting a facial?" He then pleads with her, taking both of her hands, "Please stop doing things like this. I can't do anything because you're making me so uneasy."
Just then, they hear a commotion outside. Geum-ja is angry beyond belief and starts crying in front of Man-bok. "If you don't make these people leave, it's going to be the end of our family!" Jung-kil thinks that she's talking about her ploy to take the house, and claims that he's the victim in all of this. Geum-ja replies, "Then you knew that these two [Sang-hoon and Joo-hee] are having an affair?" Sang-hoon vehemently denies it, but Joo-hee breaks down and cries, "I'm sorry!"
Jung-in tries to run out of the room, but Hyun-soo holds her back. He's holding onto her rather closely, and Jung-in looks over at Hyun-soo, feeling the (sexual) tension.
Episode 12
Hyun-soo and Jung-in try to come out of the room, but is forced to go back in seeing Sung-joon. When Sung-joon comes into Jung-in's room, she pretends to be sleeping. Sung-joon isn't able to wake her and leaves the room, at which time, Hyun-soo is revealed under the covers.
The scene is pretty cliche way to get them into bed together but I still enjoy the cheesy, cliche exchanges between the 2 because they're just so darn cute! I love how Jung-in pushes him back down in bed and says, "Where are you going?" Haha.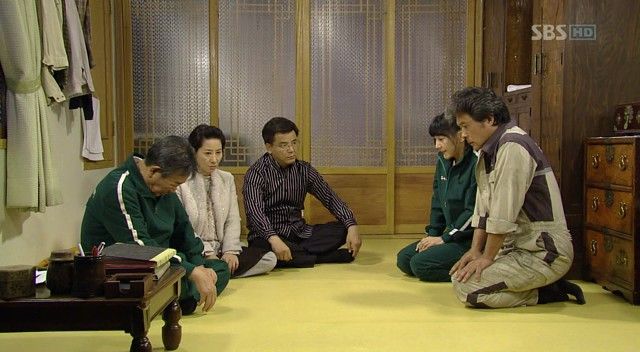 The family adults are in Man-bok's room, all trying to figure out what the heck is going on. Geum-ja's hope rests on Man-bok to dole out the punishment, but her hopes are dashed when he finds out that their "affair" included some bread and a little singing.
Other members of the family may think it's a misunderstanding, but Jung-in is on Geum-ja's side. "I totally understand ahjumma's feelings. It was completely ahjusshi's fault. Why throw fire onto a woman's jealousy?" Looking at her reaction, it seems like she's talking more about herself than Geum-ja. Doesn't it? Hyun-soo takes this opportunity to bring up the kissing ad. "You actually thinks she's a woman… Don't use being a woman as an excuse to do something stupid."
He tells her that he'll help if she finds an honest job, and puts his arms around her. Just then, Sung-joon comes into the yard to talk to them. "Before there are more issues with the family, let's just tell the adults about your relationship." Both Hyun-soo and Jung-in deny it, but Sung-joon goes on, "I know that a secret relationship is thrilling, but I don't think you should let it go on for too long." Hyun-soo denies it so adamantly that it makes Jung-in mad. She kicks Sung-joon as he starts mentioning the 2 of them in bed earlier, and exclaims, "Do you think I'd like someone who's an idiot?" and runs off.
In the morning, Man-bok only kind words to Geum-ja. He reassures her that Sang-hoon is not the type to have an affair and tells her that once Jung-kil comes to his senses, he'll make the Seo family leave. She sarcastically asks, "How will you kick out the precious young master?" But he replies honestly, "How could he be more precious to me than my own daughter-in-law?" (Aww…)
As the family eats breakfast, Hyun-soo keeps looking over to Jung-in's room, wondering where she went. Sung-joon notices and sneers, "Where did Jung-in go so early in the morning without having breakfast?"
We find Jung-in in Han-se's office, asking him for a job. She wants to pay for the ring by working it off. He says that this isn't how he wanted her to come to him. She replies, "Why? You want to get married again? I'm sure you're not asking me to be your mistress? You know me, right? Don't even say that in jest, because I might blow up this building."
Hyun-soo is less than thrilled to see Jung-in at the office with Han-se, and tries to yell his way into sending Jung-in home. But she's determined to stay and work to pay off her ring.
Jung-in's assignment is to have 200 surveys filled out by the end of the day. She's out on the street, but doesn't have any luck trying to get passerbyes to fill out a survey. She even tries to lay out the survey on the street. (LOL) While working, Hyun-soo and Jung-in both think about calling each, and Hyun-soo finally changes the name on his couple cellphone from Beatrice to Jung-in. Hurray!
Back in the office, everyone's interest is piqued with the buzz on the Global Motors website. A forum started by "runny nose" is a buzz with comments about people's ideal car. When Jung-in cheerfully walks into the room with the completed surveys, Han-se condemns her for writing all of these surveys with the comments from the internet. He tells her to redo it by tomorrow morning or she'll be fired.
Han-se is such an ass. He completely humiliates her in front of others, but turns into putty when he's alone with her. Jung-in should blow up his building.
Hyun-soo on the other hand is sweet as a button. He doesn't understand why Jung-in insists on working in Han-se's company, not knowing about the engagement ring. On the bus back home, Hyun-soo sits down next to Jung-in, who's upset with him for thinking she wants to get back together with Han-se. When Jung-in tries to get up and change seats, he replies, "There's no more seats." When she retorts, "I know that the bus has empty seats," he replies, "So what? This is the only seat next to me." That calms down Jung-in.
He then takes her foot and puts a band-aid on her blister, telling her to wear sneakers tomorrow. They take sidelong glances at each other, content to be together. So sweet!
At home, Jung-in announces that she's found a job and gathers everyone to complete the survey. They all sit in a circle and pop up to make comments like the whack-a-mole game. Jung-in comments, "It's nice to have a big family at a time like this." She then remembers her sister and calls Jung-kyung to see if she's coming home.
Hyun-soo follows her and Jung-in thinks it's because she's calling Jung-kyung. But he tells her that he has an idea to finish the 200 surveys. When she wants to know how, he replies, "You always call me oppa from now on. Then I'll tell you." Ahhh, the power of the word "oppa." Not only is it an endearing way for a girl to call an older brother, but saying the word produces a kissing motion with your lips. Hyun-soo can barely stand it as Jung-in calls him oppa. (Ladies, give it a try. It really works!)
Hyun-soo's light bulb is to take the survey to the hospital, a place filled with people waiting. The idea is a smashing success and they are able to complete the surveys pretty quickly. And it gives them a chance to give longing gazes in each other's direction.
Unfortunately for Jung-in, her sister comes and steals Hyun-soo away for a cup of coffee. Jung-kyung thanks him for taking care of her sister and for being a good friend. "I want to be that kind of a friend to you also. A friend who can root you on and give you courage. So would you be able to tell me when someone new takes my place in your heart?" He promises to tell her first when he meets someone new. And as he walks away, it's Jung-kyung again who looks back to watch him go.
Meanwhile, an anxious and pouty Jung-in waits for Hyun-soo to come out. He thinks her glumness is because she got in trouble, and says, "Why aren't you thanking for me for coming here to help you?" She says she knows he's not here for her. Hyun-soo mutters, "It was because of you…" but Jung-in doesn't believe it, thinking that he came for Jung-kyung. The 2 push and shove each other as they walk down the street to head to work. (Ha! Cuteness.)
Sung-joon has been stymied in his efforts to impress Ji-soo, and looks to find a job to gain some respect. (He gets chased away by Ji-soo when he tries to do something nice.) He goes to Joon-bae for some help on getting a golf teaching gig.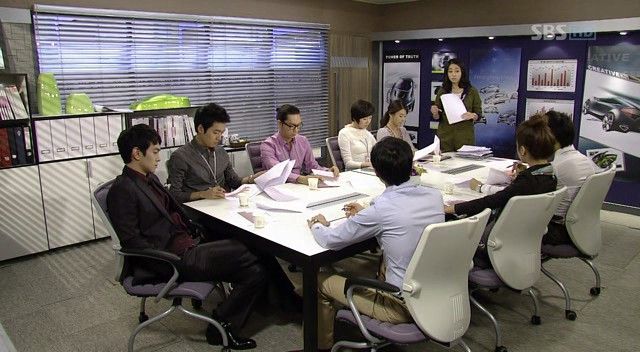 Our Jung-in has finally gotten a job and is working hard at it. As she talks about the results of the surveys, she mentions an idea about changing the headlight design of the car. Being the jerk that he is, Han-se immediately derides her and says that the idea isn't practical. They get into a tiff during the meeting and walk out.
Hyun-soo is irritated at Jung-in's behavior, and runs after her, trying to get her to quit. She refuses. He tells her to meet him at the bus stop after work to ride home together.
We know that Ji-soo's got some sort of secret life, looking at Kyung-soo's alarmed expressions. But the 2 men watching her and taking photos, confirms that she has a mysterious past. It's a little out of left field, but Smile is all about the alpha female and beta male, so a female gang leader would fit right into the story.
Han-se lies to Jung-in about using her headlight idea, and steals her away to a restaurant. I love that she just yells at him and runs off to meet Hyun-soo. Unfortunately, Hyun-soo had been waiting at the bus stop for awhile, and has left for home. When Jung-in finds out, she tells him to come back to the bus stop. When she gets there, he's nowhere to be found. Han-se comes to see her and tells her that he loves her and won't leave her alone anymore. You think she may have fallen for his words, but we find soon enough that she isn't won over that easily.
When Jung-in gets home, she sees Hyun-soo painting her attic room. He tells her that he wanted to paint the room together, and puts a streak of paint across her face. He turns around to see her eyes tearing up.
Hyun-soo: Why? Are you mad that I put paint on your face?
Jung-in: Did I tell you to do something like this?
Hyun-soo: What?
Jung-in: I told you to wait. To come back. Why didn't you come? Why didn't you wait? You waited for Seo Jung-kyung for 8 years, but you couldn't wait for me for 30 minutes? I waited so long because I thought you'd come.
Hyun-soo: Why are you talking big after coming late? And how are you and Jung-kyung the same? Jung-kyung was my first love.
He tries to smack her forehead but Jung-in grabs his hand this time, and asks, "Did you ever kiss Jung-kyung?" He's surprised to hear the question, but Jung-in moves in for a kiss before he can answer.
Comments
Yipppeee!!! I actually made a squealing noise when I saw the kiss scene. I just LOVE Jung-in! How awesome is it that a female lead takes charge and steals a kiss? Our Jung-in is flawed, but it's hard to deny her strength and boldness. It's great to see a kdrama applauding someone like her. And Hyun-soo may have started as a total beta male, but has become quite the machismo. Their relationship isn't breaking any molds, but a romantic comedy is all about chemistry, and our couple's abounds.
Maybe it's just the fangirl in me, but I can't help but love the childish antics of Sung-joon. He could have easily become an annoying character, but Lee Chun-hee brings such a lovable charm. How cute is it that be bring a stolen urn of kko-choo-jang (red pepper paste) to Ji-soo as a gift? And he lifts up his shirt to show that he's an athlete? Too funny.
Overall, I'm really enjoying the strong female characters in the drama (except Joo-hee I guess.) And I love it that it's not portrayed as a flaw, but as an asset. Geum-ja takes takes care of her family with her thriftiness. Jung-in's the one that takes control whenever there is a family crisis. And Ji-soo figures out a way to start a new business even with all of her misfortunes.

RELATED POSTS
Tags: Jung Kyung-ho, Lee Min-jung, Smile