Actresses: Fake documentary or reality filmmaking?
I previously posted about the new movie Actresses, which stars six famous movie stars playing six famous movie stars: each portrays a version of her real self, but the question is, how much of that is "acted" and how much stems from reality?
I found the initial reports really interesting, and much has been said of the supposed tensions between its two leads, Go Hyun-jung and Choi Ji-woo. No doubt the innuendos and possible exaggerations of real catfights are titillating for the public, who hardly ever get to see the real people beneath the smoothly polished images. (Korean entertainers are so carefully managed that it's rare — and therefore big gossip — whenever one deviates from the carefully constructed narratives that have been built for them. And yet, it occurs to me that even if they'd all gotten along swimmingly, it would be a pretty shrewd promotional tactic to play up the fake-versus-real conflict to incite interest.)
The six are, in order of the photo above: Choi Ji-woo (Winter Sonata, A Star's Lover), Kim Min-hee (I Like It Hot, Goodbye Solo), Lee Mi-sook (Untold Scandal, An Affair), Go Hyun-jung (Queen Seon-deok, Sandglass), Yoon Yeo-jung (The World They Live In, What's Up Fox), and Kim Ok-bin (Thirst, Over the Rainbow).
New format crosses the boundary between movies and documentaries

At their first meeting, Go Hyun-jung is not pleased with Choi Ji-woo. Choi acts thoughtlessly toward her sunbae, and doesn't want to share her dressing room. It's entirely unacceptable, the way she carries herself so haughtily because she's a Hallyu star. Finally, Go tosses out one sharp remark: "You're two-faced — how great that your selfish half is a star."

Choi Ji-woo won't tolerate that, and strikes back: "Your bad disposition is why you got kicked out of your chaebol marriage." The tension of the volatile moment can be felt onscreen. The shaking camera, coarse screen, and dark lighting enhance the intensity.

How much is truth, how much is sincere? That's the question that comes to mind first when watching the movie Actresses.

Although it is clothed as a conventional documentary, if you were to define this film, it's really a fake documentary. However, one cannot draw the conclusion that it's completely false, either. The movie uses the actors' basic selves as its background and frequently traverses the line between dramatic narrative and documentary. The events onscreen are true, but at the same time, they're also false. The result is extremely engaging and fresh.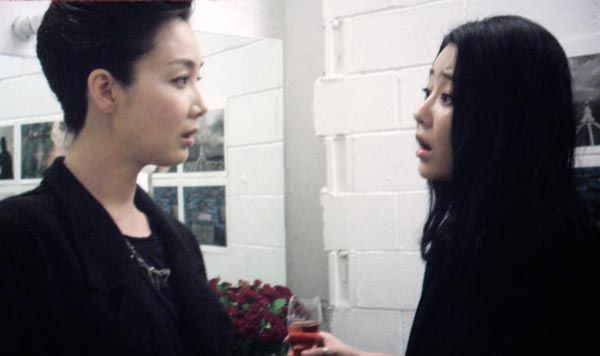 Choi Ji-woo and Go Hyun-jung
The film is constructed around a fashion magazine shoot that gathers six actresses spanning age ranges from their twenties through sixties, each a representative figure of her generation. They freely reveal their individual personalities, lifestyles, and values. Yoon Yeo-jung speaks frankly about her divorce, saying, "I got dumped by that ugly guy." Go Hyun-jung exposes her inferiority complex with the statement, "I want to surpass Lee Young-ae and [Kim] Hye-soo unni." One defends herself, "Is divorce a crime?" (Go Hyun-jung), while another lets tears fall with "Divorce is still a happy word" (Lee Mi-sook). Kim Ok-bin shows respect for her elders by calling out, "Sunbae-nim, sunbae-nim," but in actuality she cannot tell Yoon Yeo-jung apart from Yeo Woon-kye.
Yeo Woon-kye is the actress who passed away last year, who was in dramas Bad Family, My Name Is Kim Sam-soon, and Dae Jang Geum. The actress in this film, Yoon Yeo-jung, was in The World They Live In, Pure 19, and What's Up Fox.
The actresses try to restrain themselves in order to appear attractive in front of each other, eyeing each other to make sure their flaws and anxieties aren't exposed. They erase the thick makeup that we are used to seeing them in, and their bare faces fill the screen. Although it's a bit perplexing to think that the actresses are normal women too, it's pretty entertaining to steal glimpses at their lives.

Director Lee Jae-yong says, "We established a synopsis for the movie, but most of the acting was entrusted to the actors. It's not a classical piece where specified instruments follow exact instructions; the film is more like jazz for those who enjoy improvisation."

Lee Mi-sook says at film's end: "Actors must keep up appearances." Considering that actresses must save face, this "documentary," which is either realistic-for-a-fake or seemingly-fake-but-real, is heading toward audiences. The film opens December 10.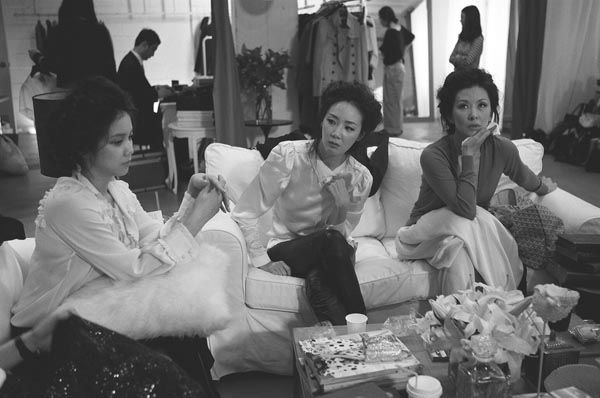 And a second piece:
Have you seen how we live?

Sometimes, there is a movie where the planning overpowers all else. On December 24, 2008, the fashion magazine Vogue conducted a photo shoot under the theme "Actresses who are more beautiful than jewels" that brought together six actresses aged from their twenties through sixties. The mere fact that they were Yoon Yeo-jung, Lee Mi-sook, Go Hyun-jung, Choi Ji-woo, Kim Min-hee, and Kim Ok-bin gave it a dramatic effect, creating a movie that cannot be overlooked.

"Beautiful and strong-spirited women are coming soon" reads like promotional copy, but the film reveals their candid, strong sides as these women show the reverse of their gentle, amiable images with which we have become familiar on television and movie screens. Yoon Yeo-jung feels uncertain that she wasn't the first choice for her part of the shoot, while Go Hyun-jung casts off the image of Mi-shil by provoking a childish dispute with Choi Ji-woo. Choi, unlike in her roles, does not just take the attack meekly. Kim Ok-bin feels overwhelmed by the mental battle between these great veterans and searches for a place to hide, while the wait for the actual jewels needed for the shoot grows longer, filling the set with discontent and unease. The beautifully planned shoot turns into a "Christmas nightmare."
Note: The film was shot before Go Hyun-jung made such a strong impression in Queen Seon-deok as the canny, ambitious Mi-shil character. Audiences, however, will most likely have Mi-shil's strong impression in mind when seeing the film.
"Getting to know these interesting actresses was so fun that it was a shame to witness it alone," according to director Lee Jae-yong, who says that watching their unfiltered talk unfold in the movie was incredibly entertaining. It makes one think of would happen if all six ladies appeared together on Murupak Dosa, where Yoon Yeo-jung, Lee Mi-sook, and Go Hyun-jung give cool smiles as their fast-flying conversation progresses, like one peppered with an excess of joking.
Murupak Dosa is a variety program hosted by comedian Kang Ho-dong, where stars come on and are interviewed in an intimate setting, one-on-one with the host. The title refers to a type of spiritual guide (Kang dresses up as one), and the guests typically sit back in a traditional stance on one's knees. Hence "murupak" (kneeling) and "dosa" (spiritual guide).
For a while, Choi Ji-woo's image has lost its liveliness, having been turned into a static stuffed animal representing "Hallyu star" and "Ji-woo-hime." She strips away the prejudices of herself as a famous actress and shows a side more lovable than in any of her movies. Compared to her sunbaes, Kim Min-hee and Kim Ok-bin are given lesser focus, but they balance out the drama and do their parts.

Neither 100% fiction nor 100% documentary, Actresses uses director Lee Jae-yong's script as its base, supplemented by dialogue and opinions that come out of each actress's personal experiences. In the conflict of the latter half and the scenes where everyone confides their true thoughts with each other, it becomes particularly difficult to distinguish between reality and the movie. Go Hyun-jung's retort "Have you seen how I live?" is particularly striking, giving the impression that these are words that all actresses would like to ask the world. The moment we watch 23-year-old Kim Ok-bin and 63-year-old Yoon Yeo-jung smoking together resounds with a curious echo. Thus Actresses makes us feel close yet far to these actresses whom we love yet also hate, and may be the first film to draw out not truth nor admiration, but understanding.
Via Hankook Ilbo, 10 Asia
RELATED POSTS
Tags: Choi Ji-woo, Go Hyun-jung, Kim Min-hee, Kim Ok-bin, Lee Mi-sook, Yoon Yeo-jung