City Hall: Episode 14
(written by samsooki, intelligence and wisdom provided by 0timelost and cleown)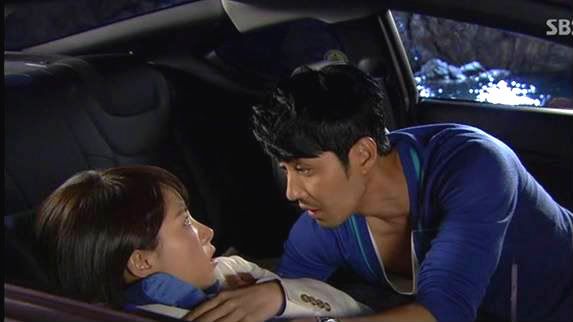 Episode 14 – The Kiss.
The buildup of this moment has encompassed more than a dozen episodes, and has included a ravishing but fake kiss outside of the Mexico and the Chicken Restaurant and the oh-so-close near-miss in a camping tent.
Jo Gook has finally got Mi Rae in a compromising position. And to top it off, he has pulled out his trump card, the so-called "Body Contract" whereby he was given the rights to Mi Rae's various body parts. Mi Rae's face says, "Samsooki was right all along! You ARE the guy that my mom warned me against!" (What did you expect? Maybe you thought Jo Gook was going to write you poems and make you a mix-tape of k-drama OST ballads to express his true feelings??)
But Jo Gook acts the tease, stating his intention was merely to see that she gets some sleep. Disappointed, plenty hot and bothered, Mi Rae doesn't know what to believe. She tries to get up, her patience now testy as what she thought was going to happen, didn't happen. Jo Gook responds by asking her an interesting question:
Jo Gook: By any chance, have you ever had the occasion to slap a guy at wee hours of the morning?

Mi Rae (confused): …What?

Jo Gook: Will a 36-year old woman cry and bawl if a man ravishes her?
His questions asked, Jo Gook attempts to find his own answers. He quickly kisses her lightly on the lips. Jo Gook recoils to await a slap, but Mi Rae just looks at Jo Gook with very wide eyes.
Jo Gook: Mmm… not enough to warrant a slap? Okay. I am going to do something now that will deserve a slap…
With all due apologies to Princess Bride, since the invention of the k-drama kiss, there have been five kisses that were rated the most passionate, the most pure. This one left them all behind. It is time to talk about The Kiss, mostly because I can't wait until the comments section.
The Kiss.
I've never seen a kiss like The Kiss in the k-drama world. Most k-drama kisses are weak, tongue-less and with less suction than a clogged handheld vacuum running low on battery power. K-drama kisses can often times be near-misnomers, because they are often more like grade school pecks on the cheek. Even more infuriating, sometimes the guy doing the kissing is awkwardly trying to hug a limp and flaccid girl who has her lips sealed tighter than radiator release valve in an overheated car stuck on 5 Freeway during rush hour in downtown LA. THIS, my friends, is how you do a kiss.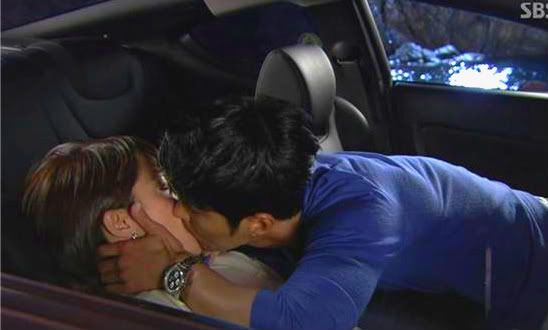 It helps that Jo Gook is a man's man, not a mere boy pussy-footing his way around, and so an otherwise potentially awkward moment is turned into hot, steamy and romantic event. The Kiss goes on and on, and on and on, into the night.
Morning comes, and Mi Rae is still fast asleep in Jo Gook's car; after what turned out to be a very exciting night, Mi Rae apparently needs the few hours of rest. The scene that follows, with Jo Gook watching Mi Rae sleep and keeping the sun off of her placid face (played entirely to the dulcet and heart-pulling notes of Park Sang Woo's ballad, "Loving You, Loving You." is just magical.
Park Wang Woo's lyrics during the musical montage scene:
I must be in love with you,
Because I can see only you
And all day long you wander through my mind.

I must be in love with you,
But my heart is still not familiar with you.
Wherever am I, whatever I do,
Thoughts of you come to me
I don't know why, but this is love.

When you laugh, I am also happy and begin to smile
Like a child lost in his dream, I adore you to my heart's content.
When I see you sad, my world crashes around me,
But you don't know these feelings of mine.
Ahh, love. Jo Gook loves Mi Rae. Mi Rae loves Jo Gook. Contented *sigh*
Not everybody has such a relationship, however. Jung Do figures out that it was his very shady wife, Joo Hwa, who leaked the news about the City Hall relocation project to the landowners. The landowners, thus incited, ended up going to City Hall to assault Mi Rae (can Joo Hwa do anything but commit felonies of varying levels of severity?) Jung Do has had enough. He drags her out of a meeting where she is trying to bribe another lawmaker and tells her that it is over. He will draw up the divorce papers, and all she has to do is sign them herself or send a lawyer to do it.
Back at Jo Gook's passion-mobile, Mi Rae has awoken and it is time for her to get cleaned up for another day. Referring to her apparent path to victory with respect to the City Hall relocation, Jo Gook gives her another piece of advice seems straight from Sun Tzu's playbook – allow your enemies to discover your Plan A, and while they are attempting to stop it, hit them with Plan B.
Mi Rae is impressed and more than a little touched by the care that Jo Gook has shown towards her, but she wouldn't be Mi Rae if she didn't do more than play the helpless damsel in distress. Mi Rae replies that actually, she is the one who is worried about Jo Gook.
Mi Rae: How can a person win all the time? "You should win on the righteous things, and you should lose on the unjust things." That's how I plan on living my life.
What a wonderful principle to live by, and not just for the political arena. But what is fascinating is that it is obvious that Jo Gook has never considered this principle before, and has lived his life assuming that it is better to be the winner than it is to be right. After all, if you are the winner, you can always change your mind later, but it only matters if you win first. In a post-modern world, where the ends justify the means, Mi Rae's words just don't seem relevant.
And yet, maybe Jo Gook is starting to learn that it is at least as important being right as it is being the winner. After all, we can see him doing and saying things that he has never said before. But "starting to learn" isn't the same thing as knowing, and Jo Gook's response to Mi Rae reveals that he isn't quite there yet.
Jo Gook: And what if that opponent is me? If the opponent on a righteous issue is me, what would you do then?
If it were me, I would answer that with a question of my own: "What if Mi Rae is the opponent, on the side of what is decent, what is right. What would YOU, Jo Gook, man among boys, do then?"
Finally at City Hall, Mayor Shin "the Hammer" Mi Rae presents the evidence she found the night before to her last three opponents in City Hall: deputy Mayor, the secretariat and Council Member Min "the Nail" Joo Hwa.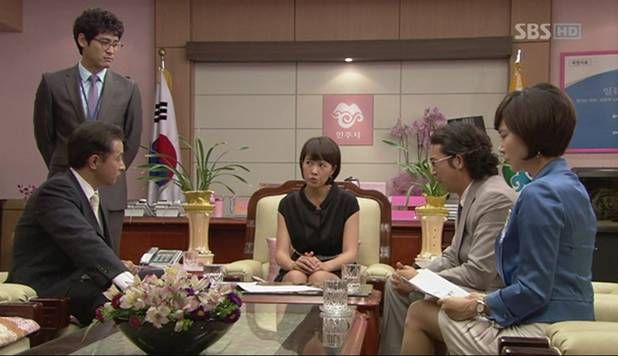 The official documents that approved the relocation project were never signed by the Mayor, rather, the secretariat forged the last Mayor's signature. The relocation project is now dead. Mi Rae plans a municipal hospital to take the place, and Joo Hwa looks like she might need to check into that hospital.
While Mi Rae has things locked up in City Hall, Candidate #5 Jo Gook is well on his way as well.
Jo Gook gives a rousing speech about improving the lives of the citizens, a speech that is steeped in getting people to change the way they think about their lives, to accept responsibility for what fate has thrown them – and to take the first step in betterment by voting for change, vote for Jo Gook! A vote for Jo Gook is a vote for change! Yes we can! Rawr!
Woah, who is that cutie in the audience?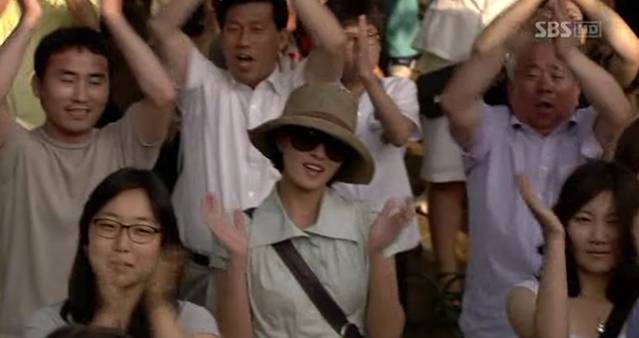 Yes, that's Mayor Mi Rae, going in cognito and keeping an eye on her secret boyfriend Candidate #5. Jo Gook has indeed spotted Mi Rae, and before Mi Rae can make a getaway, he meets her and grabs another smooch without permission. Mi Rae again looks surprised. Why is he so open with his affection toward her now. Are they really a couple now?
Jo Gook: Hey, that was not my fault!

Mi Rae: …

Jo Gook: What kind of a woman goes around turning men into jello just by being in front of them!
Mi Rae acknowledges the compliment from the Dashing One, but by the look on her face, she isn't buying it completely. A person who has been put down all her life cannot so easily take compliments, and her awkwardness shows plainly.
And yet it is incredibly ironic that she acts this way. Mi Rae has in fact turned EVERY SINGLE man she has met so far into mush (one way or another), and she really has no idea how truly attractive and charming she really is. Jo Gook has figured it out though. He is living the dream. He has his very own jello-maker and gets to have his jello too.
Meanwhile, Jo Gook's mom has been looking into purchasing a florist shop in Inju City to restart her life, and unexpectedly, she runs into a blast from the past.
How does she know the Chairman of the City Council of Inju City? It seems that the Chairman knows who she is, and knows that Jo Gook is her son. It would be a classic cliché if it turns out that the Chairman and Jo Gook's mom were former lovers, but by the look of the Chairman, that doesn't seem to be the case.
Jo Gook's mom: I had always thought that if I ever would get the chance to you again, I would tell you how thankful I was… but now my words seem a bit stale.
What could it be? Did he save her life? Does she have some dark secret and only the Chairman knows about it? Could Jo Gook have a happy-go-lucky, devil-may-care twin who was raised in an orphanage, and now in the fashion business, out there somewhere? Nah, that would be stupid…right?
Just on the other side of the park, three destitute bums lounge on a couple of park benches. Isn't there a vagrancy law in Inju City?
It serves them right too. You guys remember this? I've not forgotten.
This kind of thing makes me so angry, but I am calm, calm, calm…. Happy thoughts, happy thoughts, Mi Rae winning the election, Mi Rae and Jo Gook holding hands… okay, better.
Anyway, Mi Rae has reached out to these former Director bums, inviting them to come back and even taking them out to lunch. The Directors are overwhelmed by Mi Rae's generosity and lack of malice. The size of Mi Rae's heart must be as big as Inju City, to forgive those who have wronged her so, but an interesting side-effect is that this inherent characteristic is the only thing that works to change the hearts and minds of her former enemies. Maybe instead of City Hall, this drama should have been called "You're Beautiful." I digress…
Not only does Mi Rae mend fences, but she paints them too. And for her new boyfriend / National Assembly Candidate #5, she can also leave presents on fences. Mi Rae drops off a care package with a lovey-note to call for tips on how to win elections.
But even as Jo Gook grins on the outside, I wonder if he recognizes implicitly what he is holding. He is holding a set of juice boxes covered with more than dozen hearts. In other words, Jo Gook, if you haven't figured it out yet – you just made a woman fall in love with you. And lest you forget, you still have a fiancé…
Jo Gook is smiling all the way to the election. His poll numbers have sky-rocketed as Inju City's women have flocked to see this tall, dark and handsome candidate with the golden tongue. The papers have Jo Gook inching toward the top of the polls, despite not having a political party backing him.
Fresh from the campaign trail and taking a break for some lunch with his campaign volunteers, Jo Gook stares longingly at his favorite mayor's picture on a wall.
Jo Gook's campaign manager and former back-stabber Soo In gives his mentor and boss a knowing stare in return. This scene included for the sake of Soo In. It has been too long since he appeared in a recap.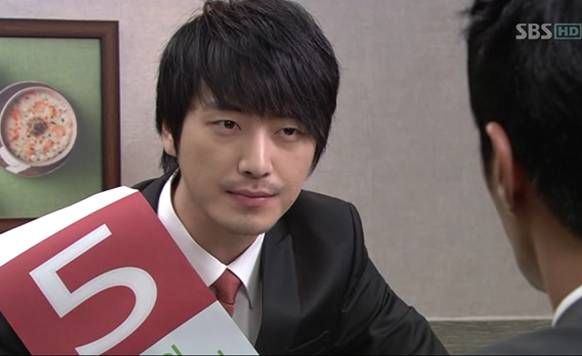 Later that evening, Mi Rae and Jo Gook meet up at their hotel room to have dinner, to continue Mi Rae's lessons with respect to municipal governance, and even for Jo Gook to pick up more things that he can use for his own campaign. In all respects, this is not a one-sided relationship but something that is based on respect and mutual affection for their respective attractive qualities. Still, Mi Rae has her concerns and raises them.
Mi Rae: You're a player.

Jo Gook: Me?

Mi Rae: That's what you have been.

Jo Gook: You think this is an affair we are having right now?

Mi Rae: Isn't it?

Jo Gook: No, this is a typhoon I am in.
(Quick explanation: To have an affair, in Korean, is based off the word "breeze," taking the fickle and wanton qualities of wind that blows neither steady or in the same direction all the time. Jo Gook is saying that he isn't like a breeze, but in fact he is caught in a typhoon. It is an admission of love, and it stuns Mi Rae to hear it. As much as a person can hope and even believe that it is true, to hear the admission that another person loves you, can be shocking.)
Jo Gook: My house, my car, everything I own might end up being blown away. And I don't even know whether I might also be blown away in the end. I should escape, I know it is dangerous, and I knew I should, but in the end I couldn't. In front of a breeze, I can stand it, but in front of a typhoon, I am helpless. And I didn't know it until now.
This look that Mi Rae is giving to Jo Gook, we've seen it before. It is the same look that she gives when she realizes she can help. Mi Rae is now saying, on the inside, "It's okay. I am here now, and I will make it all better. Don't be afraid, and just hang on to me. I will protect you."
Mi Rae's very nature is to protect and to nurture those who aren't able to care for themselves, even if it costs her. If Jo Gook is playing her, then he just hit the jackpot. If Jo Gook is being honest, then he just won Mi Rae's heart for sure.
At that moment, Jo Gook goes to answer the door, and a man with a camera storms the hotel room, snapping pictures as he goes. This is a nightmare for both Candidate Jo Gook and for Mayor Mi Rae.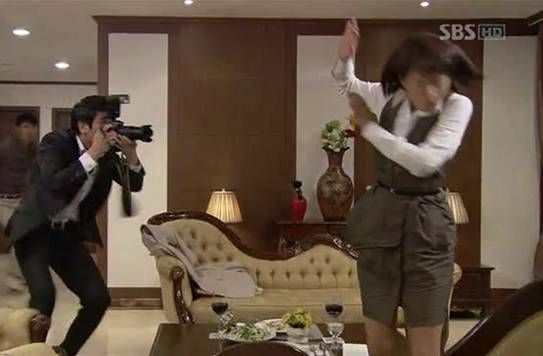 This slimy reporter has got his hands on a bomb that can explode two careers and take Mi Rae down. Who sent this guy? Was it Joo Hwa trying to ruin Mi Rae? Was it one of the political candidates in the National Assembly race? Who is paying this slimeball? Jo Gook is unable to force it out of him and with the prospect of other pictures being leaked, Jo Gook has to let him go, warning the reporter though, that if the reporter messes with Mi Rae even a little bit, Jo Gook will kill him.
Jo Gook drives Mi Rae home, and now is the time to prepare possible damage control. Jo Gook tells Mi Rae that if anyone asks about their relationship, to answer, "there is no relationship between him and me." Mi Rae is stunned for a second, before the realization of their predicament sinks in. She agrees.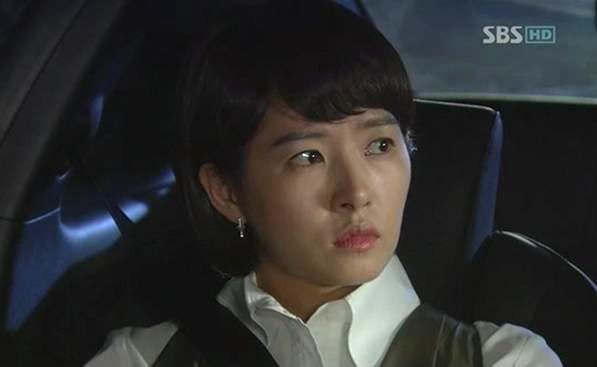 Mi Rae: Have a safe trip home.
Then as Mi Rae leaves the car, heartbroken, Jo Gook rushes out of the car and grabs Mi Rae. But this time Mi Rae just stands there, with her arms at her sides. She simply cannot hug this man who denies there is anything between them.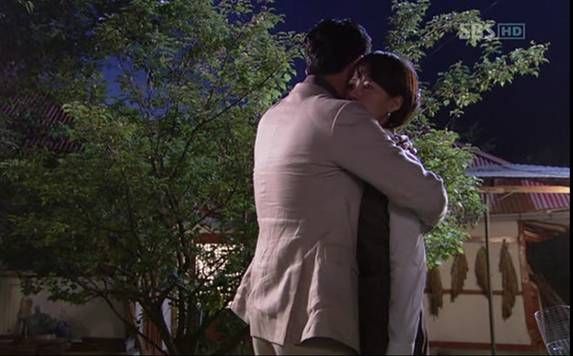 Jo Gook: You must remember. "There is no relationship between him and me."
Then something unexpected happens, even with Jo Gook continuing to remind Mi Rae that their relationship is likely to fail. Mi Rae drops her bag and hugs Jo Gook tightly. Overcoming her own sorrow and sense of worthlessless, all Mi Rae knows that Jo Gook is hurting, and even if it means that she hurts more, she must protect and nurture; it is who she is.
I'm not sure how I feel about Jo Gook. Really, this is all his fault, because of Jo Gook's political ambitions. What exactly you are regretting? That you are too ambitious, that you fell in love with Mi Rae, or are you just regretting that you got caught?
The next day, we see who the reporter was angling for. Aha. Sleeze-ball reporter was "only" in it for the money, trying to shake-down the billionaire Go Go Hae with photos of her wayward fiancé. At least he aims high. I'm glad he's not trying to give it to Joo Hwa.
But Go Hae looks bored and not impressed, even though the reporter looks like he is already counting his jackpot money. I LOVE the acting in this scene. Go Hae looks like she would rather eat second-hand food in a soup kitchen than be forced to have to deal with his kind of low class piece of turd. And the sleezy reporter is so slimy, after watching this episode, I had to use baby wipes to clean off the slime off my monitor.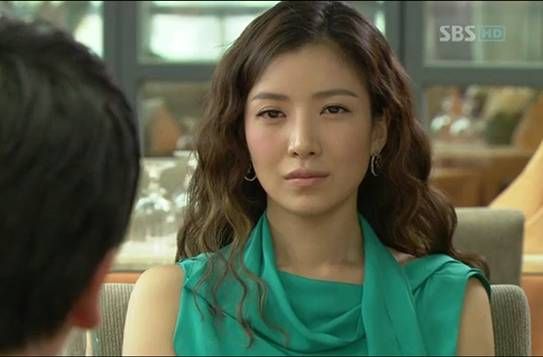 Go Hae is no fool though. Expertly, brilliantly, magnificently, she handles the reporter. Ice-cold, without blinking and totally in control, she tells the reporter to continue taking pictures, and to talk again after the election. Why would she pay for pictures of a mere candidate who hasn't won anything yet? It is so perfect. Out of his league, the reporter is put in his place with absolutely zero leverage on Go Hae. The reporter looks like someone stole his lunch money. The lesson to be learned – there is always someone smarter than you.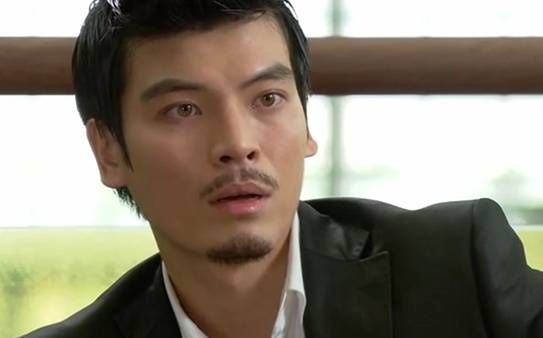 This reporter had his milkshake drank by Go Hae.
You really have to give Go Hae her props. She is one tough and beautiful and elegant lady. A winner-take-all battle between Go Hae and Mi Rae is looming, and with Go Hae's diamond self-control and native intelligence, plus her billions, plus BB in her pocket, how can Mi Rae stand a chance?
Finally, the National Assembly election campaign's end is approaching for all the candidates, and all of them are out in Inju City, rallying their troops and making speeches. In a strange confluence of events, Jo Gook's campaign and the campaign of the other candidates seem to all run into one another, and it is a mass media event for all the candidates… until a certain BB shows up.
Jo Gook turns about as pale as he can get, as hew sees the king-maker himself walking on the streets of Inju City, walking toward him. You could knock Jo Gook over with a feather.
BB: It's been a while, hasn't it? I came here because of you. Let's have a hug.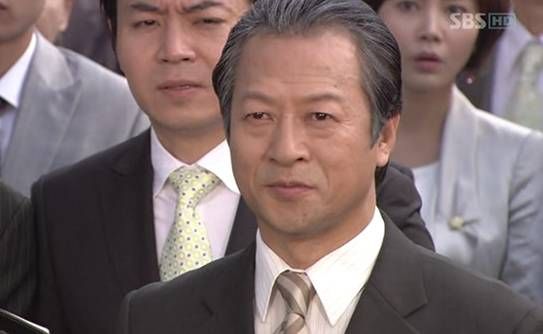 Facing the reporters, BB comes right out in support of Jo Gook, calling him good fortune for Inju City. The shock/dismay on all the other candidates' faces is immediate, but Jo Gook isn't the least bit happy with this powerful endorsement. You can see Jo Gook's mind racing a mile a minute. Why now? Why come to Inju City now? What is BB's plan?
BB and Jo Gook have their tête-à-tête at a tea house. The conversation is accusatory and pregnant with meaning.
BB: Did you receive what you wanted, after ditching me and coming down to Inju City? That is what I am asking.

Jo Gook: As a matter of fact, I did. This is the first time since I was born that you actually came down to see me.

BB: Why would you say that this is the first time? It seems you have forgotten, but a while back I came too.

Jo Gook: But that wasn't to see me. You came so that you wouldn't have to see me again.

BB: I guess you could see it that way… but what can I say, I really didn't come here to see you today either.
Warning warning! I have warning bells ringing in my ears, and sure enough, there is a knock on the door, and a woman enters… Oh noes…. Jo Gook and Mi Rae are both absolutely floored in seeing the other.
Mi Rae, meet the most powerful (and cold-blooded) man in Korean politics…. BB!
Comments –
OMG, what a fantastic episode! I LOVE THE ENDING SEQUENCE. The dialogue between BB and Jo Gook was really great, and special props have to go to Choi Il Hwa, who played the role of BB. If you took a very intelligent human being, got rid of any semblance of morality or sense of goodness, then you would have BB. He isn't evil per se, he is just so amoral, so centered on only his goals…. he just is soooo not what you would want in a father-in-law (the best I can do to describe him). This ending sequence is so perfect! It makes your heart flutter, it makes you sit uncomfortably in your chair and you shift back and forth. It makes you squeal in delight, groan in agony and scream mortal threats that the producers would dare leave you hanging like this.
I don't have any more comments other than I LOVE THIS EPISODE.
I mean, what more can you ask out of a drama? Seriously. Ask yourselves this question: when you first saw this episode and gasped at the ending, did you want to knock yourself into a coma that lasted a week, so that you could wake up and immediately watch the next episode without any delay? What time was it when you finally calmed down enough to go to sleep? Was it 1 a.m. when you were ready to finally get off the computer, but still in awe of the most kick-ass ending for the most kick-ass episode of an already kick-ass drama series? Was it 2 a.m. when you found yourself still dreaming about The Kiss? What a wonderful episode!
What to watch for in this Episode?
What to watch for? Everything? But here are some notables:
1. The Kiss.
2. The best episode ending sequence of this series thus far.
3. A Soo-In sighting (yay).
4. Mi Rae forgiving and then recruiting her former enemies to her side.
5. Go Hae turning a slimeball reporter into a butterball.
6. Boo Mi giving waaaaay too much information about her nights of passion in the marital bed.
7. Jo Gook admitting his love for Mi Rae.
8. Jo Gook's mom mysterious savior in the City Council Chairman.
9. Passion, hope, love, and then…. disaster.
From this point on, there is no point in trying to breathe. If you think these episodes were good, you've REALLY gotta see what is to come…
On To Episode 15!
RELATED POSTS
Tags: Cha Seung-won, City Hall, Kim Sun-ah