Finding hidden gems and lumps of coal in 2009 [Year in Review, Part 5]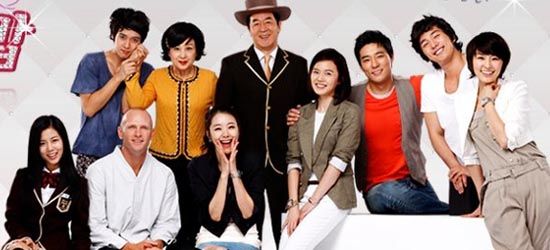 First, I'd like to start by thanking Sarah for inviting me to be a guest reviewer. I must admit that I was, at first, a bit daunted (okay, scared ****less would be more precise), but how else could I begin to pay a little back to those who have given me so much? I'm neither a blogger nor a writer, but I am an avid fan of kdramas (possibly, too avid), as well as Javabeans' blog, and these past few years have been brighter and better because I get to come here, my home away from home, each and every day. Good company makes for good times. It truly is an honor to be included with the likes of Dahee, Thundie, JB…and, yes, even Samsooki 😉 .
Overall, I'd say 2009 had more to offer than the kdrama drought of the previous year, but as I watched more than 20 of this year's fare (plus several more that I dropped midway), I found myself becoming increasingly…..well, grumpy. Usually, I tend to finish dramas that I start, I don't have many expectations from dramas when they begin because I never know how they will affect me personally, and I don't easily succumb to boredom…so what could've caused the permanent indentation on my forehead [from all the headdesking]?
Could it have been the number of daily dramas I was so easily suck[er]ed into watching due to fangirliness and the prospect of shared ogling and squeeing with friends (I haven't forgotten who recommended those dramas to me, mind you!)? Had my tastes changed so drastically since reaching triple-digits for total dramas watched over the years? Or was I simply turning into one of those persnickety old ajummas with rapidly decreasing patience for idiocy? I'm sure it's a combination of all that, along with an increased appreciation for solid writing, directing, and acting.
Then towards the end of the year, just when I thought I could not endure any more squama frontalis abuse, I finally watched Kwak Jung Hwan's 2007 masterpiece, Conspiracy In The Court. It had always been a part of my Horn of Plenty (my ever-increasing list of dramas to watch), but it wasn't until this mind-blowing experience that I finally realized why I had been drawn to the underrated gems of 2009 while being left unmoved by those that brought in the big ratings.
SONG OF THE DAY
Conspiracy in the Court OST – "Parallel Lines (평행선)" by JK Kim Dong-wook (Because this is just an awesome song, covered in a decadent awesome sauce with whipped cream and a cherry on top.)
[ Download ]
Audio clip: Adobe Flash Player (version 9 or above) is required to play this audio clip. Download the latest version here. You also need to have JavaScript enabled in your browser.
So let's begin with the daily dramas, shall we? They really do have to be taken with a grain mountain of salt. Don't forget to turn your brain off at the door, and barricade yourself with some nice, soft cushions to lessen the blow from the oncoming barrage of drama clichés and caricatures.
I LOVE YOU, DON'T CRY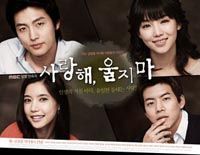 (or as I like to call it – "I love you, and someone's going to end up crying…a lot" and that someone was usually me [from the sheer torture])
Oh, Lee Jung Jin…this was your follow-up to Two Outs In The Bottom Of The Ninth? Lee Yu Ri was decent, Kim Jin Seong as little Jun was adorable (especially with that puppy). The second female lead deserved much more slapping than she dished out. Veteran Lee Soon Jae was his usual great self, but Kim Mi Kyung, whom I normally love, annoyed me to no end, as did Kang Boo Ja (who played LYR's grandmother) and her circus make-up…for the entire 132-episode run.
THE ROAD HOME

(a.k.a. The Road Sure Was Long, Winding, and Torturous…so I took a left turn at Albuquerque and moved on)
I'm not ashamed to admit it. I watched this for Lee Sang Woo (and a group of kdrama-watching buddies). He's no thespian, and he really does look like chipmunk (although, we'd affectionately named him hamster boy long ago), but everyone's entitled to a little eye-candy now and then, right? This drama boasted some great veteran names (most daily dramas do), but it was the younger cast that had me running for the hills. Jang Shin Young was insipid and had little chemistry with Lee Sang Woo, and it wasn't till far into the drama that I realized she was the actress I was so annoyed with in Rebirth-Next. Park Hye Won (Time Between Dog and Wolf) and Otani Ryohei (Soulmate) were cute, but I didn't stick around long enough to see where their relationship went.
Yoon Sang Hyun was slated to play Lee Sang Woo's older brother (which later went to Shim Hyun Tak), but it's a good thing, for his career, that he ended up in Queen of Housewives, instead.
DON'T HESITATE

(a.k.a. Don't worry about missing any of the drama because there'll be more than enough flashbacks of what just happened five minutes ago, every two minutes!)
Another Lee Sang Woo drama (I was lured in by fanservice and the promises of my buddies – again!) Except, instead of family birth secrets, this one has the dreaded…..dum, dum, dum-dum…AMNESIA! And not just your ordinary amnesia, mind you…nor the initial amnesia followed by the second amnesia of the memories you accumulated during the first bout of amnesia – oh, no sir-ee…this one is 'selective amnesia' of all memories pertaining to the boyfriend who slept with your best friend (resulting in a child) and whose life you saved by donating part of your liver! Then, post-surgery, you go into a coma from the shock of it all, wake up three years later, and start working at the company where said lily-livered (pun intended!) ex-boyfriend works. You fall in love with your supervisor (Lee Sang Woo), who just happens to be the childhood friend of said ex-bf and his sister, who is also in love with the aforementioned supervisor. (What happened, Kim Young Jae? You were so adorable in My Sweet Seoul!) Oh, and you don't remember your backstabbing best friend, either, and she just happens to be the first love of…..yeah, you guessed it -> your supervisor! OMG, kill me now!!!
I've fallen behind on watching this drama, but now that I've gone over its, er, finer points…I've realized that I won't be picking it back up anytime soon.
EVERYBODY CHA CHA CHA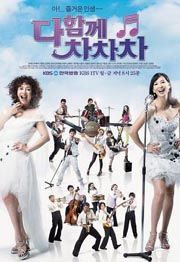 I don't know why they named it thus, except to torture us with that annoying theme song at the beginning of every episode (and after marathoning the first 40 episodes, I'd rather have listened to a cat singing a Tom Waits song while on acid). Oh Man Seok, who also gets my vote for Biggest Waste of Talent, is criminally underutilized. I don't know how or why he ended up here, but the only thing that got me through much of this drama was trading snarks with Dahee. (Thank you, dear!) When they extended the drama to 150 episodes, I just about cracked my skull open as it came crashing down on the desk. Now, if only Oh Man Seok would sing a little bit more…or not wear such god-awful clothes, it would make the journey just a tiny bit more bearable. Oh, who am I kidding?! But I made a vow to finish this drama, and by golly, I will finish it!…someday?
Now, with all the headdesking I endure while watching daily dramas, you may wonder why I subject myself to such misery. In all honesty, I don't really know, either. I only started watching daily dramas last year (except for one in 2006). Sometimes, it can be quite enjoyable watching a drama that's so BAD that it's so much fun to mock it with one's friends. And other times, you just want to see the main couple overcome their trials and tribulations to finally BE TOGETHER.
ENJOY LIFE / LET'S NOT DIVORCE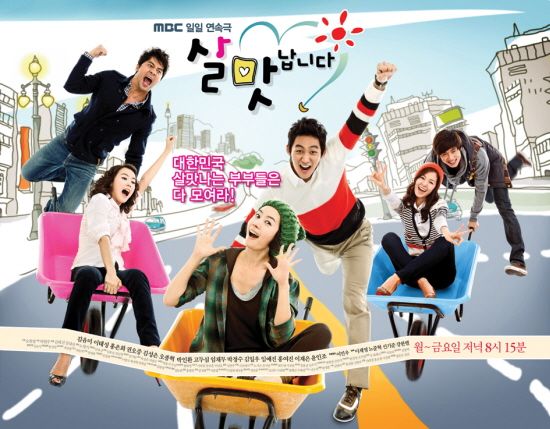 I checked out this daily drama when it first started airing because of Lee Tae Sung (Two Outs In The Bottom Of The Ninth, Time Between Dog and Wolf, Romance Zero). Hong Min Soo (Kim Yoo Mi) and Jang Yoo Jin's (Lee Tae Sung) noona-dongsaeng romance (she's 35; he's 29) is surprisingly sweet. What starts off as one-night stand turns into something much deeper, as Yoo Jin does his best to woo Min Soo – braving precarious heights while the entire neighborhood watches, to propose to her outside her window, and serenading her with a piano tune (and lovely singing, btw).
Go Doo Shim and Park In Hwan play Min Soo's parents and are still happily married after 35+ years. Park Jung Soo and Im Chae Moo (last seen together in My Life's Golden Age, in completely different roles) play Yoo Jin's parents. Jang In Shik (Im Chae Moo) is an abusive, chauvinistic brute. Sometimes, I get the urge to strangle him with his own golf clubs, but I read a synopsis in which his wife finally leaves him after some of Min Soo's independence and strength rubs off on her, so I'm holding out hope that he'll be getting his comeuppance soon.
Okay, it does sound like almost any other daily drama, but I'm a sucker for romance. Here, I'm drawn to main couple…I'm invested, and I want to see them make a success of their marriage. It's not going to win any awards (remember, it's a daily drama), but it's entertaining enough for me. Can I have my happy ending now?
BOYS OVER FLOWERS & YOU'RE BEAUTIFUL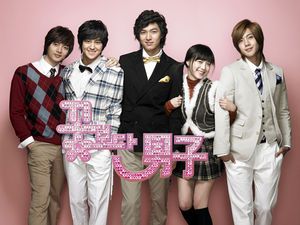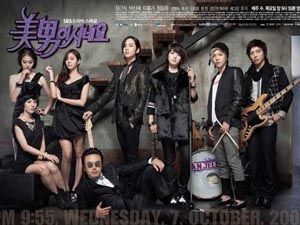 Two trendy teen dramas. Both with avid crazed followings. Both overrated. But why was my experience with one so different from the other?
When BOF aired earlier in the year, I, too, got swept up in the mania…to some degree. I wasn't crack-addicted, but I did tune in every Monday & Tuesday. Since it was the only one among its competitors I was watching at the time, it was the first drama I downloaded and watched on those days, and I was eager to do so. The writing, directing, and music left so much to be desired, and my head knew this wasn't going to be the drama of the year – far from it, in fact…but my heart was invested. I even kept up with the faster-than-a-speeding-bullet soompi thread (and survived with my vision still intact!).
I was impressed by Lee Min Ho's performance. He's got natural talent and it shone. Gu Hye Sun wasn't at her finest, but she didn't bother me, either. Lee Hye Young, Jung Ho Bin, and Kim Young Ok's performances deserve to be mentioned as well.
What about YB, you ask? I am fan of the Hong sisters. Hong Gil Dong is my favorite among their works. (sidenote: Samsooki, although you may continue to live the rest of your days in utter and complete delusion, Kang Ji Hwan is first JB's, then mine…and if you're very well-behaved, you may get visitation rights when baby Ji Hoon is old enough to chaperone you. 😛 )
I was entertained, and sometimes amused…but I never caught that "it" feeling from YB. You know, the one that makes you rush home from work, ignore your spouse, dinner, and anything else that gets in your way…just to feed your current crack-addiction. I had other dramas queued up for watching first, I didn't go near any YB threads (except to read JB's excellent recaps), and I never felt fully invested in the drama. While Jang Geun Suk's performance awed many most, I was always cognizant of his "acting". He does have natural talent, but I have yet to see him make the most of it in his adult roles.
To sum it all up: Did I regret watching either drama? No. Would I rewatch either of them? BOF – no. YB – yeah, maybe…but not anytime soon. (If you need to reach me, I'll be hiding behind Dahee, ducking from the burning pitchforks thrown my way.)
HIDDEN GEMS
THAT FOOL / THE ACCIDENTAL COUPLE

That Fool OST – "길" (Dong-baek's theme) by Choi Chul-ho [ Download ]
Audio clip: Adobe Flash Player (version 9 or above) is required to play this audio clip. Download the latest version here. You also need to have JavaScript enabled in your browser.
This is considered a gem in my book because it is where I discovered the sublime brilliance that is Hwang Jung Min. Prior to watching this drama, I had only seen him in the movie, A Bittersweet Life. Could this be the same actor that played such a ruthless villain? It most certainly was. Hwang Jung Min immersed himself into this role so completely that the actor disappeared and what was left was 100% Gu Dong Baek. He elevated what would have been another forgettable show, into a jewel of a heartwarming, feel-good drama.
And don't let the title mislead you – Gu Dong Baek was certainly no fool. He chose to view the world his way, following his own moral compass of goodness and sincerity. His genuine heart infected all those around him, including me.
Also, not to be missed is Hwang Jung Min's bromance with Baek Sung Hyun. I certainly look forward to their reunion in the upcoming movie, Like The Moon Escaping From The Clouds.
ASSORTED GEMS / JEWEL BIBIMBAP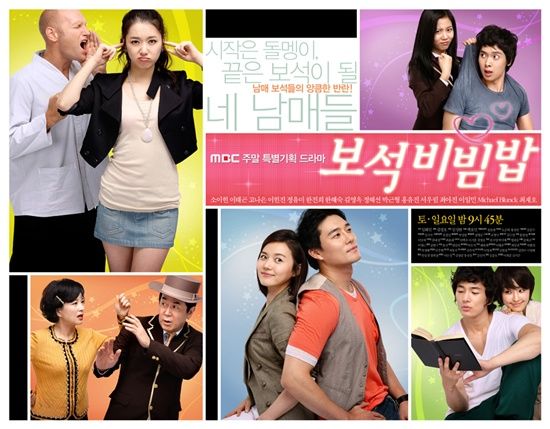 Assorted Gems OST – "Tell Me" by KCM [ Download ]
Audio clip: Adobe Flash Player (version 9 or above) is required to play this audio clip. Download the latest version here. You also need to have JavaScript enabled in your browser.
Unlike the other weekend dramas I began watching around the same time (Yes, I'm talking about you, Creating Destiny, Loving You A Thousand Times, and Smile, You), this one left me with not a single urge to fling my head against the nearest hard, flat surface…not one temptation to throw the first object within reach at my precious laptop screen…nor the desire to jump into the drama to strangle the nearest annoying character. (It happened just as my state of grumpiness was reaching its all-time high, so this was certainly no easy feat.) This is what good writing and a talented ensemble cast can do. The writer, Im Sung Han, who was previously known for her makjang-ish dramas chock-full of histrionics, decided to stay far away from those elements this time around. The result? A well-written, solid weekend drama…and it gets my vote for Best Family Drama. It started out with dismal ratings, but they have steadily increased over time, like the tortoise that quietly keeps chugging along in the race against hare.
The Goong children, Go Na Eun (Bi Chwi -> jade), So Yi Hyun (Ruby), Lee Hyun Jin (San Ho -> coral), and Lee Il Min (Ho Bak -> amber) have a special relationship with each other. Bi Chwi is mother hen of the brood, willing to sacrifice herself for the sake of her siblings (like any normal Korean mother would). She and Ruby are especially close. They are each other's sounding boards – yes, they confide, they confer…they think. Forced to take on the role of the adults in the family because of their own parents' continual mishaps (Dad's a philanderer & Mom's a gambler – played by veteran actors, Han Jin Hee and Han Hye Sook, respectively.), the Goong children must, time and time again, pick up the pieces of the messes their parents leave behind. Finally, once the last straw has broken the camel's back, they band together to preserve and protect what's left of their sanity, as well as their own physical well-being, and decide send their parents packing. It may sound harsh on the surface, but it is handled in a mature, realistic fashion. The immature, selfish "parents" are sent to live with the grandmothers, who are also deliciously flawed in their own right.
Kim Young Ok as the paternal grandmother, Gyul Myung Ja is FAB-U-LOUS (and gets my vote for Best Supporting Actress). Her name may mean cassia flower seed, but she's anything but fragrant and flowery. She's got the tongue of a sailor and the strength to match. (I sooo want to be like her when I'm old/gray[er]. 😀 )
Jung Hye Sun is the maternal grandmother, Baek Jo, which means swan in Korean. She's a prima donna with a penchant for home shopping.
Together, these two make up the Best Odd Couple. They are each other's neighbors, nemeses, and confidantes. They get into ridiculously hilarious brawls, rent hanbok (traditional Korean dresses) that look more at home in an amusement park parade or on top of a cake than on any normal Korean, and dance to Brown Eyed Girls' Abracadabra (multiple times!). Need I say more? Well, as hilarious as they both are (their shenanigans seriously make my sides ache whenever I fall into fits laughter), the writer has also ensured that their characters are given more depth than merely being used as comic relief. Neither is relegated to the boring role of "elder who must uphold Confucian values and ensure that order and peace prevail within the family." Aw, hayell no. Each is a living, breathing human being with her own wants and desires.
Newbie actor Michael Blunck plays the Goong family's Buddhist monk-in-training tenant. (An American playing an American – what a novel idea!) His constant squinting as he tries to emote in the early episodes is quite distracting, but his acting does improve as the drama progresses. And I've got to give him mucho props for his Korean. How wonderful is it to have a non-Korean speak Hangeul so well, in addition to his flawless English? Much, much better, say I, than unintelligible English from a European…or a Korean who supposedly studied in the U.S. (Who else, besides me, was forced to read the Hangeul subtitles in Job Well Done in order to understand what Seo Hyo Rim was supposed to be saying in English?) And his character, Kyle Huntington, grows on you. He's a strange amalgam of part – lost little boy, part – neighborhood ajumma.
Lee Tae Gon (Im Sung Han must be a fan because of his because of all the fanservice he gets) plays the other tenant, who develops a romance with Go Na Eun. Theirs is not a teeny-bopper romance. It's a slow-simmering love story between mature adults. It certainly wins for best hug, as well as best hand-holding-near-miss. Other dramas have tried the latter, but none measure up to the one here.
Two more things about this drama, in case you need more reasons to watch it –> 1) FOOD PORN! The dishes aren't fancy, but they remind me of my mother's and grandmother's home cooking. I always find myself extremely hungry while watching these scenes and even craving dishes I didn't really enjoy that much as a child. 2) Fantasy sequences. While YB had my favorite stand-alone fantasy sequence (idol group fanfic), Assorted Gems has the best overall cumulative, well-placed fantasy sequences. (One word of warning, though – recent episodes have been using the fantasy sequences in the previews, but I blame the PD for this bait-and-switch tactic, not the writer.)
So, we've got solid writing, excellent acting, hilarious comedy, a 30-something year-old male Caucasian ajumma, fanservice, romance, food porn, and fantasy sequences. Now, don't you want to try a taste of this Jewel Bibimbap?
KYUNG SOOK, KYUNG SOOK'S FATHER

I had heard early on in the year what a gem this drama was, but I never had a chance to watch it until last week while visiting my family. I had an interesting experience watching this drama with my 98 year-old grandmother and my uncle, both of whom lived through the Korean war. I only know the general stories of their and my parents' experiences during that time, but for most who survived (as well as those who didn't), it wasn't very pleasant. The first thing my uncle said while watching Jung Bo Suk as Kyung Sook's father was, "There really were fathers like that." And that is what this drama is about – a realistic snapshot of what it was like for this particular young girl (played so brilliantly by Shim Eun Kyung) during the war.
True, this drama is not for everyone, but I don't think it is necessary for one to have a Korean background to really appreciate this drama. Just as it isn't necessary for one to be in a similar situation as Willy Loman to understand Death of a Salesman. I bring up the theatre because this drama is an adaptation of a play. I didn't know this fact while watching it, but once I learned of its origin, my reaction to the drama made much more sense. There are plays/movies/dramas you watch purely for entertainment, and there are those you watch for something more – a hard look at human nature. Kyung Sook, Kyung Sook's Father belongs to the latter category. It's not a comfortable watch, but I don't believe it's meant to be. I found myself very uncomfortable whenever Kyung Sook's grandmother (played by Jung Jae Soon) was on the screen. Here was a woman with nary a maternal instinct in her, willing to forgo food for entire family for god only knows how long, just so she could eat chicken on her birthday.
As for the laughter? I didn't find this drama funny at all, but I understood why it would be approached with a dark comedic bent -> because the alternative to laughter…is tears. The comedy wasn't trying to make light of the tragedy. To me, it was merely the way the tragic circumstances of that era could be retold without causing one to fall into an utter and dismal abyss. Again, I think of Alan Cumming's stage performance as the emcee in Cabaret (the musical was set in Berlin in the 1930's during the Nazi's rise to power).
This drama reminds us not to forget what transpired during that harrowing time, but it is also a beautiful peek into the life of a young girl searching for hope…for some way to cope with what life has thrown at her.
FRIEND, OUR LEGEND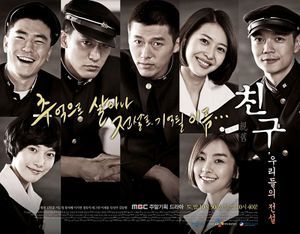 This is the first of three underrated dramas I'm going to mention that didn't get the ratings numbers it deserved (they fluctuated in the 5-10% range) but demonstrated the quality that could be reached when dramas are pre-produced, as in filmed before airing. I watched the film version before I started watching the drama, so I already had an idea of what Kwak Kyung Taek could bring to the drama scene. I didn't have a chance, however, to finish the drama due to time constraints, but from what I did see, I'm confident that this is going to be another hidden gem from 2009. It's currently sitting at the top of my Horn of Plenty list.
TAMNA THE ISLAND

Tamna the Island – "그저 말하고 싶어" (I just want to say) by HowL [ Download ]
Audio clip: Adobe Flash Player (version 9 or above) is required to play this audio clip. Download the latest version here. You also need to have JavaScript enabled in your browser.
This was the little drama that could…and did…..and then got screwed by MBC. It began filming about a year before its first broadcast and had most of its footage completed when the higher-ups (Damn you! Damn you to HAY-YELLLLLLL!!!!!! *shakes fists*) cut its run from 20 to 16 episodes because of dismal ratings (usually in the 5-6% range, nationwide). They had already made a similar cut to Strike Love a few months earlier (which I didn't watch but, by all accounts, heard that the ending was quite unsatisfactory). Would the same fate befall our little pearl of a drama?
I lurve fusion sageuk. Throw in some romance, noteworthy acting, humor, and heart…and, normally, I'm sold faster than tickets to a Hallyu fanmeeting & concert. But like many others, I didn't join Team Islander right away. It took a few episodes to get past the cringe-worthy English scenes and not-so-subtle humor to reach heart of the Island. And this drama had a lot of heart. It wasn't just about an arrogant, city nobleman who falls in love with the plucky island girl. It's about a man who falls in love with, and is forever transformed by, the island itself.
Fortunately, despite some awkward flow, the truncated episodes were still moving and thoroughly entertaining. Im Ju Hwan delivers a breakthrough performance as Park Kyu. And if you didn't clutch your heart or stifle your own cries alongside him in episode 11, then your membership on Team Park Kyu is highly suspect. Seo Woo as the bubbly Beo Jin suited her role well (any complaints with her character would have to be blamed on the writing, not her performance). Kim Mi Kyung as Beo Jin's mom was a joy to watch, and Jung Joo Ri was a hoot. I, for one, can't wait to see the uncut version. Team Park Kyu, FTW!
RETURN OF ILJIMAE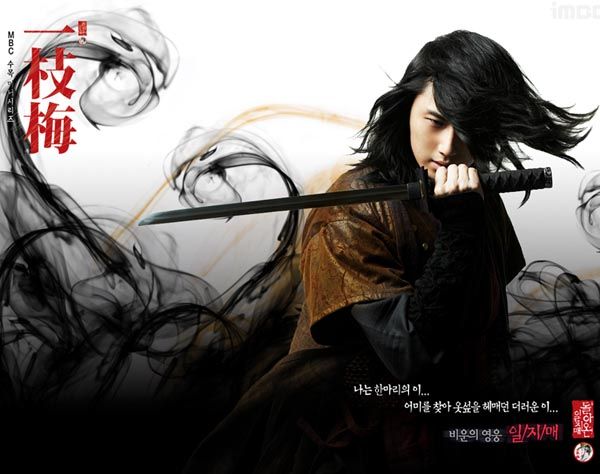 Return of Iljimae OST – "매화가 흐드러진 날" (A day the plum blossoms were beautiful"
[ Download ]
Audio clip: Adobe Flash Player (version 9 or above) is required to play this audio clip. Download the latest version here. You also need to have JavaScript enabled in your browser.
This drama is the third example of the quality that can be achieved when a drama is produced prior to airing. Ratings started at a promising 18%, but gradually declined, reaching around 8% at its finale. But like most, if not all, of my favorites, a drama's ratings is no indicator of quality for me.
There isn't much I can add to Javabeans' eloquent recaps and review of this drama. It was one my favorite ones I watched this year, and it ranks very high in my all-time favorites list. It was simply beautiful in every sense – another fusion sageuk, but one with such exquisite directing that I was often left in awe and amazement. This was a manhwa adaption done right. Hwang In Roi succeeded here, where he failed with Goong. The emotions and longing between the characters permeated through the lens simply by the way a shot was framed.
I loved everything about this drama – the cinematography, score, action, writing, and acting. Jung Il Woo's emotions shone even when all you could see was his eyes behind his black mask. Yoon Jin Seo suited the dual role of Iljimae's two loves: his first love as a boy – Dal Yi, and his lifelong love as a man – Wol Hee. Jung Hye Young and Kim Min Jong were especially moving in their performances, as was the rest of the supporting cast. This one hero's journey from a boy to a man during turbulent times should not be missed.
[And if anyone can direct me to where I can find the song that plays during Iljimae & Wol Hee's reunion in Episode 8 (it's not on the OST), I will be eternally grateful! 😀 ]
A FEW OTHERS THAT WARRANT A BRIEF MENTION
FAMILY HONOR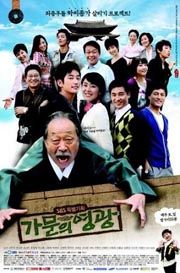 This was another family drama I enjoyed this year. It began in 2008 but aired more than half of its episodes in 2009. It had a lot of warmth and portrayed Korean Confucian values in a way that didn't make me want to commit serious headdesking. In fact, it was quite the opposite. The family relationships were touching, and I found myself having many insightful discussions with my parents about our own family history. The romance between the two main characters, as well as the supporting couples, was beautiful to watch as the drama unfolded. After you've finished Assorted Gems, I'd recommend checking this one out as well.
HERO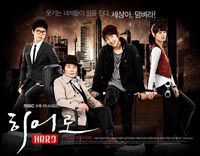 Currently my favorite Wed/Thurs drama (at least, until Chuno begins). I'm not a Lee Junki fan, but I'm thoroughly enjoying this quirky little drama. Veteran actor Baek Yoon Shik is amazing as the former gangster, Jo Yong Deok (he's also the father of actor Baek Do Bin). Yoon So Yi is well-cast as a female detective, and Uhm Ki Joon never disappoints (well, except when the writing in a drama is so, so bad that everything goes to hell in a hand basket *cough* Job [Not] Well Done *cough*)
ROMANCE ZERO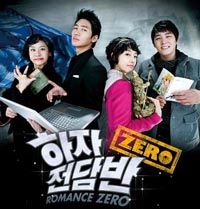 A fun and funny cable drama about a group of misfit employees at a matchmaking agency. Lee Tae Sung (Enjoy Life) stars in this one, as well as contributing to the soundtrack. It has a lot of guest actors you may recognize from other dramas this year, including a few Hwarang warriors (for those of you Queen Seon Duk fans). My favorite episodes so far (I've only finished a little over half of the drama) have been episodes 7 and 8 – a gangster with certain..er, issues…when it come comes to women, and rich playboy who falls in love with a country school teacher. I plan on catching up with this drama as soon as I can.
QUEEN OF HOUSEWIVES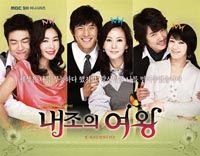 For me, this drama was just okay overall – it started off fun but became quite draggy, especially after it was extended, and I just couldn't feel for Kim Nam Joo's character. She was irritating to the point of grating on my nerves. Oh Ji Ho was pretty vanilla, and Sun Woo Sun was…inoffensive, is the only word I can come up with. This was Yoon Sang Hyun's breakout role, but I couldn't get into the whole Ji Ae/Tae Joon dynamic. Besides, the title of the drama is Queen of "naejo" – naejo refers to a wife's help/support/assistance to her husband, everything she does for the household and behind the scenes in order for her husband to succeed. For there even to be a possibility of a Ji Ae/Tae Joon pairing, they would have had to change the drama's title. But the one bright star that emerged from this drama was the Lee Hye Young/Choi Chul Ho couple. Choi Chul Ho, known for sageuk (historical) and dramatic roles, gave the comic performance of his career. If I were to ever rewatch this drama, it would only be to fast-forward to his scenes.
CLOSING THOUGHTS:
Has the bar been raised too high? I don't think so. I consider it a natural evolution of my drama-watching experience. I still love me my romances and light, entertaining fluff, but I've also come to appreciate greatness when it graces us with its elusive presence. I hope to find many more hidden (and, hopefully, some not so hidden) gems in 2010.
RELATED POSTS
Tags: 1 show to rule them all, Assorted Gems, Everybody Cha Cha Cha, Family Honor, Hero, I Love You Don't Cry, Queen of Housewives, Return of Iljimae, year in review, year in review 2009, You're Beautiful