IRIS: Episode 5
I'm starting to feel that the episodes alternate between good, fast-paced forward movement with the story line, and then 1-2 draggy episodes. Episodes 1-2 were fine, even though they were hard for me to get through quickly. But they were the first two – Korean dramas usually need that many before getting more interesting, no? Then episode 3 was exciting, personally. Episode 4 was good, but since it was mostly a more fleshed explanation of what happened in the first 20-30 minutes of episode 1, it was not as exciting as I had hoped. Then comes Episode 5, which had such a strong start with that cliffhanger from episode 4, but began to drag on a bit. It is as though there is a pattern of 2 episodes as so-so, and 1 episode of greatness…but I'll leave that for you all to decide.
Episode 5:
Sa Woo apologizes for what he is about to do. It is clear he's also reluctant to kill Hyun Joon even though he was ordered too. Suddenly, an explosion from behind knocks the two frenemies off their feet.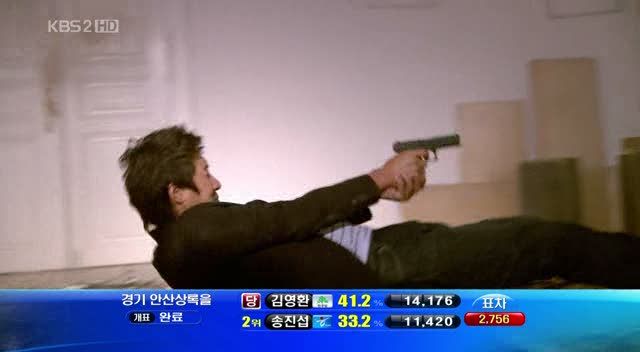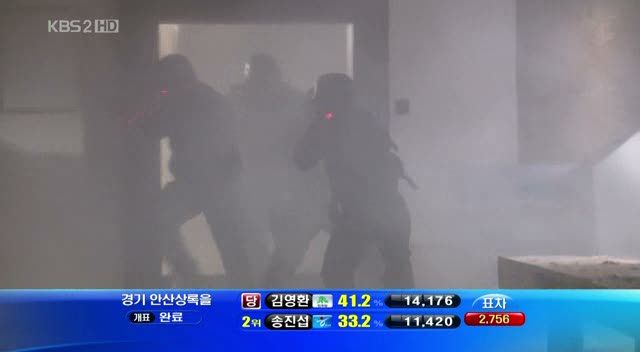 (The blue bar at the bottom stays there for pretty much the entire episode so it's going to be in all the screencaps. Kinda distracting…sorry)
As Sa Woo slides backwards on his back, he shoots down the soldiers, forcing some of them to retreat. Hyun Joon manages to escape out the balcony through the chaos, and his laptop, which was set to a timer, implodes, destroying all information.
Later at Hyun Joon's now-empty apartment, Chul Young informs Sun Hwa that if they capture Hyun Joon, it's to kill. Sun Hwa does not want to kill him just yet – she wants to properly investigate the assassination. But Chul Young is firm.
Hyun Joon makes his way to a train yard and into an office/locker room, where he hides, bandaging his wound and trying to regain his strength. Meanwhile, Sa Woo informs Baek San that the mission failed, but since the Hungarian police and North Koreans are looking for him, Hyun Joon will have no where to go. Baek San tells him to find Hyun Joon first and finish his task.
It turns out, Sa Woo had refused at first to carry out the mission, but Baek San told him he had no choice – it was decided from the very beginning, even before Hyun Joon was accepted into NSS, that Hyun Joon would be selected to do this mission, and would have to be killed. Baek San hands Sa Woo a folder that contains information about Hyun Joon's past, saying, "This will tell you why Kim Hyun Joon was selected, and why NSS is abandoning him."
Sa Woo adamantly refuses. Baek San then tells him to send Seung Hee in – she will have to do the job then. Of course, Sa Woo can't let her do that.
The President asks Baek San on the phone if it is true that Minister Yoon was assassinated by enemy bullets. Baek San lies – the incident was because of internal dissension in North Korea. The President, appeased, tells his advisors to inform the security personnel of the situation and to deal with it appropriately.
Baek San makes another important phone call – this time, agents enter the NSS headquarters and begin to confiscate everything that belonged to Hyun Joon to be destroyed. He is being charged with espionage, and anyone in contact with him from here on out will be equally suspected and charged.
The coroner Oh Hyun Kyu loses all of his Hyun Joon-relevant files as well, prompting him to later catch up with Sang Hyun and ask who is framing him with espionage. Sang Hyun wisely says that it must be Baek San.
Hyun Kyu: So another innocent victim is made a sacrificial lamb.
Apparently, before Sang Hyun joined, two other agents were similarly charged with espionage, and they disappeared, with no formal procedures. Hyun Kyu says no one is ever going to see Hyun Joon again.
Seung Hee receives a notice on her phone that Hyun Jun has been tried with espionage. She calls up Tae Sung, who does not know what is going on either, and does not want to get involved by helping her. She calls up a fellow agent/friend, but the friend cannot find anything on Hyun Joon – he's pretty much been erased.
Hyun Joon and Sa Woo are respectively haunted by their confrontation. But Sa Woo has to face Seung Hee first. Seung Hee refuses to believe that Hyun Joon would be a double agent, and she wants to see him now. Sa Woo tells her that there are too many people looking for him in Budapest right now. Seung Hee is shocked and holds in her crying, leading Sa Woo to finally make a move and hug her.
Hyun Joon is discovered the next morning by a cleaning lady, who calls in for an ambulance and unwittingly alerts everyone about Hyun Joon's location.
Sa Woo and Seung Hee, and the North Korean agents separately make their way to the train yard. One by one, Hyun Joon knocks out cold each agent he encounters. He shoots a lot of them down before Yong Chul and Sun Hwa shoot at him.
FACE OFF BETWEEN YONG CHUL AND HYUN JOON!!! They aim their guns at one another but they have no more bullets. They start fighting with their fists on a bridge that moves through the warehouse. Hyun Joon falls down from the second level and runs off, escaping from Yong Chul's punches and Sun Hwa's sniper bullets. Another agent shoots at him, but he is shot down…by Seung Hee. Sa Woo pulls Seung Hee back and restrains her (yes you stupid girl, your rash actions are definitely not going to help you or Sa Woo, because now people will think Hyun Joon has back up and start looking for you!)
Hyun Joon manages to hide in one of the abandoned train cars outside; he takes a break, until he sees a helicopter getting ready to shoot a missile at him. The missile barely misses him and the explosion severely weakens him. The North Korean agents think they've got him now – but he's no longer there.
Watching from afar, Sa Woo and Seung Hee determine the surrounding areas and decide that he would have exited through the west, and so they immediately head out that way. Yong Chul figures out the same thing and has all the agents assemble there.
Hyun Joon gets out and breaks into a truck, tailed by the helicopter raining bullets on him. He drives right past Seung Hee, who does not see him properly in the driver's seat but perhaps suspects it's him, and he plows right on through the North Koreans' barricades. The truck comes to a stop, and Yong Chul opens the door.
No one is inside. Hyun Joon had managed to tie a leather strap around the wheel to keep the truck moving forward.
Seung Hee cannot stand waiting around to hear from Hyun Joon, so she tries to track him down from her computer on her own, but Hyun Joon has been deleted from the NSS database. Sa Woo enters her room telling her that it's too dangerous for them to stay at the hotel any longer. Although Hyun Joon has not been caught yet, it will be difficult for him to escape. (That, and the fact that Yong Chul orders Sun Hwa to kill Hyun Joon, as that is the only way for them to survive through this mission.)
Hyun Joon calls Baek San, confronting him – why was he abandoned?! Baek San it was out of his hands – his fate was set before he joined NSS.
Hyun Joon: I will return no matter what it takes. And when I do, you will pay for playing with my fate.
Baek San says that Seung Hee is there in Budapest – "Perhaps her fate is the same as yours."
Sa Woo and Seung Hee go into an abandoned parking lot, and they sense someone behind them. It's Hyun Joon – battered and beaten. And this time – he raises a gun at Sa Woo. He shoots Sa Woo near the heart, and Sa Woo falls. Hyun Joon shoots two more times in the back. Hyun Joon approaches Sa Woo's fallen body slowly, and Sa Woo immediately retaliates with a couple of shots from the ground – Hyun Joon falls down, dead. Seung Hee just stands there, in complete and utter shock…
…only to wake up from her dream. She senses someone beside her bed, and grabs for the gun under her pillow to aim it at the dark hooded figure sitting there. He turns the light on – it's Hyun Joon.
Seung Hee is shocked and immediately hugs him in relief. She tells him that the Yoon assassination was due to internal North Korean dissension – as stated by the President. But Hyun Joon insists that he received his orders from NSS. Seung Hee tells him that Sa Woo was actually trying to save him, and that the three can work together. This brings tears to Hyun Joon's eyes – but he regains control over his feelings (of betrayal?) and tells Seung Hee:
Hyun Joon: In order to prove that our side didn't have anything to do with the assassination, I must not stay alive. As long as you're with me, Sa Woo and you will be in danger.
Seung Hee refuses to leave him. She says she'd rather die together with him than go home alone.
She escorts him out of the hotel, both of them wearing hoods/hats to cover their faces. Sa Woo sees them leave the hotel together, and looks at the tracking device on his phone, showing the movements of the North Korean agents.
Yong Chul is notified that they have located Hyun Joon, and the entire team moves out – this is their last chance to get him. Seung Hee and Hyun Joon drive up to a train station, where he goes in to buy tickets for the both of them.
Ticket purchase is taking way too long.
As the North Korean agents enter the train station, Yong Chul looks around for any sign of suspicious cars or people outside, but misses spotting Seung Hee sitting in the car. Hyun Joon finishes buying the tickets, and sees North Korean agents led by Sun Hwa looking for him. Sun Hwa continually misses him as she searches through the crowds. Hyun Joon grabs some clothes of a deliveryman in a personnel room, and even though Sun Hwa sees him several times, passing by each other, she doesn't recognize him. Yong Chul walks into the station, and passes RIGHT BY Hyun Joon without a second glance.
BUT, Yong Chul swivels around and aims his gun at Hyun Joon, telling him to stop. Hyun Joon grabs the nearest agent's gun and protects himself with the guard's body. Yong Chul, Sun Hwa, and two other agents face off against Hyun Joon and the poor-body-armor-agent.
Local police comes running in and calls for the agents to put their guns down, getting in between Yong Chul and Hyun Joon. Hyun Joon manages to escape with his captive agent out of the station, frustrating Yong Chul.
Hyun Joon rushes back to the parking lot, escaping from Yong Chul, but just as he approaches the car, it blows up right in front of his eyes.
That does it – his lover is dead right in front of him…memories of them together in Japan flash before his eyes…he can't stop thinking about her sacrifice for him. The agents catch up to him – and Sun Hwa fires a bullet right into his arm. The other agents start shooting at him, and he ducks behind a car. But he does not run further, nor does he fight back.
The incessant gunfire snaps him out of his reverie and he hijacks a car and drives away, right past Sa Woo in his own car. Sun Hwa and Yong Chul follow him in a car they hijacked as well. They weave through the narrow streets of Budapest and end up in the countryside.
The chase ends up on a wide ledge next to an old building. Yong Chul brings his car right up next to Hyun Joon's and repeatedly pushes his car against a building. He tries to cut in front of Hyun Joon to stop him, but Hyun Joon plows right into him and keeps driving forward. Yong Chul and Sun Hwa start shooting like mad through the front window, but Hyun Joon speeds up, pushing the car over the ledge that they were driving on, flipping Yong Chul's car over.
Hyun Joon manages to escape and gets on a private airfield. He takes over a small private plane and begins to taxi off.
And who comes driving alongside him but Sa Woo in his car. Sa Woo accelerates and cuts in front of the plane… and then aims a sniper rifle at Hyun Joon.
Sa Woo is pained – he really does not want to do this. Hyun Joon is hurt – he wishes things could have been different for the both of them. And so, he accelerates the plane, and begins to pull up into the air…
Comments:
First of all, I must apologize if the recap is too long – it's just so hard to exclude certain things!
This episode felt a little repetitive for me. It was constantly all about Hyun Joon running, Hyun Joon suffering from his wound, Hyun Joon fighting the North Korean agents…the North Korean agents chasing after him and losing him…wash, rinse, repeat. I would have liked more moments with the team back at NSS headquarters, or even get an update on what Vic was doing to find the IRIS list since he so blatantly failed in the beginning. I will concede that most of the story/action lies in Budapest, but a little reprieve from it would be nice…
I know that I said I loved the action scenes in an earlier recap…but I'm going to have to say that right now they are using the whole flash-bang-pizazz to full effect. This episode ties up the Hungary storyline, but it's clear the IRIS production team is really showing off their large budget. I liked the quiet moments displaying the characters' internal conflict (i.e. the two frenemies Sa Woo and Hyun Joon). I am still not too convinced about Kim Tae Hee merely because the whole scene where she was distraught over being unable to find Hyun Joon felt very…acted – just not natural. But I really need to stop criticizing her before it becomes a habit (hehe). It's just that, the action scenes are just there – they're not really adding more to the storyline, but just extending the chase. We have 15+ episodes of chasing! Let's all go somewhere (else)!
The jewel moments – for me – were when Sang Hyun and Hyun Kyu realize that Baek San is behind the plot to frame Hyun Joon, and whenever Sa Woo came on screen. Seriously, that man's got the EYES. Also Seung Hee's dream sequence. It felt so fitting that Hyun Joon would come for revenge against Sa Woo, but it started getting surreal when Seung Hee just stood there and shrieked. Thank goodness it was just a dream sequence or else I would have been shaking Kim Tae Hee and the writer, saying, "Really?! That's all you would have Seung Hee the NSS agent do!?" The reasons why Hyun Joon was a target of the NSS and his past, plus the IRIS list mystery are good as overarching story threads for the series – but I think it needs to play a more prominent role in the episodes than all the action before it becomes secondary to all the action scenes. Or else, these story threads are going to be stretched out very thinly.
RELATED POSTS
Tags: IRIS, Jung Jun-ho, Kim Seung-woo, Kim So-yeon, Kim Tae-hee, Lee Byung-heon, TOP